The San Jose Barracuda received a large infusion of size when San Jose Sharks general manager Doug Wilson acquired Buddy Robinson, Zack Stortini and a sixth-round draft pick from the Ottawa Senators for Tommy Wingels on Jan. 24. The Senators signed Robinson out of Lake Superior State University after the 2012-13 season. Now 25, Robinson has played most of his professional career with the Binghamton Senators, where he posted 104 points in 245 games for the B-Sens. He's also had cups of coffee up in the NHL with a goal and assist to his credit in seven contests over the previous two seasons. [miptheme_quote author="Barracuda head coach Roy Sommer on the acquisition of Robinson and Stortini" style="boxquote text-right"]The biggest thing is we added size, but we didn't really lose much speed. Buddy can really fly for a guy that's 6'6″ and [Zack] Stortini gets around the ice. We were kind of small. It gives us another dimension on each line. [/miptheme_quote]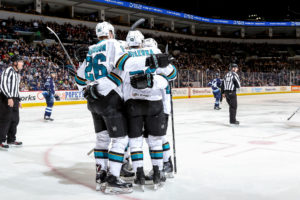 The Barracuda's skill and speed have been top-notch all season but struggled against some of the bigger teams out west, like the Ontario Reign and San Diego Gulls. Robinson, who luckily was out of his skates when he stopped to talk about his new team, is hard to miss. The 6-foot-6, 236-pound winger stands out, both literally and figuratively with the Barracuda. Already in his four games in teal, all on the recent road trip, Robinson has registered a goal and assist playing in a middle-six role with the Barracuda.
After his first practice in San Jose, The Hockey Writers caught up with Robinson to talk briefly about his new club, his style of play, and wardrobe changes needed to come out to California.
Robinson: A Beast of the East
The Hockey Writers: The weather is a bit different in California than New York this time of year, isn't it?
Buddy Robinson: "In 'Bingo' I think when we left there were 10 inches of snow on the ground. When we got the call, they told us not to pack many jackets, just a couple sweaters."
THW: There is not a lot of inter-conference play in the AHL. How familiar are you with the teams out West?
Robinson: "Every team so far has been a new team to play against. Four years pro and I haven't been here for any American League games. It's been new for me, but also fun to play in new cities."
First Thoughts on the San Jose Barracuda
THW: You've played four games now with the Barracuda. What are your impressions of the squad so far?
Robinson: "Good team, we're fast. We're young obviously, but we're just a skilled team that plays really fast. I think that plays into my game too; I like to play a fast game. So far joining the team on the road, we got four wins since I got here and five straight now. It's been really good, it's been a lot of fun, and I hope we can keep this going."
THW: Describe your game for Sharks and Barracuda fans that might not be familiar with you
Robinson: "Just a power forward. I guess you can't miss the size at 6'6″, 230 pounds. I think I'm a good skater, so I get the puck down my wing, get it in deep, forecheck and hopefully bring offense too."
https://twitter.com/zakkthebear/status/828066638339530752
THW: Speaking of size, how does a player infuse size into a speedy, skilled lineup like the Barracuda?
Robinson: "You just need to go into their game plan. They're a fast team, so you need to figure. For myself and Zack [Stortini] who I came over here with, we're two big guys. We need to find a way to fit in with the fast team. We need to play fast but then also bring our element to the game: finishing checks, being physical all over the ice. It just needs to fit into their program. It's going right so far, and hopefully, we can keep it rolling."