Just as the Minnesota Wild's defense was returning to full health, another blow was delivered on Friday afternoon as Christian Folin exited early on during the first period with a knee injury.
After an otherwise hugely successful day which saw the Wild hang six goals en route to defeating the defending Stanley Cup Champion Pittsburgh Penguins it was revealed that Folin suffered a sprained left MCL, an injury that is expected to keep the Swede off the ice for close to a month.
#mnwild defenseman Christian Folin is expected to miss 3-4 weeks with a sprained MCL in his left knee, suffered tonight vs. Pittsburgh.

— Minnesota Wild (@mnwild) November 26, 2016
Big Skates to Fill
First and foremost, Minnesota loses one of the few physical presences it boasted in the lineup. Folin is currently tied for the team lead in hits with 28 over his 18 games played this season. In a lineup that isn't large overall in stature, his 6'4, 219 lb frame will be sorely missed as the Wild embark on a five-game road trip beginning tomorrow in St. Louis before heading north on a tour through frigid Canada.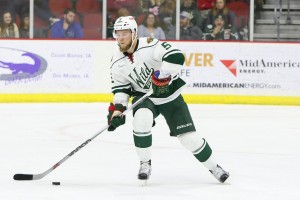 Except for Chris Stewart and maybe Tyler Graovac, the Wild lineup isn't exactly an intimidating cast of characters. Folin, when healthy, is on that short list of Minnesota players who can physically stand toe-to-toe with the opposition's heavies. While he certainly doesn't seek out scrums, it's good to have him standing tall on the back-end in case "you know what" hits the fan.
Finding His Game
Christian Folin's injury is not only a blow to the entire roster, but it also creates a personal hurdle for himself as he was in the midst of a fantastic season. His stats certainly don't jump off the page as he's only compiled a modest two assists, but his plus-eight was tied for second on the team and he'd become something of a shutdown defender. Furthermore, his average time on ice was at a career-best 17:26.
In addition, Folin had struggled to find a consistent spot in the lineup until this year. In previous seasons, he was often used sparingly or just outright shipped to Iowa to refine his game.
This season saw Folin experience consistency for the first time in his young career and it was clear his confidence was growing alongside his fellow Swede Jonas Brodin. Together, the two had developed early chemistry which helped round out a Wild defense which currently leads the league with 1.89 goals against per game. You could certainly argue Folin is probably the most replaceable of all the Wild defensemen, but it hurts doubly when you consider he was without a doubt playing the best hockey of his career.
Enter Prosser
Per usual, when the Minnesota Wild need an extra body, Nate Prosser's number is called. He will enter the fold beginning tomorrow against the Blues.
Prosser hasn't seen the ice in almost three weeks, although it is essentially his job to be prepared and available when one of the regulars sustains an injury. It's uncertain how his insertion into the lineup will shake up the defensive pairings, but conventional wisdom would suggest he simply takes over where Folin left off because he is right-handed. Hopefully, given that he's only played eight games all year, he's able to shake the rust off quickly as the Wild visit the Blues with a chance to overtake them in the Central Division.