The three players that get the most attention in Montreal are as follows: goaltender and reigning NHL MVP Carey Price, star defenceman PK Subban and captain Max Pacioretty. They are the team's star players and act as pillars for the franchise on and off the ice. Other important players for Montreal include youngsters and fan favourites Brendan Gallagher and Alex Galchenyuk while long time Habs Andrei Markov and Tomas Plekanec continue to lead with quiet excellence. However, there is another player who has only been a Hab for a short time, but he has already made a big difference. That player is defenceman Jeff Petry.
Jeff Petry: Solid Number Three Defenceman
Last year, the Habs had an elite top pairing in Subban and Markov but they didn't have much else after them. They had a struggling Alexei Emelin, a fresh faced rookie in Nathan Beaulieu, a well past his prime Sergei Gonchar and an overwhelmed Tom Gilbert. In a single move, Habs general manager Marc Bergevin changed the look of his defence corps with the acquisition of Petry this past March, who was acquired for a couple of picks from the Edmonton Oilers. Petry played well enough during the rest of the season and the playoffs that the team made it a priority to re-sign him. Petry would forego free agency and sign a six-year extension with Montreal.
Is there anything Jeff Petry doesn't do well on the ice? Positioning, check. Skating, check. Poise, check. Physical… I could go on.

— Eric Engels (@EricEngels) October 16, 2015
How the Oilers had any doubts on Jeff Petry is frankly beyond me.

— Аrpon Basu (@ArponBasu) October 18, 2015
In Edmonton, Petry was the number one defenceman out of necessity due to a severe lack of talent on the Oilers' back end, when in reality he is a perfect third defenceman, something every strong team has. Petry's presence in Montreal has meant that Markov plays fewer minutes, which can only help the soon to be 37-year-old stay fresh for the playoffs. Petry has also been a stabilizing force for Emelin, who has played his best hockey in two years. At 6′ 3″ and 204 LBS (according to NHL.com), Petry is capable of playing a physical brand of hockey but it's his mobility and ability to read the play that are his calling cards for success.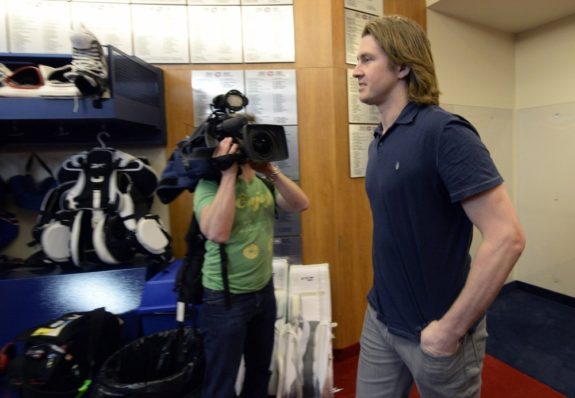 Comparisons and Paying Dividends
There are other number three defencemen around the league who are crucial cogs for their team that play a similar role to Petry and the two examples that come to mind are Niklas Hjalmarsson of the Chicago Blackhawks and Marc Staal of the New York Rangers. Like Petry, those two are big, mobile players who eat a lot of minutes for their team on the second pairings. All three don't put up big numbers but they contribute in other ways that are equally as important. In Chicago, Jonathan Toews, Patrick Kane, Marian Hossa, Duncan Keith, Brent Seabrook and the now departed Patrick Sharp got the most attention as the core who won Chicago three Stanley Cups. However, Hjalmarsson was a big part of all three championship wins too but doesn't get the recognition for it.
Petry has brought strong defensive play and stability to Montreal's second pairing. He doesn't make glaring mistakes too often and has quickly become an important part of the Habs' defence corps. In his prime as a player, Petry has seemingly found his role as a player in Montreal and has looked comfortable since his arrival. Acquiring Jeff Petry has been one of Bergevin's finest moves so far and it is clearly paying dividends.