"Those who are easily shocked should be shocked more often" — Mae West
One of the recurring narratives of every NHL season is results catching us all by surprise.
As pucks bounce and deflect in unpredictable ways and players and coaches are eminently human, we expect them. Frankly, we'd be bored without them. Despite being a Kings fan, I acknowledge that few outside the great state of Illinois or sunny southern California wants to see the Chicago Blackhawks and Los Angeles Kings pass the Cup back and forth every single year.
Surprises can be fleeting
As interesting as early surprises are, all too often they just don't last.
Fabian Brunnstrom netted a hat trick in his first game on October 15, 2008, yet only scored 16 more times in a brief NHL career. Brock Nelson (tell me that's not an NFL linebacker's name) lit the lamp four times in his first five games last year — prompting fantasy league owners across the land to hurriedly pick him up — only to come to earth the remainder of the season. Ben Scrivens had a .931 save percentage in 19 games with the Kings in 2013-14, followed by a middle-of-the-road .915 mark with the Oilers following his January trade to Edmonton.
Still, early surprises stir the imagination. Fabian Brunnstrom stunned the internet with his unlikely hat trick. Some believed Brock Nelson had found it (whatever 'it' is) and transformed himself into a big-time scorer. Ben Scrivens not only wowed the fans with his play, but raised his stock to a third-round draft pick when ultimately dealt by the Kings.
5 early surprises of the 2015-16 season
Whether or not the real deal or simply fool's gold, there are plenty of surprises so far this season. Some teams are soaring, others struggling, and individual players are raising eyebrows with both hot and cold starts.
There is ample fodder beyond the ones listed below, but in the interests of time, we've whittled the list down to five. Without further ado, the following are five of the biggest early surprises of the 2015-16 season.
Kuznetsov goes nuts-ov
The 23-year old Evgeny Kuznetsov's ceiling as an NHL scorer isn't yet established, but scoring three goals and eight assists in his first seven games this year certainly bodes well for the Capitals. Kuznetsov's hot start puts him squarely among the early league leaders in total points.
Check out this cool tic-tac-toe play against the Oilers:
Crosby suffers a power outage
Sidney Crosby is a five-time 100 point scorer (undoubtedly six if not for the 2012-13 lockout) and a sure-fire first ballot Hall of Fame player one day. Still just 28, that day should be many years down the road.
That's assuming he generates future points at a greater rate than just three in his first eight games. It's obviously an anomaly, but Crosby's lack of early production earns him a spot on this list.
Tuukka Rask seemingly has an excess of letters
The 2013-14 Vezina winner has posted some incredible numbers over his career, amassing a 137-84-36 record with a 2.21/.925 slash line. Glittering resume notwithstanding, the suddenly fallible Rask is just 1-3-1 with a 4.40 G.A.A. and a .857 save percentage so far this year.
Don't worry, Bruins fans: the Rask that made the incredible save shown below will be back before you know it:
https://www.youtube.com/watch?v=NVYWvGh_Z38
Les Habs are les perfect
The Montreal Canadiens have been one of the league's best teams over the past three seasons, so it's little surprise that they've started out well in 2015-16. But this well? At 9-0-0, the Canadiens are challenging the 1993-94 Maple Leafs and 2006-07 for most wins (10) to begin a season.
Practically half the team has cracked double digits in points, and Carey Price and Mike Condon simply won't allow opponents to score. Vive les Canadiens de Montreal.
The Flames have been extinguished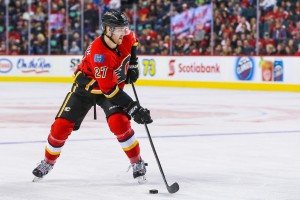 The Calgary Flames were one of last year's feel-good stories. After having missed the playoffs for five straight years, the Flames went 45-30-7 (97 points), edging out the Kings for the final Pacific Division playoff spot.
The future looked bright in Calgary. Heck, I even put them on my underrated list before the season began. That could still be true, but at 2-7-0 and with a -19 goal differential, the struggling Flames have to be one of the league's biggest surprises this year.
Of course, there are plenty of other surprises worth noting: Sergei Bobrovsky's poor start, Max Pacioretty's large +/-, Anthony Duclair's ridiculous shooting percentage, and Brandon Bollig's Tiger Williams-esque PIMs, to name just a few.
Do you have any worth mentioning? Leave your thoughts below or if you prefer, send a message to @McLaughlinWalt.