The Boston Bruins could have used an enforcer on their hockey club this season.
Last summer, Shawn Thornton took his talents to Sunrise after signing a two-year contract worth $2.4 million for the Florida Panthers. The 37-year-old had spent the previous seven seasons with the Bruins. He won a Stanley Cup in 2006 with Anaheim before making Causeway Street his new home in 2007. Many fans were sad to see Thornton leave for South Florida as he was a fan favorite because of his physicality, fighting, and leadership abilities.
This season, the 12-year veteran was a part of a hockey team that saw a 25-point improvement from 2013-14 while the Bruins saw a 21-point decline in their point total. Even though Thornton is the farthest thing from a goal scorer or playmaker, Boston's "utter disappointment and complete failure", to quote Charlie Jacobs back in January, to miss the playoffs was in part due to his absence of physicality, leadership, and character.
Gloves Off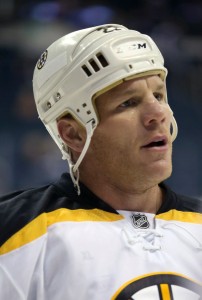 Thornton donned the Black and Gold sweater 566 times during his tenure in Boston. The gritty winger racked up 76 points and 748 penalty minutes, including 102 fighting majors.
Physicality is a large part of Thornton's game. The former seventh-round pick of Toronto literally fought his way into the NHL as a 25-year-old rookie with the Chicago Blackhawks. Alongside Gregory Campbell and Daniel Paille (both free agents this summer), he was the most popular member of the famous "Merlot Line" named after the color of their practice jerseys.
Thornton took the mantra of the "Big Bad Bruins" to heart. He always played with a chip on his shoulder and was never afraid to engage in fisticuffs with the enemy. Thornton's play rubbed off on the rest of the club as they played with an edge on most nights and would drop the gloves at the drop of a hat if need be.
Boston spent four straight years in the top-five for fighting majors while Thornton led the club in fighting majors in six of his seven years on Causeway Street. He was a willing combatant more often than not.
"They're Gonna Settle It Right Here"
Perhaps Thornton's most famous fight in the Black and Gold came back on March 17, 2010.
Ten days earlier, Pittsburgh Penguins agitator Matt Cooke delivered a hit to the head of Bruins forward Marc Savard. Boston's number 91 suffered a Grade 2 concussion on the play, ending his regular season. Cooke did not receive a penalty on the play and received no supplemental discipline from the league for the hit.
Thornton made sure Cooke would answer for his dirty play just two minutes into their first matchup since the hit.
Admittedly, Boston's response immediately after the hit was tepid. Some pushing and shoving was the extent of Cooke's punishment in the heat of the moment.
Thornton would not let that slide. The fourth-line winger made sure Cooke would answer for his cheap shot if the league would not punish him themselves. It was not so much the fight itself that Bruins fans will remember, rather it was what it meant to Thornton and his team personally. They were vastly criticized for their response after the hit and he made sure it would not happen a second time.
Life Without Shawn
Thornton's departure from Boston had long-lasting effects for this season. The Bruins were tied for 14th in the league with just 27 fighting majors. Campbell and defenseman Adam McQuaid shared the team lead with five bouts.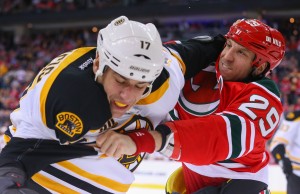 The Panthers engaged in only 16 fights. Thornton had six of them.
Milan Lucic was pegged by many to rediscover the physical nature that earned him a permanent roster spot at a 19-year-old. Boston's $6 million man had offseason wrist surgery and showed the ill effects of it all season long. Lucic posted 44 points and just three fighting majors all year.
It was clear that the team lacked a true identity all season. They were caught in the crosshairs of being a skill team and the rough and tumble Bruins of years past.
Shawn Thornton was a large part of the edge Boston played with in his seven years with the club. His presence on Causeway Street was missed this season as the "Big Bad Bruins" spent much of their season stuck in hibernation.
Joe is a writer covering the Boston Bruins. He is a lifelong native of Massachusetts and is currently a content writer/manager for a newsletter at a Human Services Agency. Joe can be found on Twitter: @JoeCherryTHW