Back in March, NCAA men's ice hockey committee chair Brain Faison said that he would like to see the NCAA regionals return to campus. Some saw Faison's comments as controversial and his comments caused a bit of a stir.  Right away, you could see the different factions lining up (for and against).
Some even suggested that moving the regional championships back on campus would be taking a step backward. I don't consider wanting to play a regional championship in rowdy building with a great atmosphere to be taking a step back.
Others said moving the regionals back on campus was about the big schools wanting to have their cake and eat it too. There might be some truth to that statement.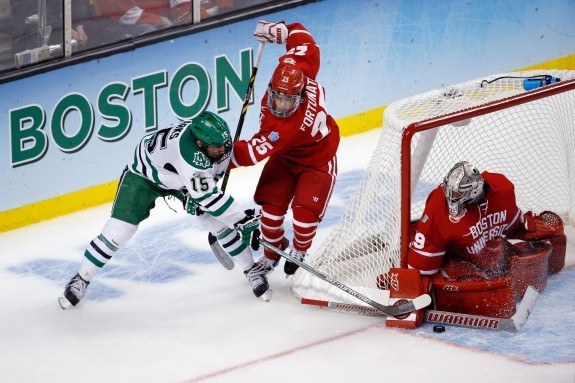 For now, this sounds like a moot point. The regional championships won't be moving back on campus anytime soon.
Last week, during the American Hockey Coaches Association meetings in Naples, Florida, the coaches discussed moving the NCAA regionals back on campus. Word has come out that a majority of NCAA hockey coaches reject changing the current regional format. A majority of coaches favor the status quo.
According to Brad Schlossman of the Grand Forks Herald, the college hockey coaches voted 52-6-1 against going to home sites in the first round in the regionals.  In my opinion, that's taking a step backwards.
Nate Owen, USCHO – Poor attendance at some NCAA regional sites has led to some talk that the format should be changed, but feedback from the American Hockey Coaches Association meeting last week indicated that most coaches aren't in favor of such a move.

"The voice from the coaches was that the overwhelming majority wanted to keep it as it is," said Army West Point coach Brian Riley, president of the AHCA.

Riley also is a member of the NCAA Division I men's ice hockey committee, and he said that body will meet in June and discuss what the coaches said last week in Naples, Fla.
Location, location, location
I am disappointed by this revelation, but I am not shocked. I believe that the current regional system is flawed and heavily favors the eastern schools. The eastern schools can take a short bus ride and that rarely lasts more than two hours.
At no fault of their own, the western schools are hindered by geography and by not having many suitable, centrally located venues. Most trips to a western regional will involve a flight no matter where they're held.
Moreover, if you hold a regional championship at less than desirable venue, you could end up with an empty, listless regional championships (Grand Rapids, Cleveland, Toledo, Fort Wayne come to mind).
The Duluth News Tribune had a great recommendation. Rotating sites in the west like the east regionals.
The Fargo regional was considered a hit and if the committee can find more sites in the West and Midwest like Fargo to use in a rotation like the East and Northeast regionals do with certain sites — plus maybe lower ticket prices — then the current regional format can succeed. (Duluth News Tribune)
Finally, the NCAA regional system needs to be tweaked, there's no question about it. The problem is finding a solution that everyone can agree on and that's no easy task.
Eric is a 1996, 1999 graduate of the University of North Dakota. Eric covers the University of North Dakota Hockey and Division I college hockey. Eric is the Contributing Editor for Inside Hockey.