As soon as the new CBA is ratified by both the NHL owners and the players, teams will finally be allowed to start making roster moves such as signing free agents and calling up players from their farm teams. In the case of a few teams, that also means signing their restricted free agents as soon as possible and bringing them into the team's training camp.
The most notable RFAs still unsigned being forwards Jamie Benn (Dallas Stars) and Ryan O'Reilly (Colorado Avalanche), as well as rearguards Michael Del Zotto (New York Rangers), Dmitry Kulikov (Florida Panthers) and PK Subban (Montreal Canadiens).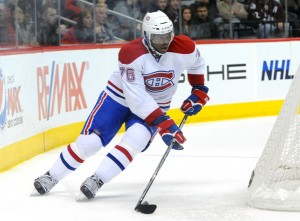 But now, let's concentrate on the talented, but controversial Canadiens defenseman who is a now cornerstone of the team's defensive corps. The 23 year-old defenseman did not go oversee during the lockout, preferring to make several TV appearances for CTV Montreal as a weatherman and Sportsnet as a hockey analyst between periods.
While the popular Subban may have a future on television, his current career is as an NHL defenseman and he must now concentrate on accepting the right contract from Habs' general manager Marc Bergevin. The native of Toronto, Ontario, is coming off his entry-level contract and prior to the NHL lockout, it was rumored that Bergevin had offered him a three-year deal worth $11 million ($3.66 million/year), which Subban and his agent Don Meehan politely declined.
But how much money per year is Subban really worth?
Right now, the Canadiens payroll for 2013-14 is a tad over $60.16 million linked to 16 players and Subban's new contract could push Montreal over the $64.3 million cap for next season. The team's precarious financial position for next year likely means that Bergevin cannot afford to give Subban a contract similar to the eight-year deal worth $56 million ($7 million/year) that Los Angeles defenseman Drew Doughty signed prior to last season, which is reportedly the kind of contract that the charismatic rearguard was looking for this summer.
On one hand, while Subban is a very talented puck-carrying defenseman, he has only played two full seasons in the NHL and has yet to establish himself as a true #1 defenseman on and off the ice. On the other hand, Doughty had seasons of 59 and 40 points prior to signing his lucrative long-term pact. While under the new CBA teams can re-sign their own players to a maximum of eight years, do you really think that Bergevin wants to be tied up long term to a player who had a few scuffles with his own teammates Hal Gill and David Desharnais during practice last season? Subban doesn't have unanimous backing in the Habs' dressing room as he has a tendency to show off and be overly talkative, both on an off the ice.
Yesterday, team captain Brian Gionta even said that he had not speak with Subban for the past six months and that the best way to find PK recently is by turning on your television. As you can see, Subban's strong presence in the media seems to bother some veterans, and until he can prove them wrong and show the organization and the fans that he has become more mature, disciplined and hard-working, the Bleu Blanc Rouge should err on the cautious side and offer him a short term contract.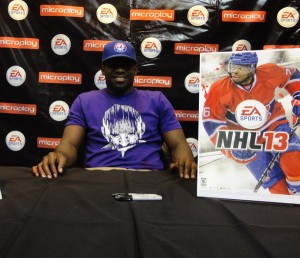 Since we know that any player whose contract has expired can declare himself an unrestricted free agent if he is at least 27 years of age or has at least seven years of service as an NHL player, the Canadiens would be best to offer Subban a three-year contract or less so that Subban is not older than 26 years old when the contract ends.
This way, the Canadiens would be able to assess Subban's true value and contribution to the team and ensure that he doesn't become an unrestricted free agent at the end of the pact. Now suppose Subban and Meehan agree to a three-year pact with Montreal: How much per year is Subban really worth?
Let's have a look at some young defensemen with comparable offensive numbers who recently signed long-term deals with their respective teams:
Cam Fowler, 21, Anaheim Ducks: 2011-12 stats: 5 goals and 24 assists for 29 points in 82 games -> five-year contract with an average value of $4 million
Tyler Myers, 22, Buffalo Sabres: 2011-12 stats: 8 goals and 15 assists for 23 points in 55 games -> seven-year contract with an average value of $5.5 million
Erik Johnson, 24, Colorado Avalanche: 2011-12 stats: 4 goals and 22 assists for 26 points in 73 games -> four-year contract with an average value of $3.75 million
Erik Karlsson, 22, Ottawa Senators: 2011-12 stats: 19 goals and 59 assists for 78 points in 81 games -> seven-year contract with an average value of $6.5 million
Victor Hedman, 22, Tampa Bay Lightning: 2011-12 stats: 5 goals and 18 assists for 23 points in 61 games -> five-year contract with an average value of $4 million
John Carlson, 22, Washington Capitals: 2011-12 stats: 9 goals and 23 assists for 32 points in 82 games -> six-year contract with an average value of $3.96 million
SOURCE: CAP GEEK
As we can see, most of these players received long-term deals at an average value of approximately $4 million per year except for Erik Karlsson who earned a contract similar to Doughty's contract, but he won the Norris Trophy following his career season in 2011-12, so we can undoubtedly say he deserved this contract.
Following the extensive analysis above, I am willing to predict that Marc Bergevin will offer a three-year deal worth $13.5 million (or $4.5 million/year) to PK Subban, or an increase of  $2.5 million over his previous offer. With that in mind, Subban would be foolish to refuse this offer and hold out during the team's training camp as a refusal would tarnish his reputation towards fans and harm the Canadiens' chances at making the playoffs this season.
How much do you think Subban will earn per year? What will be the term of the deal?