Ryan Spooner must be feeling a case of deja vu.
When David Krejci suffered a knee injury last season in late February and missed 15 games, the Boston Bruins recalled their 23-year old center from Providence in an attempt to fill the gaping void. It might have been Spooner's last chance to crack the big time, so the opportunity was there to prove to the Bruins' brass he was worth keeping around.
Boston's second-round pick in 2010 only went on to be one of their best players down the stretch scoring 12 points in the 15 games Krejci missed, including a seven-game point streak originating from his first NHL goal in New Jersey.
As an added bonus, it was a game-winner in overtime that ignited a late-season push towards the postseason. The Bruins would go on to win seven of their next eight games, yet it wasn't enough at season's end.
However, it did earn Spooner a two-year contract. On a personal level, it was mission accomplished.
Well, history is repeating itself again a year later and again, the Ottawa native has responded.
Second Time Of Asking
Spooner was already enjoying his first full-season on Causeway Street prior to Krejci's injury suffered in Ottawa three weeks ago. The 5'11 center did his part to give the Bruins secondary scoring from the third line with 22 points in 35 games. The biggest impact he was making was on the power play, scoring five goals on the man advantage and assisting on five more. Averaging just under 14 minutes of ice time per game, he was already making the most of his ice time even though his defensive zone coverage was an adventure at times.
Since the injury, Spooner has responded in the exact same way he did the first time. Head coach Claude Julien gave his second-year center the privilege to play alongside gritty winger Matt Beleskey and Loui Eriksson, who is only in the midst of his best season with the Bruins. Spooner has only repaid the faith shown by the same coach who chastised him for being a "defensive liability" in a preseason game two years ago.
Notable players Ryan Spooner has more PTS than:
Zeterberg
Rick Nash
Marleau
RNH
Jeff Carter
Zach Parise
Corey Perry
Ryan Getzlaf
Phil Kessel

— Nicholas W. Goss (@NickGossNBCSB) January 16, 2016
Whether it was done more out of merit or necessity, the young pivot man has seized his opportunity to play in the top-six a second time. Spooner has tallied 11 points in his past nine games; eight of them at even strength. In addition, he's seen his ice time go up significantly averaging over 17 minutes a night in Krejci's absence. Spooner increase in ice time is giving him much more confidence to play his style, which features crisp puck movement and quickness up the ice.
As a result, the former Sarnia Sting product is now tied for third on the team in scoring with 33 points. Eriksson and Beleskey have combined to score five goals and six assists in the nine games they've played alongside Spooner, meaning this line has accounted for 28-percent of Boston's offense in the past nine games.
Still Work To Do
For all the good things he's done, Spooner still has plenty of work to do defensively.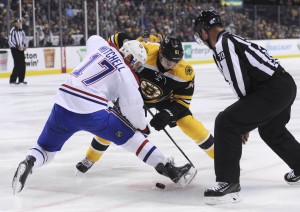 It starts in the faceoff circle. Saturday night's performance in the dot is a stark reminder the homegrown center has to work on winning draws. Spooner won just two of the 14 faceoffs he was a part of against the Toronto Maple Leafs and has been victorious in just 40-percent of all faceoffs he's taken in the last nine games (46/115). It hasn't been a strong suit of Spooner's in his young career but, if he wants to progress to the next level in the future, he'll have to be much more successful in the dot.
In addition, defensive zone coverage is a work in progress as well. A quick glance at his Corsi-For numbers (49.1%) suggests Spooner isn't exactly as much of a liability as one may think. However, he's also started the third-highest percentage of shifts in the offensive zone on the Bruins roster (61.5%). The faceoff numbers should serve as a pretty good clue as to why Julien is reluctant to trust Spooner taking draws in his own zone. There's still an element of distrust between coach and player, even with all the good things the offensively talented forward has done this season.
Gone are the days when Julien criticized Spooner for every little mistake he made defensively. If the eye test is inconclusive, take this quote from the coach after the Bruins' recent overtime loss to Ottawa last weekend, courtesy of The Boston Globe's Fluto Shinzawa:
""I thought he played really well tonight. I thought he skated well. Both sides of the puck, he was good. He made good plays, good decisions. A lot of good things happening with Ryan tonight. I thought it was one of his better games."
Once again, Ryan Spooner is the beneficiary of David Krejci's misfortune. He might not be as good as the Czech playmaker but Spooner has more than proven his worth to the Bruins.
The best part? He's only counting $950,000 against Boston's cap for this season and next. Talk about a bargain.