In the week leading up to trade deadline day, teams were overpaying for players left and right. But Habs GM Marc Bergevin managed to acquire a top four defenceman in Jeff Petry from the Edmonton Oilers for only two picks that didn't include a very valuable first rounder. Bergevin is well known for keeping quiet on trade rumours and potential deals so the fact that he swooped in and acquired Petry without warning is no surprise.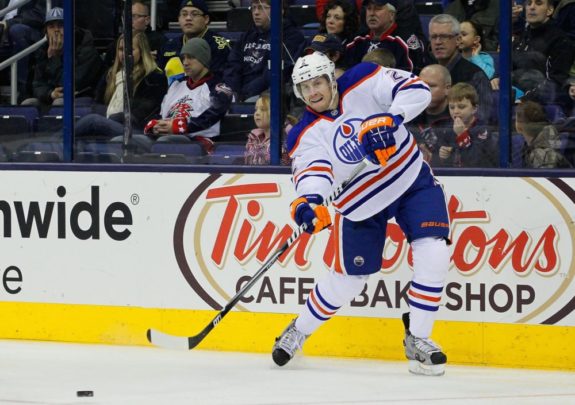 Who is Jeff Petry?
Montreal sent a 2015 second round pick and a conditional fifth round pick to get the pending unrestricted free agent. What makes this deal a steal for Montreal is the fact they didn't give up a first round pick or a top prospect for Petry's services. Montreal has allowed the least amount of goals in the NHL despite not having the most stellar defence corps in the league and getting Petry can only strengthen the Habs' blueline.
So far this season, Petry has 15 points in 59 games with a glaring plus/minus of -25. Plus/minus is a flawed statistic that doesn't completely reflect on Petry as a player. Playing fewer minutes on a much better team will no doubt benefit Petry as he isn't a top pairing defenceman and having one of the best goalies in the world in Carey Price behind him can only be a confidence booster. Montreal is set with P.K. Subban and Andrei Markov as the first pairing but it was the depth after them that was concerning. However, Nathan Beaulieu has stepped his game big time in recent weeks, looking like a true top four defenceman for the first time in his NHL career.
What he brings to the table
Petry is a rare but coveted right handed shot and considering Subban, Tom Gilbert and the barely used Mike Weaver were the only right handed shots prior to Petry's arrival, Montreal's defence finally has more balance. Add in Sergei Gonchar and Alexei Emelin to fill out the bottom pairings and things look a lot better on the Montreal blueline. Gilbert and Emelin play better without the pressure of being top four guys while the older Gonchar won't be as relied upon to play heavy minutes at his age. Petry is more of a defensive defenceman which is a good contrast to a team featuring notorious puck movers. He will likely see time on the penalty kill and will help alleviate some of the pressure off the top pairing, who has played too many minutes as of late.
https://www.youtube.com/watch?v=qnJvBEknJxs
Bergevin does it again
This deal shows how Bergevin plays the GM game by his own rules. He keeps an eye towards the future but can also recognize an opportunity for his team. Last year, he stole top six winger Thomas Vanek for a second rounder and a prospect. Getting a top four defenceman at this time of year for only two picks was a savvy move as he bucked the trend to overpay at the trade deadline and got a useful player for a more than reasonable price. There is no guarantee that Petry will remain a Montreal Canadien after this season so it was fair as a rental.
After watching the Rangers get defenceman Keith Yandle and Tampa Bay getting Braydon Coburn, the move to get Petry looks even better. It is a real possibility that Montreal will have to play either of these teams in the playoffs and will need all the depth they can muster to get through the playoffs. This is the best team Montreal has had in years and getting a top four defenceman is proving to the fans that the team feels the same way and is willing to take advantage of this opportunity.
I have a Bachelor's Degree in Journalism from Ryerson University. I am a freelance journalist and a Montreal Canadiens writer for The Hockey Writers. I previously wrote for Simcoe.com and Last Word on Sports as well as interned at TSN.