The Patrick Kane fiasco is over. Or at least that's what we're being told. Amidst a trove of murky explanations, half-facts and dodged questions, lies a truth that only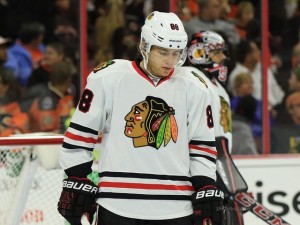 Patrick Kane and the woman who accused him know. What bothers me still is the way it was handled, or in this case, wasn't handled.
For myself, and many others sports, are a form of escapism. Hockey distracts me from the pressures of real-life, from the monotonous drain that is politics, and from horror stories that are coming out of places like Syria, and Saudi Arabia.
It's a world where I can put on a jersey and for a few hours forget about the atrocities of the world. Where I can ride the highs and lows of my favourite team winning or losing, and where I can delve into numbers and story lines of players I'm not familiar with. So what happens when these two worlds collide?
What happens when our escape from reality becomes a brutal reminder that the monstrosities of the world are pervasive throughout every aspect of life? How do we deal with that? We try to solve the problem. For some that means completely denying that such actions could happen within the hockey world, always assuming the accused is innocent. For others, it's a different extreme: they leap to conclusions and want the harshest of punishments without the slightest bit of evidence.
I'm somewhere in the middle: all I want is separation.
I want the NHL and the teams of the accused to show that they are willing to respect the victims; that they are willing to separate their sport from the actions of its individuals.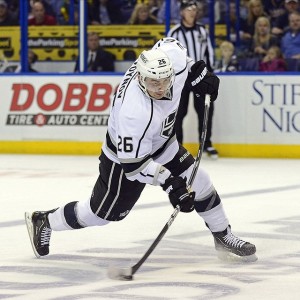 When Patrick Kane was accused of rape it wouldn't have been hard for the Blackhawks to decide that he would be suspended with pay until either a decision was reached or a settlement agreed upon. When Slava Voynov pleaded no contest to domestic abuse it would have been easy for the Kings to suspend him without pay. It would have been easier still to terminate the contract like they did with Mike Richards over charges much less severe. But that didn't happen. Instead they did nothing.
His decision to return to Russia solved their problem for them and a statement saying they were going to terminate his contract, nearly one year after the incident, does little to wash away the sour taste left in the mouths of many hockey fans.
I'm not asking that Gary Bettman become judge, jury, and executioner. I'm not asking that we criminalize players who have dealt with legal issues in the past. What I am asking for is that the NHL steps up, and deals with these issues. That they separate the player from the game until a decision has been made.
When Patrick Kane stepped onto the ice for opening night, in front a sold out Chicago crowd, he stood in front of approximately 2,000 victims of rape or sexual assault. While the rest of us may see a hockey player, they see a man accused of committing a devastating crime; a man who is being supported by his teammates, the Blackhawks organization, and the National Hockey League. We don't need to condemn Kane, but we do need to show that the NHL is separate from the actions of its individuals.
Journalism student at the College of Sports Media. Avid Sens Fan. Host of the Coast to Coast Podcast.