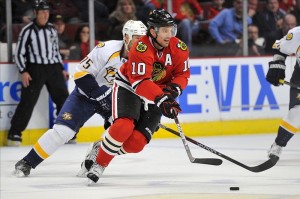 Every organization has at some point given up on a player too early or was forced to send a promising talent in a package to land a position of need. For the Philadelphia Flyers, the one that got away was Patrick Sharp.
While Mike Richards and Jeff Carter often garner the headlines more recently after being shipped out of Philadelphia a few years ago, the loss of those two was much easier to swallow than that of Sharp. For starters, the Flyers landed All-Star caliber players like Wayne Simmonds, Brayden Schenn and Sean Couturier in return for the barhopping Sea Isle duo.
When the Flyers let go of Sharp during the 2005-06 season, the player in return was Matt Ellison and a 2006 third round draft choice that wound up being traded away. Many Flyers' fans probably don't even know who Ellison is. That's because he only suited up for seven career games (1 point) in the black and orange with five of those coming the year he was acquired.
Nowadays, Ellison is entering his sixth season in the KHL while Sharp continues to be one of the key contributors on the Chicago Blackhawks.
Since leaving the City of Brotherly Love, Sharp has completely transformed his game. In 66 games with the Flyers, the Canadian forward tallied just 15 points (10 G, 5 A). At the time, Sharp simply was an underachieving youngster who appeared on the brink of becoming nothing more than a fourth-liner or career minor leaguer. There's a big difference, though, in giving up too early and failing to properly develop a player.
Flyers' fans have recently had to swallow the massive pill that is Sergei Bobrovsky. Stuck behind Ilya Bryzgalov and never given a legitimate opportunity in Philadelphia, the Russian goaltender went on to win a Vezina Trophy in his first season as a full-time starter in Columbus. For a franchise that has long sought a true No. 1 goaltender, that one hurts the most.
Right behind that, though, has to be Sharp.
Looking at an article published on Philly.com back in 2005 which discusses the Sharp-Ellison swap, one of the first paragraphs sums up the biggest problem with Flyers management:
"Sharp, 23, played in 22 games this season, collecting five goals and three assists, but he was seldom used by coach Ken Hitchcock, who gave him barely eight minutes of ice time a night."
How can a team justify playing a 23-year old filled with potential, someone who notched 52 points (23 G, 29 A) with the Philadelphia Phantoms the year before, for just eight minutes of ice time? That's the part of this whole situation that makes this trade one of the worst in franchise history.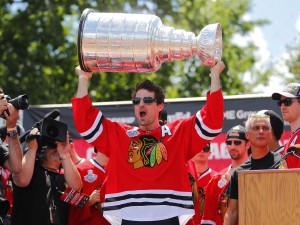 In hindsight, this move has turned incredibly lopsided in favor of Chicago. But this all could have been avoided had the Flyers realized what they had in front of them. Seriously, Philadelphia has become nothing more than a clueless 23-year old who doesn't realize the girl in front of him is the best thing that will ever happen to him.
It happened with Sharp. It happened with Bobrovsky. Until something changes, it probably will happen again in the next few seasons.
Since that unfortunate December day in 2005, Sharp has gone on to register 372 points, including four seasons of 60 or more points and three of them consecutively from 2009-10 to 2011-12. Additionally, he was named the 2011 NHL All-Star Game MVP, finished as the leading goal scorer (10) in the 2013 playoffs and has gone on to raise the trophy that Flyers' fans have longed for since 1975 two times.
Yeah, losing Sharp stings. But knowing the Flyers failed to properly manage him is the part that hurts the most.
The NHL regular season schedule was released on Friday. Check out our partners at TiqIQ for the best deals on Philadelphia Flyers tickets for all 2013-14 games.