Since being drafted in the first round of the 2011 draft, Sven Baerschi of the Calgary Flames has certainly impressed the organization. Despite appearing in a grand total of 25 NHL games in his first two seasons, the team feels as though they have a future star on their hands. Now that he is set to enter his age 21 season, will Baertschi turn the corner and become the face of a franchise on the rise?
After another disappointing regular season, the Flames appear to be looking for answers this offseason. Thanks to a few nagging injuries and just a lack of experience, they have eased Baertschi along. However, when he has received an opportunity to play at the NHL level, he has impressed both management and fans.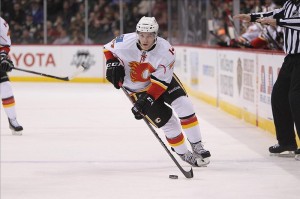 The Swiss winger has outstanding finishing skills, and he showcased that ability most recently to close out the 2013 NHL season. He finished he regular season with a seven-game point streak, despite the games being relatively insignificant for the franchise. If Calgary is going to once again be a playoff and Stanley Cup contender, they will need Baertschi to be a leader going forward.
What gives Baertschi star power is his electricity with the puck, and the ability to relate to fans. He already has a huge following in Calgary, and he has a chance to be a true star of the NHL and fantasy hockey as well if he can breakthrough and begin to tap into that potential he has.
It is difficult to project a player who has only played about 1/3 of a regular season, but the Flames feel like he could be very special. He is not the biggest guy on the ice at just 5'10" and 180 pounds, but his base is solid enough that he is still able to battle with the best of them. Calgary should be better this season, and Baertschi should be able to get his first full season under his belt at the NHL level.