Much has been made about the progress the Maple Leafs made in the playoffs and their disastrous collapse. Their season before that which garners much less attention was not a season filled with triumph, although shortened. The argument can be made that had the Leafs endured an 82 game season, they would have played their way out of a playoff spot.
The moves this offseason include multiple signings which have been argued good, bad, and ugly, and there have been acquisitions. The team is in what most fans are hoping is a transition period between what has been done, and what still needs to be done. This can't be the end of the moves for GM Dave Nonis. If it is, what are we left with? Let me enlighten you.
The Forwards
It's hard to predict what the line combinations will be for certain, but an educated guess will tell you the efficient scoring line of Lupul-Bozak-Kessel will not be split up.Yes, it still means Tyler Bozak is the first line center, and yes the injury prone Joffrey Lulup is dropped in on left wing. This line needs to stay in tact, because moving down the depth chart is more of a drop than a slight decline.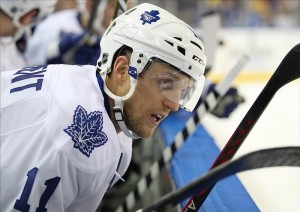 If and when the Leafs agree to terms with their most promising prospect, Nazem Kadri should center the second line. Especially with the buyout of former second line center Mikhail Grabovski, this boost should help him develop his game of speed and skill rather than his placement on the third and fourth lines in the past. Who will bookend Kadri? That's a toss up. You're going to have to go with your newest and most expensive acquisition in David Clarkson to take the right wing, while James Van Reimsdyk hangs out on the left.
The NHL regular season schedule was released on Friday. Check out our partners at TiqIQ for the best deals on Toronto Maple Leafs tickets for all 2013-14 games.
Here's where the fun part comes in. You've got two time Stanley Cup Champion Dave Bolland who grew up in the Greater Toronto Area who is a dynamite third line center. Now you have to plug in a guy like Nikolai Kulemin on that line who has proven he can throw around his body while being affective like Bolland. If you wanted to give the other team hell all year, you would put Troy Bodie on the right wing and call it a day.
The fourth line never seems to change. You can expect to see Jay McClement sandwiched between Frazer McLaren on his left, and Colton Orr on his right. Randy Carlyle already loves these tough guys which he showed an allegiance to in the playoffs. This line is one you can expect to see in tact barring a fantastic camp from Joe Colborne, Trevor Smith, or another up and coming player in the system.
The Defence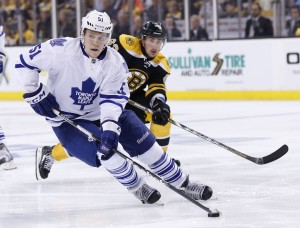 Defence is another story, the lines were juggled back and forth from the beginning of the season to its end. You've got your captain Dion Phaneuf who proved he plays pretty well with newly re-signed Carl Gunnarsson. Then you have the most talented defenceman in the system, -and quite literally on your team- Jake Gardiner. You can probably put him with anyone, but let's just throw him with Cody Franson assuming a contract is negotiated by puck drop. That leaves you with Mark Fraser who avoided arbitration, and John-Michael Liles who was expected to be one of the Leafs buyouts this summer.
Onward and Upward
With the amount of moves that have been made this summer, the team has not become decisively better or worse. The Leafs are in a stagnant place of mediocrity and risk another season where big money is wasted on contracts that will never justify production. Tyler Bozak and David Clarkson are making the kind of money All-Stars make and they are not All-Star caliber players.
The Leafs have not used their cap space wisely if this is all they're going to do this summer. Nonis must be relying on either a big turnout of talent from prospects at camp, or has something else up his sleeve to ice a team capable of making the playoffs. All is not lost, but all could be lost if Nonis' plan does not come to fruition.