The Toronto Maple Leafs enter the upcoming season as one of the favorites to draft Auston Matthews at the top of next year's NHL Entry Draft, and I don't think any realistic person really believes they'll be all that competitive this season, let alone make the Playoffs.  That being said, I think they may actually have quite an underrated team and that their off-season acquisitions stand a chance of making the Leafs a much better team than anyone thinks they will be.
Now, please don't take this as me saying that the Leafs will definitely make the Playoffs. The odds are that they won't. However, whether it is the Kings missing the Playoffs because of terrible luck, while being the league's best possession team, (and arguably one of the deepest, best teams in the NHL) or the Calgary Flames making it because of insanely good luck, we know that anything can happen. So, today, let me take you through what has to happen for the Leafs to find themselves playing meaningful games next March.
No Tanking…

It's debatable whether the Leafs should even try to make the Playoffs this year. People might not like the idea, but tanking is a viable strategy. The Leafs clearly need to move on from the core that Nonis and Burke wrongly thought could compete, and adding another blue-chip, elite skater next year would be fantastic in every possible way.  Because the team enters the season with a new GM, a young management group, a new coach and having traded their best (or at least most famous) player, the Leafs have a free pass this season to be brutally bad.
But being bad on purpose doesn't exactly jive with anything we know about Lou Lamoriello, Mike Babcock or Brendan Shanahan. I believe that the Leafs' roster moves in the summer indicate that while they want to stock their team with young, controllable talent, they are going to at least try to be competitive while they do so. Given that the NHL has passed rules to make tanking less desirable, and that there is no guarantee that all top-five drafted players will work out, an intentionally tanked season  is probably not going to happen, nor is it a good idea.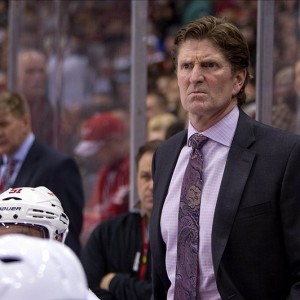 I believe, based on what I know about the team/management group, that the Leafs would rather give their young players a positive environment in which to grow and that they believe experience in a Playoff race/ first-round series would be an acceptable price to pay for a lower draft pick. Though a last-place finish is certainly possible, I think there are enough positives with this team to make that unlikely, and perhaps even enough for them to squeak into the Playoffs.
Out With the Old…
While it seems everyone I know has embraced the rebuild and accepted a rough season to come, it is somewhat ironic that the only real long-term Leafs who've been moved so far are Cody Franson and Phil Kessel.
The team is still saddled with some absolutely brutal players: Tyler Bozak, when he is on the ice without Phil Kessel over the last three seasons posts an incredibly bad Corsi rating of 35.5%. Joffrey Lupul, when not paired with Nazem Kadri over the last three seasons posts a Corsi rating of 40%. These are brutal numbers.  They are enforcer-level numbers and I could easily spend the entire length of this article showing how they are both essentially among the worst players in the NHL relative to minutes played, and that they provide negative value to their team. The reasoning that lead the Leafs to deploy Bozak  ahead of Kadri for the last three season is beyond comprehension.  Then again, much of their roster and coaching moves during that time have been beyond comprehension.
Besides Bozak and Lupul, the Leafs also need to jettison Roman Polak, Stephane Robidas and Leo Komarov. Not only will moving these players help free up valuable cap-space which they can then use trade for more assets, but it will also open up spots for young players to contribute/be evaluated at the pro level.
I also think the Leafs should be looking to trade JVR and possibly Phaneuf, although neither of those moves would be likely to improve the team this season. Bottom line: the Leafs have players who they need to get rid of and which by doing so will actually make the team better. It makes no sense to give away ice-time to veterans when you could use it to evaluate your young players, especially since so many of those veterans are worse than their potential replacements.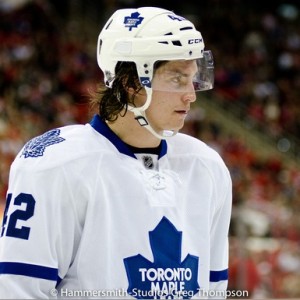 Ways In Which the Team Will Be Better Than You Think:
Goaltending: Many fans of the Leafs are disillusioned with Jonathan Bernier, but the fact is, he has done alright when you consider that the Leafs have been one of the league's worst defensive teams the entire time he's been their goalie.
Last season, he had  92.18 save-percentage at 5v5, which ranked him 26th in the NHL among goalies who played 1000 minutes or more. I know 26th best seems bad, but allow me to put it in context: NHL save-percentage leader Steve Mason posted a 94.37% which is only a difference of two goals per 100 shots, or roughly a half goal per game. Consider also that the Leafs were one of the NHL's worst defensive teams, and Bernier's numbers, with the proper context, are actually very good. As important as the goalie position is, it is unpredictable and I think you could far easier upgrade a near league-worst defense to make up for that roughtly 1/2 of a goal per game than you could by changing goalies.
When you further consider that the Leafs allowed the third-most 5v5 shots in the NHL, were the fourth worst possession team, and that in early December (when things were going very well for the Leafs) Bernier was ranked 5th in the NHL in adjusted save-percentage, I think it suggests that the Leafs have a very good goalie stuck on a bad team. For nearly half a season, the Leafs rode what was an all-star performance by Bernier to a record that their team stats suggested they had no business having.
My conclusion here is that if the Leafs get the kind of goaltending from Bernier that he has statistically demonstrated he is capable of, and they couple that with a team-wide commitment to playing better defense and possessing the puck more, then that alone will shoot them higher up in the standings than anyone currently thinks is possible.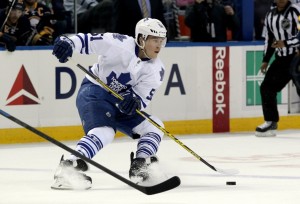 Defense:
One thing that might surprise some people: Last year the player who played the most at 5v5 for the Leafs, in terms of average time on ice per game, was Roman Polak. Now, I know he is a fan favorite, but he posted a brutal 45% CF rating and the Leafs were usually not in control of the puck when he was on the ice.
As you can see from the chart, Polak performs terribly in comparison to his ice-time. Note too that that chart is for the last three years and that on the Leafs last year, Polak got first-line level ice-time while decreasing his career averages in all other categories, except goals/60.
Just by skating Morgan Rielly as the clubs top 5v5 blue-liner there will be a massive improvement because not only is Rielly better than Polak in virtually very regard, but his strength -driving possession – is Polak's weakness. The Leafs will also be due some automatic improvement because they added Matt Hunwick from the Rangers, as well as Martin Marincin from the Oilers, both of whom are solid possession players and are instant upgrades over the likes of Polak, Robidas, Brewer and Holzer.
If the Leafs can get rid of Polak and resign Robidas to the press-box on most nights, they can ice a top-six of Rielly, Gardiner, Phaneuf, Hunwick, Marincin and any one of Harrington, Percy or Brennan. That is miles ahead of what they were dressing last  season when Erixon, Holzer, Brewer and MacWilliam combined to skate 79 games for them.
Though an elite blue-chip prospect to go with Rielly and overall depth on the blue-line are needed before the Leafs are true Cup competitors, their defense in 2015-16 is going to be greatly improved.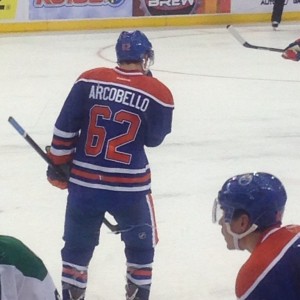 Forwards: 
The Leafs forwards are down one elite sniper, but up three solid possession players in Mark Arcobello, Daniel Winnik and P.A Paranteau, all of whom posted positive Corsi ratings relative to their teammates last year, and have a history of doing so consistantly. You also have to figure that they will eventually be without Bozak and Lupul, the net result of which is three terrible possession players out and three good possession players in.
Now, possession isn't everything, but this will certainly help lower the ridiculous amount of shots per game the team was allowing, and give them a better chance to win in games where they don't get ridiculously good goaltending.
I think it is also a good bet that you'll see improved performances from Holland and Panik, as well as a breakout year from all-ready-a-number-one-centre-but-no-one-knows-it Kadri. Whether or not this is enough to overcome the loss of Kessel remains to be seen, but even if they can't score a ton, the Leafs are virtually guaranteed to get better defense from their forwards this season.
With potentially a couple of highly skilled rookies, an influx of possession positive players and the absence of players who are defensive black-holes, the Leafs forwards are likely to do more positive things to help their team than they did last season.
Conclusion
I realize that the Leafs lack a big-time goal scoring threat, that their team is for the most part inexperienced and mostly devoid of high-end talent, and that they are highly likely to miss the Playoffs. I maintain, however, that they will be better than the team that finished 4th worst in the NHL last season. They are better on the back-end, their forwards will at least allow less shots and have the puck more, and I think Bernier can be counted on to play better than he did when the team was out of it and dressing Erixon and Brewer at the same time.
The Leafs might have trouble scoring goals, but they should at least allow less shots than they have been and play a better defensive system under new coach Mike Babcock, whom I haven't even really talked about since it's impossible to guess what kind of impact he alone might have. Assuming even a tenth of the hype is warranted, he should also make the Leafs a better team than they were.
I don't think the Playoffs are a good bet, but they aren't the impossibility they might seem. Especially if the players who need to be shed are discarded quickly and the team gets improvements from expected sources like Kadri, Rielly and Gardiner.