Of all the players in the National Hockey League, perhaps the player whose stats most belie his reputation is Nazem Kadri. After signing a one-year extension with the Leafs, most media members talked about how it's Kadri's last chance to earn a big contract and contribute to the Leafs' rebuild.
To wit: Don Cherry said "He has to have a good year, or he's toast," and that same article said that Kadri's new contract was a "show-me extension."
The Pension Plan Puppets said that Kadri "has to prove himself," and that he could be "tantalizing trade bait" at next year's deadline.
The Hockey Writer's own Anthony Fusco said "Kadri now has a year to prove to himself and the organization that he is an elite player."
And, on Hockey Buzz, one of my favorite writers, Mike Augello said "The 24-year-old regressed in his second full season, with lower offensive totals, continuing defensive lapses …it is still questionable whether he is capable of rising to the challenge….though Bozak may be the better performer, it appears to be a greater priority to find out whether Kadri can handle top line responsibilities."
Now, I get where all these people are coming from: Kadri was suspended by the Leafs in a mysterious move last March, the counting stats don't appear to be eye-popping and he has played mostly behind  Tyler Bozak through three coaches. (Though to be fair, he actually got more ES ice-time last season than Bozak, but did not see time on the first PP unit, for the most part).
Like I said, I get it. I just couldn't disagree more.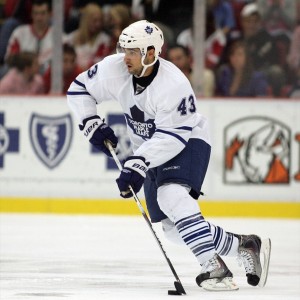 The Opposite of the Consensus:
I don't think Kadri has anything to prove. It isn't even debatable that he's better than Bozak and has been since he was a rookie. I don't think the one-year extension had anything to do with Kadri needing to prove anything to the Leafs. I feel, with no reservations, that if the Leafs could have signed Kadri to a long-term contract at anything close to the $4.1 million he just signed for, they would have jumped at the chance and done it in a heartbeat.
But the fact is, Kadri and his agent know that the 39 points from last year aren't in any way indicative of  his true value. All signs point to Kadri being one of the top centres in hockey so it makes no sense for them to agree to a long-term deal based off a 39 point season.
Mike Babcock seems to agree: "It is a home run for him. He gets to come in, have a heck of a year and put the screws to us (in his long-sought extended deal)….So why wouldn't I [Kadri] have a short-term deal?" Babcock's words seem to be a direct contradiction to the consensus opinion that the contract is the Leafs' choice and not the other way around.
Here is John Tavares calling Kadri one of the best players he's ever played with. Considering Tavares has played on Team Canada's All-Star team, that's quite the compliment.
Besides myself,  I don't really come across too many articles or people who seem to hold Kadri in the esteem that his stats say he deserves.  The exception is Steve Burtch, from Sportsnet, who has put together this impressive piece that shows just how good Kadri is. Burtch takes the position that Kadri himself took a low-risk gamble by signing the one-year deal because by doing so, he can put himself in position for an absolutely huge pay-day next summer.
From Burtch:
The oft heard refrain that Kadri will likely top out as a second line centre has more to do with perceptions of attitude and work ethic than significant flaws in his game.

If we take a more analytical approach to breaking down his impact in his previous three seasons, it becomes apparent that Kadri is already one of the more effective centres in the NHL.
Now, many people I know will read that and instantly dismiss it, but you really should look into the numbers. Kadri is a more effective player at 5v5 than James Van Riemsdyk, who for some reason is a huge fan favorite.  Kadri puts up the 15th most points per 60 minutes among centres for the last three years.
More than Nick Backstrom who plays with Alex Ovechkin. Kadri's most frequent linemate during that time? Joffrey Lupul, who puts up a pathetic 40% Corsi rating when not on the ice with Kadri.  That is an extremely negative Corsi rating and is right at the edge of the usual range. To put that in perspective, Lupul (without Kadri) helps his team control the puck about as well as Colton Orr does.
Burtch neatly sums up the Kadri conundrum at the end of his article: "He [Kadri] has already shown over a significant time frame that he belongs amongst the top 30 centres in the NHL, and yet he has consistently played behind inferior skaters."
Basically the Leafs have one of t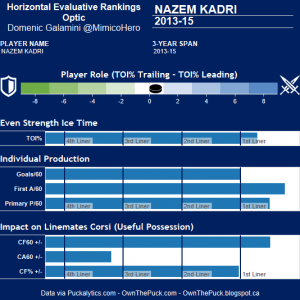 he best players at one of the hardest positions to fill, and the vast majority of NHL analysts don't even realize it. That is why, with Babcock in the fold- who with one sentence made clear that he's aware of how good he can be –  Kadri is going to get all of the top line ice-time he can handle. Expect him to destroy his career high of 17.75 minutes per game and be among the league leaders in scoring.
In 2015-16, Kadri is going to crush it.
I mean, just look at that chart and try to tell me he's a second line centre.
Thanks for reading.
All stats courtesy of OwnthePuck.blogspot.ca,  WaronIce.com and Stats.HockeyAnalysis.com
Covering the Leafs for the Hockey Writers.