So it has been 24 hours since "news" "broke" that the Leafs were going for a total rebuild. Of course, there are those of us who have been saying since September that a team build for ninth place was a terrible idea and I am pretty sure everyone else resigned themselves to a rebuild about a month ago, but if it takes the Globe and Mail to tell you for it to be real, then it's now real. Good times.
But in the wake of this news comes some pretty stupid commentary.
The Kessel deal will be much more than a hockey trade.TML will have to "max out "on what they pay of PK's salary.what piece do they take…

— Bill Watters (@RealBillWatters) February 13, 2015
Now, full disclosure: Bill Waters is my best friend's uncle (by marriage at least) and has never once hooked us up with any free tickets, so maybe I am biased – but that is the dumbest goddamned thing I have ever heard.
And if it's true then you just simply do not trade Phil Kessel.
Especially not for the ridiculous package some (possibly drunk) intern at the Score suggested yesterday in an article that all but guaranteed anyone who wants one a job in the mainstream press.
TO BE CLEAR: If the Leafs trade Phi Kessel in anything approaching a salary dump they will be making the one of the worst mistakes in the history of the historically worst run NHL franchise.  
If whoever the Leafs actual Gm is today takes a call about Kessel and the idea of Toronto retaining even one dollar of his contract comes up, that person should hang up the phone, but not before laughing maniacally.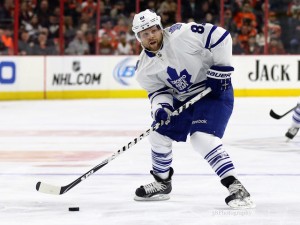 Here are some facts for you: Phil Kessel is only 27, he is going to hit 30 goals for the seventh straight season, he still has years and years of excellent hockey left in him and his contract isn't even that bad for a player of his skill. He's been top ten in scoring three years in a row, only a couple players have more goals or points than he has in the past few years and he despite the turmoil this year, he's still doing OK.
Also, rumors persist that he's been playing through various injuries all season. I wouldn't be as quick to jettison as some turncoat "fans" apparently are. On a team where our expectations are that he is just a part of the team and not the main guy, he can is definitely an asset.
He is a weapon and we probably haven't seen his peak season yet. Get a better core – absolutely, no questions. But once you do, you're going to want the kind of weapon that Phil Kessel is. Given the way Toronto eats its own, he's probably quite underrated when you really start to dig into his accomplishments and consistency.
People like to harp on his effort or his whatever, but the fact is, this guy hasn't missed a game, never complains and he isn't an all around player – he has one job and except for the past month (where he has shot a ridiculously unlucky 3% since Horachek took over) he has been as consistent a player as there is.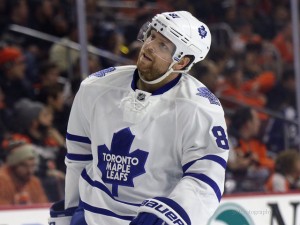 It perplexes me and angers me that people are talking about trading him as if he's just some guy and not one of the best players in franchise history. The fact is, trading this kind of talent is not often a good move.
If the Leafs really want to rebuild the team and if they are serious about doing things differently than in the past, they would be better served to think outside the box on this one. Trading Kessel just to move his contract is asinine.
Instead, trade JVR. He's only two years younger and he has a worse injury history. He is also probably just as bad if not worse on defense. The thing about JVR? He is signed to a contract that is all about value. Three more years after this one at a $4.25 million cap-hit.
Whatever people offer the Leafs for Kessel, its going to be hurt by the fact that he has an eight year contract which only a few teams on his limited no trade list will be able to afford.  JVR on the other hand, can go to virtually any team in the league. He makes peanuts and is as productive as Kessel and can be sold as younger and bigger.
There is no doubt in my mind the Leafs could probably get more for JVR than they could for Kessel while retaining the better player.  On top of that, it's only a four million difference and that can easily be recouped by trading Bozak away for a pick and playing Holland more.
In the final analysis, if the Leafs can't full value for Phil Kessel – like, two firsts and a second – then the best thing to do is trade JVR.
And on a personal note: the quickness of which the fanbase has turned on Kessel makes me sick. People ought to be ashamed. This guy does his job as well as anyone in the league. It isn't his fault the team has been terribly flawed since he got here.  But, now that things are looking up (building wise) its not the time to bail on him.