After a 3-1 win against the Winnipeg Jets on Thursday night, the Nashville Predators became the first team in the NHL to hit 80 points. Through just 55 games, Nashville has a 37-12-6 record, and are ten wins away from clinching a playoff spot, according to SportsClubStats.com. Sitting atop the NHL standings in February, the thought of winning the Presidents' Trophy begins to creep into minds of players, management and fans alike.
The Presidents' Trophy is awarded to the best team in the regular season. Only fifteen teams have won the award, and if Nashville were to win, it would be the franchise's first. SportsClubStats.com has Nashville's odds at winning the Trophy at 59.9%.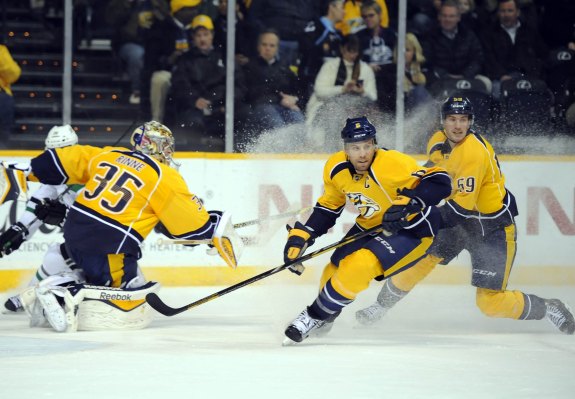 Winning the coveted Trophy is quite the honor, but it does not guarantee success in the playoffs. The increased parity in the NHL has made it difficult for the regular season champions to win the true championship. Since it's existence in 1985-86, only eight teams have won the Presidents' Trophy and Stanley Cup in the same year. The last team to win both trophies were the Chicago Blackhawks in the 48-game 2012-13 season.
Although the Blackhawks are an exception, the Trophy has been more of a curse than a good luck charm, lately. Three of the last six winners lost in the first round (San Jose Sharks '08-'09, Washington Capitals '09-'10 and Vancouver Canucks '11-'12). The Boston Bruins, last season's winner, fell to the Montreal Canadiens in the Eastern Conference Semifinals.
Cons of winning the trophy
Nashville could be facing a similar fate as the aforementioned Sharks, Capitals, Canucks and Bruins. The Predators have not qualified for the playoffs since '11-'12, and have not seen much success when they do qualify. Of seven playoff appearances, they have reached only the second round twice. As inexperienced in the playoffs as the Predators are, they could see a disappointing early round exit.
Pros of winning the trophy
Not only do the Predators get a prestigious award, they are guaranteed home-ice advantage throughout the playoffs. Nashville is a League's best 23-3-1 on home ice.
Also, sitting atop the Central Division most likely guarantees avoiding the St. Louis Blues or Blackhawks as a first round opponent, and instead playing a wild-card team like the Winnipeg Jets, Calgary Flames or Minnesota Wild. No offense to either of those team, but Nashville would play any of them over St. Louis or Chicago.