When the 28 year-old winger went down with injury in late December, Penguins fans were left wondering when Blake Comeau would return, how would he fit in with the squad?  He missed over twenty games with injury, but made his presence felt immediately in his return game against the Detroit Red Wings.
First Game Back, First Goal Back
Comeau, a former New York Islander and Columbus Blue Jacket, made his return to the Penguins line-up this past Wednesday and proved to be a factor from the first whistle.  Less than two minutes into the tilt, Comeau picked up the secondary assist on Patric Hornqvist's fifteenth goal of the season.
A little over ten minutes later, he would slap home a nifty feed from Hornqvist to put the Penguins up 2-0 with his twelfth goal of the year.  Comeau's reaction said it all: happy for the goal, relief to get the first one so soon.
Comeau played slightly under thirteen minutes (12:50) and was a plus-2. His presence back in the line-up was encouraging simply for the fact that the Penguins were getting back to their season-starting line-up, with the obvious exception of Pascal Dupuis.  Comeau and Malkin gelled with one another before his injury and slotting up with him again, the duo now aligned with Hornqvist proved to be a dominant line in the game against Detroit.
Comeau, in the following contest against Ottawa, would pick up his tenth assist of the season on Evgeni Malkin's twenty-first goal of the year at the 13:52 mark of the second period.  He would also dish out three hits.
Penguins' Best Free Agent Acquisition?
When you look at the players brought in this off-season by General Manager Jim Rutherford through free agent signings, Christian Ehrhoff was by far the biggest name.  A veteran defenseman who was got pretty cheap (one-year, $4 million) who has a cannon of a slapshot.  It's a very enticing signing.
Go down the line of Steve Downie, technically Nick Spaling as he was a RFA at the time, same can be said about Brandon Sutter; they were all good signings, but Comeau was an absolute steal.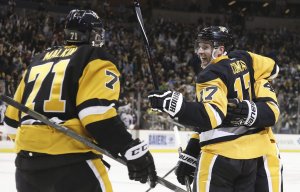 Signing a one-year, $750,000 contract, Comeau was seen as a depth forward.  They knew what he brought to the table; size, grit, toughness, the capability to score, and the ability to be slotted in at any line throughout the line-up and not miss a beat.
I highly doubt that at the beginning of the season, the Penguins' brass and fans alike would see him in the top six of scoring (12G, 10A) or playing alongside Evgeni Malkin for extended periods of time.
He's fourth on the team in power play points with four, eighth in plus/minus with a plus-7, and is second behind Brian Dumoulin in shooting percentage (16.2%).
Alright, so he's first on the team with players who have played more than eight games, either way, it is an impressive statistic.
His veteran presence along with his overall skill set is something the Penguins have needed for quite some time and with the injury to Dupuis, Comeau is that fill-in "all-around-guy" for the black-and-gold.
Clutch Performer
Aside from the normal stat line, Comeau leads this team in overtime goals with two (vs. Colorado; the only goal scored, and vs. Toronto.)
If Evgeni Malkin, or whoever the centerman is that Comeau flanks, gets kicked out of the circle, no worries.  He's won 83.3% of the draws he's taken.
For as much offensive firepower as the Penguins have, Comeau is the only player to have a hat-trick this season (vs. Toronto).  Not Sidney Crosby, not Evgeni Malkin, not Patric Hornqvist; no one else other than Blake Comeau.  That's a special feat.
Closing Thoughts
Blake Comeau will be a key player for any Penguins post-season success they intend to have.  Right now, his line is clicking and he's getting back into game shape.  While he's off to a hot start now, do not be surprised to see if he cools down a bit once he gets more games under him.  Adrenaline carries one so far.
With that said, Comeau is that kind of player that is a sleeper in the playoffs.  Think along the lines of Bryan Bickell, you do not expect him to perform well, but lo and behold, he was a key factory in their playoff successes.
And, lastly, with Comeau playing one of arguably his best seasons, it is time to make his tenure count in Pittsburgh.  With the way he is playing this season, there is a zero percent chance that he will come back for the money he's getting paid now.
Hopefully Comeau can raise the Stanley Cup before he gets his off-season raise.