How do we define success in the world around us? There are short-term achievements, notable accolades, and the general recognition of a job well done. But what if the job isn't completed just yet? What if the standards change over the time, goals are elevated, and there's more work to be done? Success, for better or for worse, is relative.
For all of the joys that the world of hockey brings into our lives, it still poses the threat of agony at a moment's notice. An NHL season takes 82 games to create something meaningful, and four springtime loses to destroy. If you don't believe me, ask the fine residents of Santa Clara County how successful their hockey seasons have been. And if you need more evidence, the city that boasts the world-famous Gateway Arch has more than a few citizens who can vouch for poor postseason hockey.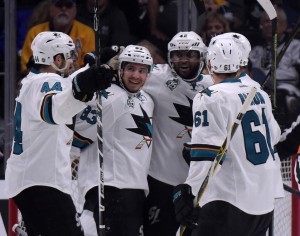 Neither the Sharks nor Blues have ever won a Stanley Cup in their respective franchise history. But each club is far from an NHL court jester. In just 25 seasons, San Jose has won six division titles, secured the President's Trophy for best regular season record (2008-09), and reached three Western Conference Finals. St. Louis has been in the league since 1967, and in that time has accumulated enormous regular season success. The Blues qualified for the playoffs 25 consecutive years, earned a President's Trophy, and have won their division nine times in that span. Do you know who has registered the most regular season points in the last five seasons? Not the Blackhawks, Rangers, or Kings. It's those pesky and consistent Blues, who play a full 82 game slate better than anyone. Yet in the playoffs, they stumble like their west coast doppelgangers in teal.
It will always come back to playoff performance at this level. San Jose put together some of hockey's best talent a decade ago, but they failed to get over the hump. Since 2012, the Blues have entered every postseason with confidence and a deep roster. And each time, they exited early. For both tortured fan bases, the question reverted from "when" to "if." Will these teams ever win a Stanley Cup?
Fast forward to this season, where the playoff picture featured the same major players who have dominated the Western Conference. Chicago, L.A., and Anaheim all over again, right? Not this year. This is the year that both the Sharks and the Blues have gotten back on track, as the Breakfast Club would say. The chatter about their struggles was loud. The dark cloud of prior setbacks was large. The ghosts of postseason failure were ominously present. But San Jose and St Louis didn't care.  In their own way, each franchise rose to the moment and forged a new narrative, dispatching a multiple time Stanley Cup champion in the process. Here's how they did it.
The Blues Play Their Game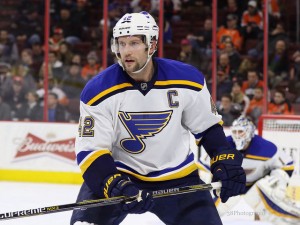 I got to witness firsthand the various stages of Blues fandom in St. Louis, as the team saw its postseason hopes dashed in each of the last four years. For one thing, it was never about lacking talent. The Blues are as well-rounded as professional hockey teams can be in the salary cap era, as their front office has constructed a team with offensive depth, defensive tenacity, and consistently productive goaltending. The Blues have size, speed, and can lean on one in particular when the situation dictates. It's not hard to figure out why the team has succeeded in the regular season.
Why then, have they faltered in the playoffs? Let's start with the obvious. Three of their four losses were to L.A. and Chicago, the cream of the NHL crop. St. Louis never got the offensive production they needed in key moments, while the stars of their opposition has shined bright for all to see. That's changed this year, in large part due to a team effort that emphasizes cohesion as opposed to individual skill. That's not a knock on the abilities of each Blues player (or the players that have been moved from their lineup in recent years); it's just a clear observation. The Blues did not play Chicago's game in round one (which they did at the tail end of their 2014 encounter). They played their own, and they were victorious.
Everyone will look at the Blues' decision to trade T.J. Oshie to Washington for forward Troy Brouwer in their own light, but this clearly appears to be a trade that has helped both teams. Oshie is having his best season as a pro in the free-flowing Capitals attack (though those Ovechkin and Backstrom fellas might have something to do with that), but Brouwer fits more in line with what St. Louis wants to accomplish on offense. Low risk, little flash, and tons of grit. Comparing his hands to Oshie's is sacrilegious, but it's Brouwer's ability to shine in front of the net that has given his new team the push it so desperately needed. His game 7 winning goal represents everything the Blues wanted when he was acquired:
Brouwer, David Backes, and the faceoff handyman Paul Stastny represent one kind of St. Louis offensive weapon; the gritty type that also possesses an underrated level of skill. But there is definitely another forward mold: rooted in high skill with underrated grit. Alexander Steen was born to torment goalies. Jaden Schwartz finds the puck, secures it, and possesses it for what seems like an eternity. And the Blues' drafting effectiveness is paying dividends through Robbi Fabbri and Jori Lehtera, each with a dazzling arsenal of moves in their own right. The Blues didn't have this kind of young talent, willing to embrace their current role while also pushing to make their more prominent teammates better, the last couple of seasons. Now they do.
An Emerging St. Louis Superstar
Is there anyone I'm forgetting? Anyone….
Oh right, that guy. Hyperbole is currently doing its best to put a damper on both sports, journalism, and the Michael Strahan/Kelly Ripa feud, but let me clear. Vladimir Tarasenko is one of the best snipers this sport has seen in a long time. If you wanted to make the case that Alex Ovechkin is the only better shooter on the planet, I probably wouldn't disagree. When Tarasenko's on, it changes the whole complexion of the game. Defenses are on edge, unsure of how to counteract the combination of his forceful strength and sneaky agility. Even when he's having an off game (as he did for most of the first two tilts against Dallas in the conference semi's), he's still a threat, just one shot or rush away from ripping out your heart and crushing your spirit. Regardless of team loyalty, a pure talent like Tarasenko is great for hockey. All fans can appreciate that, unless he's terrorizing your squad.
But there was one recent clip that encouraged me the most in regards to Tarasenko, and it had nothing to do with scoring goals:
Like most superstars, Tarasenko's playing time wasn't up to his standards. He was upset, let his coach know, and moved on. The Blues lost that game, but most importantly, they won their series. I know Ken Hitchcock is a respected coach, but I was more than fine with this outburst as an impartial outsider. Hockey's an emotional game, and it's nearly impossible not to get worked up when the pressure intensifies. I'll take a guy that gives a damn over somebody who just lets the moment pass any day of the week. Tarasenko has seen enough playoff losing to last him a hockey lifetime, and he wasn't going to let another collapse happen without a fight. When a team's leader cares so blatantly, it most certainly resonates throughout that entire locker room.
Goaltending Stability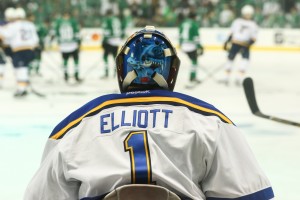 In previous years, the Blues went into the playoffs with goaltending depth and goaltending drama. They always had two (sometimes three) solid options in between the pipes, but it created an awkward scenario for Hitchcock to manage come postseason time. This was the year I think he finally figured it out. Both Brian Elliott and Jake Allen were tremendous in the regular season, but Elliott was clearly a notch better. All signs pointed to Elliott getting the call in April, and for once that aura of doubt was gone. I really think it helped both goalies play more relaxed, and hone in their focus down the stretch. Two quarterbacks in football often equals none (as the saying goes), and in hockey that may hold true for the goaltender position as well.
Elliott's play has been nothing short of sensational, given how this netminder has persevered during his St. Louis tenure. Remember when he was chased out of Ottawa, and viewed as a disposable backup? How about when he sat behind both Jaroslav Halak and Ryan Miller, was depicted as an error in judgement that let Ben Bishop leave his hometown, and was deemed as the placeholder for Allen's NHL net? Now here we are, and Elliott is standing tall after knocking out the Blackhawks. Incredible resiliency from a goalie that plays with both patience and the command of his crease. Great reflexes, the ability to fight through waves of traffic, and mental fortitude when his team needs it most. St. Louis used to be a place where goalies went to die. Ironically, it's where Elliott became alive again.
San Jose Finds Its Depth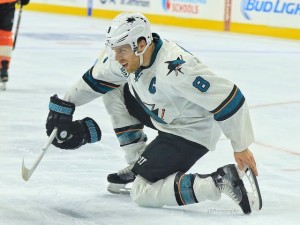 Shifting out to the great state of California, there's an entirely different set of circumstances to explain why San Jose has failed to shine in the postseason. Joe Thornton and Patrick Marleau are like hockey's version of the Mega Powers, and have been shaking and baking on the ice together for over a decade and counting. But the Sharks always met their match, and hit their playoff ceiling against a better team. Think about their playoff history for a second. With the exception of their 2009 choke-job against the 8th seeded Ducks, did San Jose ever really lose to a team they should have beaten?
The main issue for their falters, in my estimation, was the lack of depth up front. It's tough to name the next best forward for San Jose's early Thornton/Marleau teams. That is no longer an issue, with the emergence of one man in particular:
Joe Pavelski wasn't supposed to be this good. Heck, many pundits didn't think he would be any good at all. His game is the personification of hard work, persistence, and fearlessness. Basically all of the stuff that gets overlooked in the pre-draft scouting reports. Pavelski has given San Jose another scoring weapon, but also the grit they were sorely lacking. The previous scouting report on San Jose was simple: play physical and get in their faces. Suddenly that doesn't work anymore, because Pavelski and company will fight you back for every inch of precious real estate.
The depth renaissance in San Jose goes beyond one budding superstar, as impact players such as Tomas Hertl and Logan Couture can score in any scenario. The Sharks went out and acquired Joel Ward, a grinder with a knack for playing his best hockey in big games, something that bodes well during this time of year. Defensively Brent Burns is a bonafide monster, but their unsung heroes such as Marc-Edouard Vlasic and Justin Braun have played valuable roles in San Jose's improved effort in their own zone. While most teams have a workhorse defenseman that plays almost of half of his team's time on the ice, the Sharks are able to balance out their minutes. This keeps everyone, caveman Burns included, fresher as the game and season wears on.
A New Goalie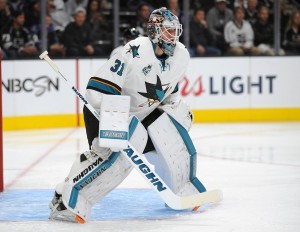 Here's a hot take: goaltending matters a great deal in the playoffs. It's no coincidence that during the early stages of San Jose's Stanley Cup contention, former netminder Evgeni Nabokov played a large role for his blue chip team. But Nabokov got old, San Jose ran through a string of inadequate replacements, and the Sharks faltered spring after spring.
With their backs up against the wall, San Jose got proactive. They engineered the acquisition of Martin Jones, a potential-laden goalie who was just waiting for his chance. The Sharks gave it to him, and the results have been tremendous. Mr. Jones has shown he can make all the saves when necessary, uplift his game when his teammates need it, and withstand the ups and down that accompany life as an NHL goaltender. In his first full season as a starter, Jones finished in the top 10 in both goals against and save percentage, and emphatically kicked his former team off of the NHL playoff train in five terrific games.
Goalies have long been known to collapse and breakdown unexpectedly, but those waiting for Jones to crumble might have to keep on waiting for a long time. The young netminder has actually improved as this postseason has progressed, and continues to thrive in playoff chaos. He's getting a substantial amount of help from his defensive core, but make no mistake about it: Jones can play. And what was once their Achilles heel has morphed into one of San Jose's strongest body parts.
Overcoming Adversity
Last season was a hockey catastrophe in northern California. The Sharks missed the playoffs for the first time since 2003, had a myriad of personnel issues, and self-destructed during their final stretch run. Thornton was even stripped of his captaincy, a move that sent shockwaves through the league and created an enormous rift between the San Jose locker room and front office. The head coach was fired, morale was at an all-time low, and the possibility of blowing up the core and starting over loomed large at the SAP Center.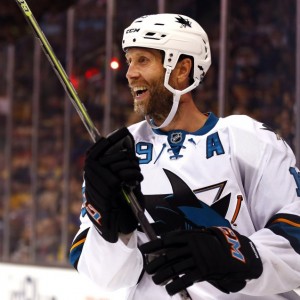 Rather than panic, the Sharks stayed the course. They trusted their young talent, and believed they could develop each into key pieces on a quality team. They found a head coach that could improve areas of concern (i.e. defensive schemes) without sacrificing much from their strengths. The front office continued to target role players who would buy into to their organizational culture, and show up when the stage intensified.
There were three ways this scenario could have played out for the Sharks:
Do nothing, and watch their team age into oblivion and eventually bring up the rear in the NHL.
Start over from scratch, but knowingly wait several years before even a chance of team get competitive again (ask Toronto fans what that experience is like).
Option three, Add pieces on the fly that enhance the veteran core without necessarily replacing them. It's the hardest path, but the most rewarding if properly executed. And the Sharks absolutely nailed it.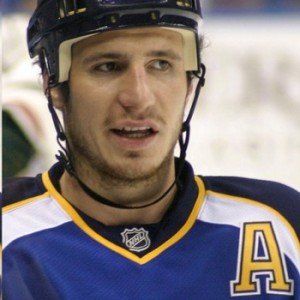 Thornton and Marleau were the main reasons San Jose rose to prominence a decade ago, and their willingness to buy in this season has spurred the team's return to excellence. Marleau has only known one organization his whole professional career, yet he was willing to make room for the new wave of Shark talent. There might not be anything more humbling/humiliating then losing your C, yet Thornton remained undeterred as an on-ice performer and first-rate teammate.  Those two legends could have completely sabotaged anything new coach Peter DeBoer tried to teach. Instead they listened, learned, and were willing to let their teammates share in the spotlight.
There can only be one NHL champion, and the people of San Jose and St. Louis are hopeful that this is the year the crown fits. But even if it isn't, even if their title dreams will have to wait again, it does not deter from the strides each organization have made in the 2016 Stanley Cup playoffs. The past is just that, the past. For the Blues and Sharks, the present, the moment at hand, is all that matters. After all, it might just feature their first Stanley Cup.
Just a hockey loving American. I grew up in Cleveland, Ohio, and attended Saint Louis University where I skated for the Billikens. From 2013-14 I covered the St. Louis Blues for ESPN Radio St. Louis. I currently work in sports video production in Los Angeles, and will always show solidarity for stay-at-home defenseman.