All of the lights are off in the Kings' locker room. Another season has concluded, and for the second consecutive year it has yielded results that failed to meet lofty expectations. L.A. wanted a third Stanley Cup, another date with excellence, and one more round as the league's gold standard. Instead, they were sent packing. Their dreams will have to wait.
All credit first and foremost deserves to go to the San Jose Sharks, who swiftly ended L.A.'s playoff lives. The Sharks, were faster, played bigger, and frankly, were the better team in their first round series. San Jose played with grit and heart in every game, refusing to back down or wilt under the same pressure-filled moments that did them in two years prior. They were assertive, aggressive, and played with a bully-like rage that would make Richie Incognito shed a tear. This was the Sharks' series for the taking, and by God, they took it.
But with that point duly noted, L.A.'s greatest flaws were on full display in this matchup. The Sharks identified where the Kings were weak, opened the curtain for the world to see, and then repeatedly exploited those opportunities. Some were downright shocking, while others could be seen coming a mile away. Combined with the absence of their most underrated player, the 2015-16 Stanley Cup playoff door has shut for the Kings.
Poor Defense Finally Spells Disaster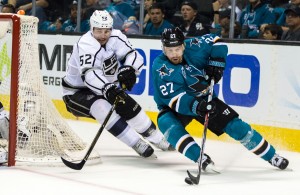 There was very little doubt what would ultimately cause L.A.'s demise. The unreliable defensive unit, that has tormented the Kings for six months, finally broke down. Blown coverages, bad decisions with the puck, and terrible communication with one another signaled the team's end of days, much like the movie of that same title represented the worst of what Arnold Schwarzenegger has to offer.
In each game against the Sharks, L.A.'s defense faltered. San Jose used tremendous pace, a relentless forecheck, and constant cycling to try to pull the Kings out of position in their own zone. All of it worked beautifully. San Jose used this approach right from the get-go in each contest, as they scored the first goal in the final four games of the series, and on several occasions converted on their first shot. It was a startling result.
Even more startling was the fact that it wasn't just the big-name forwards who showed out for the Sharks. San Jose got efficient play from their bottom two lines, and they were able to control the pace for virtually all of the series. Here are the two goals scored by Joonas Donskoi, which illustrates both the Sharks' offensive depth and the Kings' failure at cleaning up in their own zone:
There is enough blame for everyone to share on the L.A. blue line. Drew Doughty logged upwards of 30 minutes a game, and looked to be feeling the effects of his lion's share as the series progressed (-5 plus/minus rating). That doesn't mean he looked terrible, just mortal at times. And when Doughty's resembles a regular human defenseman, he doesn't offer the same offensive jolt for the Kings, and he isn't able to cover for the mistakes of his teammates. Which, by the way, there were plenty of.
Luke Schenn and Rob Scuderi just didn't cut it in this series. Both struggled to keep up with San Jose's tempo, and each failed to properly execute L.A.'s breakout under intense pressure. Failed breakouts are never a good thing, but failed breakouts against a bunch of buzzing forecheckers can result in goals and momentum swings. And that's exactly what happened.
It's easy to say in retrospect, but the Kings may have been destined for disaster as soon as Alec Martinez suffered an injury at the end of the season. Martinez was the glue that held the middle of the defensive rotation together, and in turn, gave the Kings the flexibility to mix and match the rest of their pairings. His injury forced Jake Muzzin to play more than he is accustomed to, and he started to resort back to his inconsistent defensive habits as a result (which are only natural, as very few defensemen log the minutes of a workhorse and live to tell about it).
Where L.A. missed Martinez dearest was breaking the puck out. The most overlooked aspect of his 2014 Stanley Cup winning goal was how he skated the puck out of harm's way himself, something that could have come in handy against San Jose.
And lastly, and I do mean this respectfully, but it's time to move on from Brayden McNabb on the top pairing. Doughty needs a legitimate partner, and I don't think that person is on the roster right now. McNabb is not the answer to that question, and his role will need to be reevaluated this off-season. He can still contribute on a championship-level team, but not as a member of the first defensive duo.
Inconsistent L.A. Forwards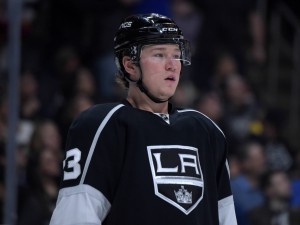 L.A. had hoped that their new look offense would provide the difference in the postseason. Instead, the same goal-scoring inconsistencies plagued their club when it mattered most. Care to guess who had the most points for the Kings in the 2015-16 playoffs? None other than Muzzin, who's five points set the standard for the dull offensive output that couldn't seem to cut it. Tyler Toffoli and Jeff Carter, standouts all regular season, combined for three measly points.
Milan Lucic, added in the off-season to provide spunk and tenacity around the net, failed to score a single goal. Outside of a Kris Versteeg effort-play and one seismic Dustin Brown hit, L.A. didn't get much of anything from the bottom of their lineup. While the Sharks were churning out determined shift after determined shift, the Kings were lacking in both effort and precision.
In fairness, the Kings forwards fought back when the going got tough on more than occasion. Anze Kopitar, Tanner Pearson, and even the newly retired Vinny Lecavalier provided sparks that both uplifted their bench and dented San Jose's dominant performance. But each time something good happened for the Kings, the Sharks were able to regroup. San Jose took the best shot L.A. had to offer, and kept playing. The same could not be said for the Kings, who saw comeback attempts thwarted at every turn, including games one and five. It was fitting that the series started the same way that it ended, with a Kings comeback negated by a hungrier team.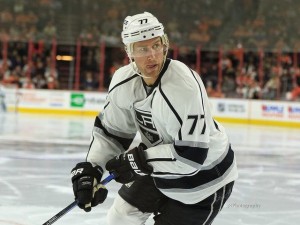 Sometimes forwards will go cold, but it doesn't give them a pass from helping in the defensive zone. The Sharks used speed to get out of their end of the ice, and many times L.A.'s forwards were sluggish getting back into the play. This was all the opening San Jose needed, and it showcased the biggest difference between the two offensive lineups. Pavelski was a menace on both ends of the ice, and singlehandedly took over the series. Logan Couture was blocking shots with the same tenacity as he was shooting the puck, and the rest of the roster followed.
The Kings front office has a long off-season to determine the direction of their offensive group, but expect them to reinforce the need for two-way hockey from their forwards. This franchise won two championships with players attacking both ends of the ice in the same manner, and the absence of that approach directly caused their early postseason exit this year.
The Goaltending Factor Neutralized
Shocking as it may appear on the surface, Martin Jones was the best goaltender in this first round matchup. Jones started the series off with a shaky first period and a half in Game 1, and then proceeded to find his groove and turn away any L.A. chance that could be mustered. In Game 5, he had a three-goal breakdown in the second period that would have ruined a lesser goalie. But again, when facing pressure, Jones rebounded and reclaimed his net. The Kings' forwards may have had a sub-par series, but Jones deserves a lot of credit for that. As seen in this clip, he never backed down from the action:
On the other end of the ice, Jonathan Quick had his moments. Some were world-class, others were tutor-shooter class, but both were brief and un-sustained. Quick's never been one for stats and analytics, but his .886 save percentage and 3.04 goals against average this series were very revealing. He was just OK, just pedestrian. There were the few glimmers of an elite goaltender doing things only he can do, but Quick was not at the level of his previous title-laden apex. The goalie is never totally to blame, and in this case the inactivity and malpractice of Quick's supporting staff clearly played a pivotal role in his downfall. But there were shots, by good-to-elite snipers, that Quick could have saved. Shots that could have served as a giant pick-me-up for a team in need of something to get them off the schneid.  And he didn't make those saves.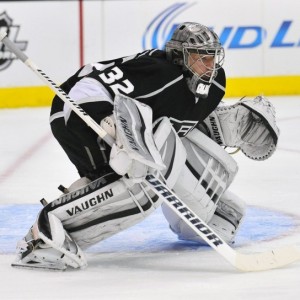 This isn't about Quick playing poor, or Jones playing out of his mind. The overarching point is that the Kings did not have the mammoth goaltending advantage they have come to know, love, and even take for granted. Jones outshined Quick, and it neutralized the one big weapon L.A. thought they would always own in their back pocket. It made them human, and like King Leonidas, L.A. saw their own blood.
Going forward, it's foolish to put all your eggs in the "Jonathan Quick will stand on his head for us" basket. The Kings need a better supporting staff around their goalie, and they have to trust the respective abilities of each team member. Yet it is fair to expect, and even demand, better production from a netminder who is clearly capable of performing at a higher level.
Despite the bitter finality of the moment at hand, this season was not a complete failure for the Kings. 38 wins, 102 points, and a return to the postseason are accomplishments worth praise and recognition. It's hard to win the Stanley Cup, perhaps the most difficult trophy in all of professional sports to attain. If anything, the people of Los Angeles were spoiled by the incredible three-year run that this team embarked on a few seasons ago. It happens. And it's OK. The Kings took a step, albeit an exceedingly small one, in the right championship direction. Where they go from here will determine if a return to glory is forthcoming.
Just a hockey loving American. I grew up in Cleveland, Ohio, and attended Saint Louis University where I skated for the Billikens. From 2013-14 I covered the St. Louis Blues for ESPN Radio St. Louis. I currently work in sports video production in Los Angeles, and will always show solidarity for stay-at-home defenseman.