NEW YORK, NY — The NWHL opened free agency on May 1 by landing the biggest name coming out of collegiate hockey. Amanda Kessel signed a contract with the New York Riveters, giving the last place Rivs hope of jumpstarting their dormant offense and competing next season.
Kessel was blunt when discussing the signing Monday. "I was contacted by both leagues, but honestly I knew that I would like to play in the NWHL. For one, being paid is nice," she said. "And it is an American league. That was another pull."
Her one-year $26,000 deal sets the record for the biggest contract in league history. While money was far from the only motivator, she didn't shy away from its role and what it means to players entering the NWHL.
"I think it's just awesome that we have a chance to be paid and be called true professionals in our sport," she said. "I wanted an opportunity to be a part of that."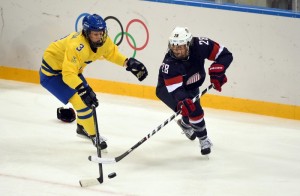 Another motivator was finding regular competitive ice time as she works toward making the Olympic roster after having concussions sideline her for an extensive period of time.
Last fall, it wasn't clear that she was going to be playing again at all.
"If I want to play in the next Olympics and be a part of the national team, you have to be a part of a competitive league and really practice and keep in the game," she said. "All the [NWHL] teams are going to be really competitive this year and it's going to be quite the challenge. As a player I'm only going to get better by playing in the league."
There were options for the former Olympian, four-time NCAA national champion and 2013 Patty Kazmaier Award winner. Even outside of the CWHL, there was the Minnesota Whitecaps, which are a little closer to home.
But she chose the Riveters, and it may reveal a determination on her part to help grow the game.
"I had a lot of good conversations with [Riveters general manager Chad Wiseman]. I really like his approach to the league and to the game," Kessel said. "I can tell that he's a really passionate guy and I appreciate that. I think that was a big draw for me. I also know that Boston has pretty stacked team… and I really loved the [New York]. I decided it'd be a great team for me to join. "
Exciting day, pumped to be apart of the @NYRiveters and continue to grow women's hockey! https://t.co/Xzh72HNC5J

— Amanda Kessel (@AmandaKessel28) May 1, 2016
The Riveters are the one team without a bona fide superstar player in the lineup. They were the only NWHL team that didn't have a single player on the U.S. National Team at the 2016 World Championships. That could change this year.
Kessel not only gives them a serious offensive threat after they scored a league-low 40 goals last year, nearly a goal per game less than the next team. She may give them an attraction to grow their fanbase and to attract more players in a league where top players are able to have a big say in the city they play in.
Already, they've grabbed the NWHL's leading scorer among defensemen in Kaleigh Fratkin. They've also acquired the rights to Kessel's University of Minnesota teammate Hannah Brandt, who was selected second overall in the 2015 NWHL draft.
"I had a little bit of an idea about that," she said of the team acquiring Brandt's rights. "Obviously she's a really good friend of mine & an unbelievable player. I'm hoping that she's going to sign here. It'd be fun to play with her at a different level."
👀 👀 👀 👀 👀 👀 👀 👀 👀

🎉: https://t.co/HnAaV3mXn1 pic.twitter.com/rwyeLP67bn

— Metropolitan Riveters (@Riveters) May 1, 2016
Not only is there an opportunity to be a leader and a pivotal scorer on a team that desperately needs a player of her caliber, she appears cognizant of the need for parity in the league after the Boston Pride so thoroughly dominated last year.
"[Other teams] had high profile players and stacked teams," she said. "[Signing in New York] was an opportunity to build up another team and get a couple other good players on the team.
"Right now they've signed a lot of good players and I'm excited about that. It'll be challenging to play those other teams. It's something that I look forward to. [Wiseman] was a really passionate guy about what he does. He sacrifices a lot to coach and be a GM. I really appreciate that. I know that I'll be getting a good coach there."
The Riveters and the NWHL got something special in Kessel, helping further build the profile of the league as it heads into its second season. Her return to hockey is huge not just for Kessel but for fans and the league at large. It's a big swing from last fall when there were questions about whether or not she'd be playing college hockey again or at any level. Today, she's working toward the Olympics and the NWHL after scoring game-winning goal in the NCAA national championship during her senior season.
"Eight to ten months ago," she said, "if someone would have said I'd be playing college hockey and going on to play in the NWHL next year, I wouldn't have believed them."
Dustin Nelson writes about news and the Minnesota Wild for The Hockey Writers.