The revamped Washington Capitals blue line has moved Barry Trotz's squad closer to competing for a Stanley Cup championship. They're a legit contender yet, but with the growth of a few young forwards, mainly Evgeny Kuznetsov and rookie forward Andre Burakovsky, into marquee top six forwards will put Washington among the elite in the near future.
Entering Thursday night's contest against the Philadelphia Flyers, Washington ranked 13th in the NHL with a 51.2 corsi-for percentage according to Puckalytics.com. Their forwards deserve credit for improving possession, but adapting to a change in philosophy and strategy under Trotz is another key cog of the change that has been made in the nation's capital. Their improved posession game has led to a decrease in shots attempt against compared to past year's, which was less than successful under Adam Oates the past two seasons.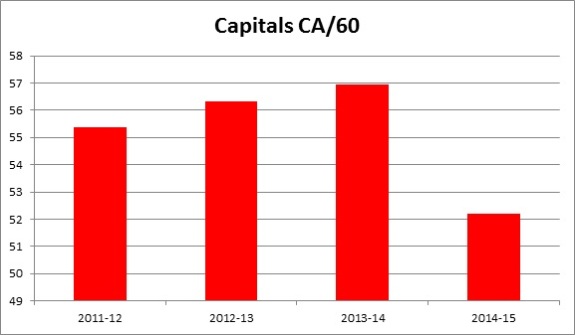 The depth of their blue line has been crucial and is the biggest difference from past seasons. After having defensemen such as Jack Hillen, Jeff Schultz and John Erskine (currently injured) over the past few seasons playing regularly, they have been able to use players such as Brooks Orpik and Mike Green in less critical roles. Their defense is more adept at bringing the puck up the ice on breakouts with Niskanen's addition and Nate Schmidt has stepped in nicely as a puck carrier following his time in the American Hockey League with the Hershey Bears after he signed with Washington.
The Growth of the Blue Line
Matt Niskanen: The former Pittsburgh Penguins defenseman has posted the lowest shots allowed rate (26.6/60) between Alzner, Carlson and Orpik during five-on-five play since joining Washington. He's tied for second on the team with five power play points and has contributed two goals on the man advantage as well. He's yet to miss one game this season along with Carlson, Orpik and Alzner.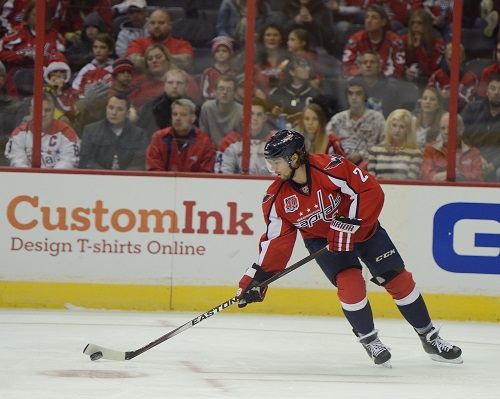 Niskanen has played with left handed defenseman Karl Alzner for the majority of the season and the duo have posted a 51.6 corsi-for rating when paired on the ice during five-on-five play. Both Niskanen and Alzner have less efficient possession ratings when seperated and the duo could be a long-term pair under Washington's new regime.
Mike Green: Set to become an unrestricted free agent this summer, Mike Green needed to prove he could be relied upon for whatever team provides him with a healthy contract in the offseason. He has certainly accomplished that and is set for a multi-year pact from the Capitals or a new club in the near future barring any unforeseen injury.
Green has compiled 21 points in a season where he's played in 31 games with decreased ice-time, currently averaging 19:23 per contest. He's continued to hold an integral role on the power play, a trademark of Washington's success over the last decade. His shifts have been efficient as he's taking the lowest amount of shifts per game between Alzner, Carlson, Orpik and Niskanen at 22.4 per game.
Karl Alzner: Washington's top left-handed defenseman has continued his steady play as a reliable blue liner, posting a 50.7 corsi-for percentage, largely with free agent signee Matt Niskanen to his right. His game is rather simple, he's not going to create much offensively beyond rebound chances following shots from the point, but he has a good reach in the defensive zone and uses his body well against opponents.
John Carlson: Another draftee by former Caps' GM George McPhee, Carlson has proven to be one of the top offensive defensemen in all of hockey. Prior to Wednesday's game, the American born blue liner had posted 18 points over his past 18 games and entered Washington's game against Philadelphia fourth in points by a defenseman. McPhee signed Carlson to one of the best contracts in the league a few years ago.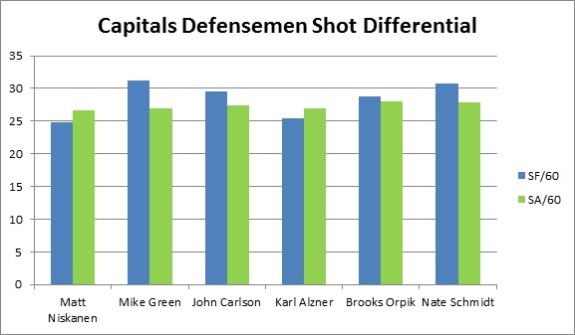 Brooks Orpik: First-year Capitals' GM Brian MacLellan was questioned by many, deservedly so, when he signed the former Pittsburgh Penguins defenseman to a five year deal. The signing will likely hinder Washington long-term, but his presence certainly has had an impact. While he doesn't post possession numbers (48.6 CF %) many would like to see, he's a better option than what has been shown on the ice on the Capitals' blue liner over past seasons, especially under now Devils coach Adam Oates.
Nate Schmidt: Signed out of Minnesota University, Schmidt has opened some eyes with his play. While he has just three assists in 32 games, he's been valuable as a bottom pairing defenseman when called up. With Dmitry Orlov still sidelined and still a long ways away from becoming NHL ready, Schmidt has grabbed a stranglehold on his once uncertain roster spot.
As the first half of the season winds down, Washington is finally able to rely on their defensive aptitude to win games. The past playoff games of winning high scoring affairs should be put to rest and Washington should look to grab as many 3-2 or 2-1 wins as possible late in the season and into May, because their defense is able to play that way.