Once again the Leafs appear to be in no-man's land when it comes to their place in the NHL: Not good enough to compete, not bad enough to truly ever get better.
In the last ten years, the Leafs have been to the playoffs just once. During the nine season in which they have drafted after missing the playoffs, they have acquired zero top 3 picks. The one year in which they would have drafted second overall, they traded the pick. Now,Phil Kessel is a great player, but there is no doubt the Leafs are currently wasting the prime of his career.
Some of the NHL's best players were not top 3 picks – Anze Kopitar, Claude Giroux, Ryan Getzlaf and Erik Karlsson are just a few of the franchise players selected after the consensus best picks were long gone.  So, yes, it's possible to get a top player later in the draft, but you have to get extremely lucky. There is no denying that your odds of getting a franchise level player are better if you pick high, which is what makes the Leafs' decade long run of decrepitude so depressing – they are yet to get lucky with a lower pick and haven't had a top pick the whole time.
In each of the years in which the Leafs have missed the playoffs, they have avoided being the worst of the worst, have never significantly moved up in the lottery and as such they currently sit in the same exact position they've been in for years. Once again this season, they can't compete with Anaheim, St.Louis or the Kings, but they can't compete with Carolina or Buffalo either.
Like a person stuck in the perpetual cycle of debt and poverty, the Leafs are stuck in neutral when it comes to team-building.
I can fix it.  All I need is my keyboard, a pot of coffee.   Let's go: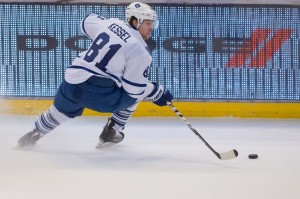 HOW TO FIX THE LEAFS
1. Hire a new GM and Coach.
As I stated here, and here, the Leafs should switch their coach and GM immediately because that is what is going to happen anyways. Brendan Shanahan runs this team and he has already cleared out basically the entire management team except for the coach and GM. What's left is a GM and a Coach who have basically been neutered. How can they do their jobs effectively if they have been superseded and marginalized, which they clearly have been? It's questionable if they are even competent enough in a perfect situation, let alone now that they have lost much of their former authority.
In my opinion, for the franchise to move forward they have to have a fresh start. The Leafs have to be really good or really bad this year, and Nonis should not be the one to make that decision. They need the guy who is going to be running this show for the next five-ten years to be here now.
Whether it's Shanahan as GM or Mark Hunter or someone from outside the current group, it needs to happen as fast as possible. The only other acceptable solution is if they call a press conference and announce that Dave Nonis is 100% in charge, doesn't need to ask anyone's permission to make a move and is the GM for the foreseeable future regardless of the outcome of this season. If Shanahan won't call that press conference right now, he should immediately fire Nonis.
Obviously the GM should hire the coach, but this is the Leafs we're talking about. If they lose a few more and then fire Carlyle while retaining Nonis for the interim, I think that is the worst move of all.
2. Decide between blowing it up or doubling down on what they have. 
The Leafs have a lot of good young pieces in their organization. Starting with Kessel, JVR and Bernier and moving on to younger less-developed players like Kadri, Reilly, Gardiner, Percy and Nylander the team has a lot of excellent pieces to build around.
If they acquired a number 1 centre and a number 1 defenseman, they probably have a competitive team.  Without those things, however, this team is lucky to get to the playoffs. Therefore, the first thing the GM has to do is decide if this team is going to go for it with this group or start over.
Currently, the team seems frozen in place, like they can't make up their mind. They signed all these veterans players like Booth and Winnik who are good players that improve the team. They resigned Phaneuf and they added veteran D like Polak and Robidas.  BUT, if winning is what the goal is, where is the trade for the top line players the team is desperate for?  To enter this season without a number one centre or a co-number one to play with Phaneuf is preposterous – what did anyone think was going to happen? A magical Bozak and a Reilly who developed four years over the summer?
So decide.  (Image the rest of this in flow-chart style, if you don't mind).
3-A Blow it up: 
Should the team decide that the best way to get a franchise player to build around for the future is to draft one, they should start by moving Kessel and continuing on with Phaneuf, Lupul, and any player on the roster older than JVR.  These players should be moved for picks and young players with the chance to develop into what is needed.  Would the Panthers give you Barkov and Gudbranson for Phil Kessel?  You'll never know if you don't ask, but that's the kind of package they should be looking to acquire if the plan is to bail on the season.
But let me be clear: I don't like this plan. I believe that with a better coach and the addition of a couple of players, the Leafs can be a cup contender with the core they have.  The tear-it-down approach does offer everyone a fresh start and it gives the team the chance to compete for one of the – maybe – best players to come into the league in years.
But we've been subject to too much crap for too long,
So I offer this:
3-B.  Go For It: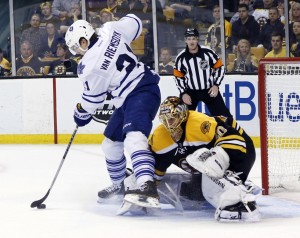 If the Leafs are going to stay the course with what they have, they at least need to do a little course correcting.  There current philosophy seems to be to hope that in-house there is enough improvement for the team to make the playoffs, while waiting keeping picks and developing patiently.
The problem with this approach is that it's a 'have it all' approach and you just can't have it all. You can't compete now while holding on to all your assets and keep competing as your draft picks mature and your stars age gracefully. It's a nice dream but it's unrealistic.
So, what to do?  It's not that hard. It just requires a lot of risk. i.e trading guys and things you won't want to consider trading.
Every Leafs rumour involves Gardiner and Kadri. The problem is that those players are the most valuable to the team they already play for. Sure, their potential makes them attractive to other teams, but no one is paying a premium on players in their early 20's who's value is entirely predicated on potential.  To land a player who can step in and play 1C on the Leafs today, you'd have to give up Kadri, Gardiner and more.  That kind of trade hurts as much as it helps.
To get something, you have to give something. So, if I am the Leafs, I identify a list of players at the centre and defense positions who meet the following requirements:  They either are currently, or have a good chance of being #1 on the depth chart at their position. They are currently aged 27 or younger, hopefully younger.
Once I have a selection of targets of players who can be the #1 C and D, I set out to make the trades. The assets I would offer up to get it done would be as follows: James Van Riemsdyk, William Nylander and the 2015 first round selection.
Now, I am not saying I comfortable trading these assets or that I want to move them. What I am saying is that it is no longer acceptable to finish outside the top 16 teams in the NHL or outside the 5 worst.  So, the move, to my mind, is clear: You either trade Kessel, Phaneuf and  Lupul for whatever young assets you can get, bottom out and draft higher than you have in  years, or, you trade your excess star winger, your first round pick and your best prospect for immediate help, but help that maintains the rough age of the roster.  That means no Eric Staal.  That means targeting someone like Eric Gudbranson or Tyler Myers.  Braydon Schenn or Ryan Strome. Or maybe someone a little older, like, you could ask what it would take to get Claude Giroux. The exact fictional proposal is beside the point, what I am saying is that they need to trade their assets for what will help them now.
Ideally, for the Leafs to move into the upper echelon of contending teams, they would acquire a number one centre and two more defenseman, one of whom is a top pairing guy to go with Phaneuf.
It'd be risky, but the alternative is that the Leafs will finish this season as the 10th best team in the Eastern Conference.  That is the worst case scenario and after watching them play for the last three weeks, the current most likely one.