This past summer, GM Marc Bergevin made a flurry of roster changes despite the team being fresh off of an Eastern Conference finals appearance. Letting captain Brian Gionta go was a topic of conversation while the trading of Josh Gorges made headlines mostly due to the fact he refused to be traded to the Toronto Maple Leafs. But one move that was under the radar was trading Daniel Briere for PA Parenteau and a fifth round pick.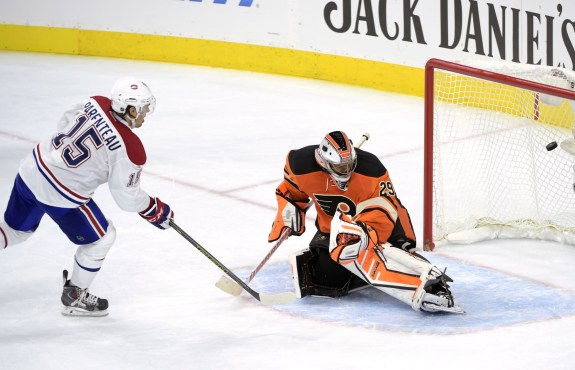 Looking for the Right Fit
When Briere was with the Habs, he just wasn't a good fit. The depth at centre put him on the fourth line on many occasions and he even was a healthy scratch. Enter the Colorado Avalanche. Parenteau was in Patrick Roy's doghouse in Colorado and despite a good first year with the Avs, it went downhill quickly in his second year as injuries and other factors played a role. The swap for two struggling players has helped both teams but Montreal has won this trade.
Both players make $4 million per season but the difference is Briere is a UFA at season's end and Parenteau has one more year after this season on his deal. At this stage in their careers, Parenteau is the better player. He is younger, bigger and his numbers are superior to Briere's. Parenteau so far has five points in eight games but it easily could be more as he seemingly has great chances every night. He has slotted in Tomas Plekanec and Alex Galchenyuk rather seamlessly as that trio has been a threat to score every night for Montreal.
Parenteau's reaction to his first goal as a Hab to give Montreal a late lead against rival Boston says it all.
Finally balance in the top six
Parenteau has the benefit of being a natural winger and is an upgrade on the departed Gionta. Montreal's top six consists of Max Pacioretty, David Desharnais, Brendan Gallagher, Alex Galchenyuk, Tomas Plekanec and Parenteau. This is probably the best top six forward corps Montreal has had in awhile. They aren't the most heralded group but when the team is 7-1 to start the year, it's hard to argue with their results. Going into the offseason, a need for a top six winger was crucial. Thomas Vanek was virtually a goner at season's end as his contract demands and lacklustre playoff had him ticketed for free agency while there was no guarantee Gionta would return and even then, he isn't the player he used to be.
Robbery by Montreal
It was a scenario where Montreal could have looked over the free agents but it would have involved overpayment for the most part for a player that wasn't worth it. And Bergevin has shown to have a gift for trades. Erik Cole for Michael Ryder and a third round pick (Connor Crisp). Prospect Sebastian Collberg and a second round pick for Thomas Vanek. Cedrick Desjardins for Dustin Tokarski. And of course getting Parenteau was great but the fifth round pick is a bonus.
It's one thing for a GM to do a player for player trade. But to be able to get additional picks from teams in trades is proving to be a specialty for Bergevin. The fact that he got a fifth rounder from Colorado for the 2015 NHL draft, considered to be the deepest since 2003 will be a nice asset for director of amateur scouting Trevor Timmins. Timmins has a gift for finding good players in later rounds but the fifth round has been good to Montreal. Timmins found Mikhail Grabovski in 2004 in the fifth round and Brendan Gallagher in 2010. They have Gabriel Dumont as the captain of the Hamilton Bulldogs. And they have a nice trio of prospects the team found in the fifth round in Darren Dietz, Charles Hudon and Daniel Audette.
Reaping the early rewards
While it is still early in the season, the PA Parenteau trade is already paying dividends for Montreal. Parenteau's offensive ability is made for the top six and he gives them balance on the top two lines. He has already been getting great scoring chances but hasn't connected just yet. Trading an older player for a younger better one was a job well done by Bergevin and getting the draft pick was the icing on the cake.
I have a Bachelor's Degree in Journalism from Ryerson University. I am a freelance journalist and a Montreal Canadiens writer for The Hockey Writers. I previously wrote for Simcoe.com and Last Word on Sports as well as interned at TSN.