The life of an National Hockey League General Manager is a difficult one. Your job is to build a championship team by drafting well, trading well, and signing well. When you make a mistake, the entire hockey world collapses on you. Fans go insane, the media talks about it for weeks…nay…years, and eventually, it will be cited as one of the reasons the owner ultimately fired you.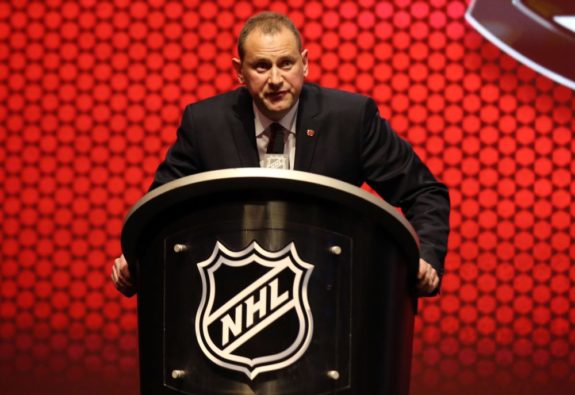 But if we're being honest, hockey fans probably have the most difficult job. Lets face it, without you, the league wouldn't exist. You, personally, pay that GM's salary, so when he makes a mistake, you need to let him know. That free agent signing didn't work out as well as the team hoped? That's probably because they didn't listen to your Twitter rant on that very subject. Clearly, Player B was the better option.
Being a fan is so tough that sometimes, you're not even sure how to react to certain events. Are you supposed to post a photo of the stats they clearly missed? Or does #Fire[InsertGMHere] work just as well? Don't worry, we at The Hockey Writers have created a handy guide for reacting to all potential offseason situations.
GM Signs a Career 4th-Liner to Long-Term Contract
For the proper reaction, you must first start with your age. For those born before 1987, the correct reaction is euphoric joy. The GM nailed this signing and this heart-and-soul player will take them to the Stanley Cup. You know the stats don't tell the whole story.
If you were born after 1987, then sarcastic rage is your proper response. What you should do it post the Corsi of that player beside the Cori of a younger, more skilled free agent and tweet them out using your teams hashtag. Make sure you say the signing was "obviously" a good one (note the quotation marks). Bonus points is you use a current prospect on the team who has been overlooked and is probably a top six player but, let's be honest, your coach has a vendetta against him for some reason and doesn't know how to coach properly.
I guess when it all comes down to it, the Rangers did not have an answer for Chris Neil. #Sens #analysis

— James Guitar (@JamesMullins) May 10, 2017
[irp]
Didn't Get Rid of the Aging Veteran Who Can't Produce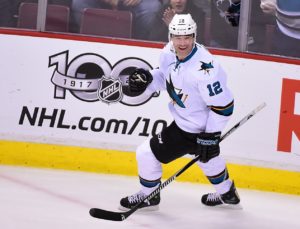 Every team has one of these. He was amazing when he was 30 years young, so the GM signed him to a long-term deal. Probably six or seven years. You hated it then and it turns out, you were right. He's declining now and is dead weight on a team that has some great rookies.
Instead of moving him over the offseason, whether via trade or buyout, your GM has decided to keep him and the prospects will either be stuck on the fourth line or never even make the team. That's unacceptable.
You need to be careful with your reaction here. It must contain the proper mix of hate towards the veteran and hate towards the GM. Obviously they are both at fault here. If you can tag either person, do that. Players and GM's often read the tweets directed at them. How else would they learn what they are doing wrong?
The best part is that you can tweet about this all season long, especially when the player gets a back strain.
#oldman #tank
Your Team Failed to Address a Key Need
Your team needed more offence? Maybe the defensive core needs an upgrade? Goaltending is terrible? The offseason is a perfect time to address these issues. Your GM knows that, so he obviously fixed it. Right?
Wrong! Does he want to lose? We saw the need last year and it's why they missed the playoffs/didn't make it to the Finals. Plus, did you see the guy who was available in free agency? Or the player Team A was willing to trade?
Questions. Lots of questions. That's the best way to respond to this. Find the GM's phone number and text him some of them. Need examples? Try:
Are you an idiot?
Do you hate your fans?
Is losing fun?
So you think Player A is a better choice than Player B when it's clear to everyone and their dog that you're wrong?
If you're stuck, just type in your GM's name and retweet the first thing that pops up.
Your Team Did Address a Key Need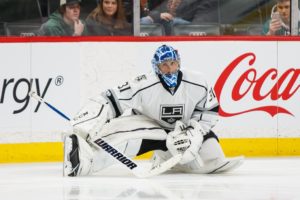 Your response should be the exact same as the previous one, with a few adjustments to the questions being asked. Try:
Are you an idiot for waiting this long to fix it?
Think you'll actually win back the fans now?
Was losing fun?
Player A and Player B are really all you think it takes to win?
This time, if you're stuck, try searching for the player's name that was brought in and retweet the first thing that pops up. It will likely be a question about whether he's actually good enough or not, which is exactly what you want.
The Stanley Cup Drought Is One Year Longer
It's important to remind a GM how long it's been since the last Stanley Cup win. Every year, 29 teams will add one year to that list. For some, it's been decades since the last win.
If you are one of the 29 teams that didn't win the Cup, make sure you mention the drought multiple times, pointing out that your team could easily be good enough if they would just get one more good forward/defenceman/goalie.
*Editor's Note – If the fans of either the Chicago Blackhawks or Pittsburgh Penguins complain how long it has been since their last Cup win, it's required that you start a long Twitter fight with them and state that they will never win the cup again because they are dirty/cheaters/lame*
[irp]
Valued Prospect Is Holding out for Money
This is the most difficult situation to deal with as a fan. You love the player and he's going to be great. At least, that's what you tweeted last week. This week? Trade him, he doesn't want to be here anymore. Better yet, let him sit and rot on his couch until he learns.
Stupid move Trouba and Co. Trade value has gone down. Chevy won't deal him until he gets a good return. Enjoy watching games on your couch.

— Ace 🇨🇦 (@andrclou) September 25, 2016
Under no circumstances can you allow the team to know that you secretly still love him. Insult the player and the GM in separate tweets.
The most important part of this reaction, however, is tweeting out the proper contract terms. The GM is too low and the player is too high. Obviously, the contract should be four years at $3.5 million. If they would just offer that, both parties would accept. It's perfect. Obviously it is. You thought of it.
Special Circumstances
Certain situations fall under a different set of rules, including:
Maple Leafs/Canadiens fans: you are only allowed one of two reactions – PLAN THE PARADE or FIRE EVERYONE. These reactions are interchangeable.
Senators fans: You must…oh wait, there aren't any.
Your team genuinely made a good move: If the player your team acquired isn't Canadian (or the player you got rid of was Canadian), just copy and paste whatever Don Cherry says.
---
Now you are set for the offseason. Remember, you alone can take your team from relative obscurity to the promise land.
When all else fails, just insult the intelligence of one of those analytic nerds. That will get your mojo back.
Unfortunately, your favorite teams GM will definitely not be taking your advice this offseason. However, you can stay up to date on your team by following The Hockey Writers on Twitter.