The Vancouver Canucks brass made their way back home from Pittsburgh after a weekend where they were relatively quiet. They added five new players to their prospect pool and made no other significant moves while in Pittsburgh, in close proximities to other team's general managers like Brian Burke, for instance. Just to name one.
With the draft over, hockey scribes the world over are falling over them (our) selves to analyze what went down in Pittsburgh. Even though we all know that judging drafts, and to some extent trades, a few days after they occur is nothing short of folly. Draft picks take years to either flame out or become stars and the impacts of trades may take an equal amount of time as well.
With that being said, it's the off season which means that there are no games for us to discuss so we will look at what the Canucks pulled off in Pittsburgh.
In the weeks leading up to the NHL Draft there was a ton of speculation that the Canucks were going to move goalie Roberto Luongo either before, or during the draft weekend. The Toronto Maple Leafs seemed to be the most talked about destination for the veteran to land. All weekend long Canucks fans hit refresh on their lap top's or smart phones to see if there was an announcement.
It never came.
Some are bemoaning the fact that Mike Gillis was not able to move Luongo, and it makes sense why. It sure seems that the Canucks have reached the point of no return on Luongo and keeping him seems a near impossibility now. After all the talk about the team choosing to go with Corey Schneider from here on out there has to be some bad blood, or at least some hurt feelings. So what better time to move him than the draft? All the teams are there, and you can pick up draft picks right then and there.
Eagerness aside, people need to take a deep breath and realize that trading any player is a complicated matter. Perhaps we have all been affected by fantasy sports and video games to thinking it's a simple matter of making a few phone calls. Not trading Luongo this past weekend was not a failure for Vancouver as there are, and will be, tons of moving parts here.
Roberto Luongo is a valuable asset and for Mike Gillis to move him for the first offer he gets would be a horrible decision. He needs to attempt to get some value for a goalie of Luongo's magnitude. Even though simply getting rid of his contract would be a plus, they need to get some bodies back, bodies that can help the Canucks right away. Training camp is still a couple of months away and there is still plenty of time to make a deal.
If we had to give a grade to the Canucks on the trade front this past weekend it would have to be strong incomplete. They didn't panic and we'll have to wait and see what they pull off in the next couple of months.
The Draft Picks:
The Canucks had the 26th pick in the first round and when you pick that low you most likely are not getting a player who will make your opening day roster right away. The good news is that Vancouver does not need help right away. This draft was for the future of the team.
For a great recap of all the players they selected this weekend take a look at our own Daniel Schöpf's owner's manual.
In the first round they selected Brendan Gaunce from the Belleville Bulls of the OHL. Guance seems to fit the mold that the Canucks are looking for. He has good size, plays a versatile game, has good hockey sense and is a quality character guy. Gaunce was ranked just outside the top ten by most media draft experts which would indicate some sort of slip. But you have to remember that NHL clubs do their own scouting and do not rely on media draft lists, no matter how well researched they are.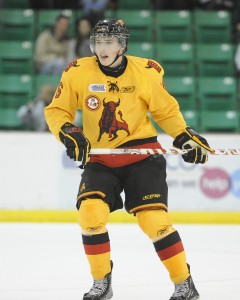 There are some (me) who would have preferred the Canucks to have selected Edmonton's Henrik Samuelsson with their first pick. He was still on the board when Vancouver picked and was taken with the next pick by Phoenix. Both players have similar attributes and only time will tell if they should have gone with Samuelsson over Gaunce.
For the here and now though, Gaunce is a pretty solid pick for Vancouver and has the potential to develop into a top six player.
In the second round the Canucks went 'off the board' and picked up Alexandre Mallet from Rimouski Oceanic of the QMJHL. This surprised many as most draft previews predicted Mallet would go undrafted. He is a 20 year old player, which Gillis seems to like, and may be more NHL ready then other players still with junior hockey eligibility. Mallet scored 81 points last year, has good size and can agitate his opponents. He seems to have the makings of a future fan favorite for Vancouver.
Again, there were other more known picks still on the board when the Canucks selected Mallet and time will tell whether that was wise or not. We will have to wait to see if a Tim Bozon or a Damon Severson was the better way to go.
In an interview with Cam Charron of The Province, Mike Gillis mentioned that he takes a similar draft strategy adopted in baseball by Billy Beane of 'Money Ball' fame. Gillis said they like more polished players, which would explain the older Mallet, and college players, which explains two of their remaining picks.
With their next three picks Gillis is banking on maximizing potential. They picked up Ben Hutton of the CCHL, Wesley Myron of the BCHL and high school player Matthew Beattie. Myron and Beattie are committed to play in the NCAA next year and all three have the size and skill set Gillis likes.
It's nearly impossible to grade how these picks will turn out as the later rounds are a step above crap shoots. But, it seems that Gillis has a game plan and he stuck to it. For that you have to give him high marks. Whether it works or not we will see. The cynic would point out that the 'Money Ball' approach has not resulted in championships in baseball. Will it work in hockey?
Most NHL teams will consider a draft a success if they pull two NHL players out of their class. Gaunce and Mallet appear to be the best bets to stick in the league for the Vancouver Canucks and that would make this draft to be considered a success.