By Dan Canavan
This article first appeared on ctsportslaw.com on January 11, 2010. Reprinted by permission.  All rights reserved.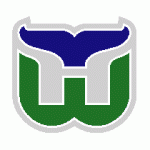 Thirty-five years ago today, the Whalers played their first game in Hartford on January 11, 1975. Somewhere in the then new Hartford Civic Center, Whalers founder Howard Baldwin was busy greeting fans, receiving accolades, and entertaining community leaders. Baldwin had just uprooted his World Hockey Association squad from Boston, and moved the renegade Whalers to Hartford. An enthusiastic and inquisitive crowd had packed the arena to cheer for the new "home" team, who had already won an Avco Cup two years earlier. And by the time Don Blackburn scored the first goal in Hartford history at 11:21 into the first period, Baldwin was well on his way to establishing a Hartford legacy. The Whalers, and big league hockey, had arrived.
Thirty-five years later, I had an opportunity to sit down with Howard Baldwin and reminisce about our favorite Whaler memories, muse over hockey lore, and reconfirm our belief in Hartford as a big league market, a belief that first inspired Baldwin back in 1973.
"It was the simplest deal I have ever done" recalled Baldwin, his large youthful smile still intact. "We knew we had to get out of Boston. We were sharing the Garden with the Bruins, who were in their prime, and the Celtics, which were a big draw, and the AHL Boston Braves. And we were getting killed with dates." Baldwin had heard that Hartford was building a new arena, and after the city's preliminary deal for an ABA team had fallen through, he called Bill Lillyman, manager for the new Civic Center, on a whim. A few weeks later, Baldwin and his partners chartered a flight to Hartford in early December 1973. Upon their arrival at Brainard Field, Baldwin immediately announced that he was not planning on flying back. Perhaps it was the Nor' Easter that had terrorized their plane on the short, yet turbulent flight from Boston, or just maybe Baldwin understood something his partners did not yet realize. The youthful ownership group rushed off to the second floor of the then Capital Bar & Grill to meet with Lillyman and Don Conrad, Aetna's Chief Financial Officer, who had been overseeing the development of the Civic Center. After 30 minutes, Baldwin emerged from the back room with a deal. The Whalers were moving to Hartford he announced, and Baldwin would never look back.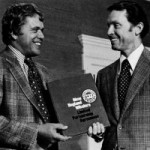 A year later, a sold-out crowd of 10,507 would join Baldwin on that first opening night, a ritual that would be repeated in Hartford for 22 seasons. The first night in Hartford was "unbelievable" remembers Baldwin with a grin. You could still hear the enthusiasm in his voice as he explained that "we were fired up, we were in a new building, and the game went into overtime." Baldwin added that "Gary Swain had the winner, and Al Smith was in goal. Gosh, we still had Dorey and Selwood, Webster and Pleau. We had a good team." There was an excitement in the air, and anything was possible.