Tuesday night, Sebastian Aho of the Carolina Hurricanes tied a significant NHL record, becoming just the third player in league history to record an assist in each of his team's first 12 games of a season after he helped get the puck to teammate Michael Ferland, who scored in the first period against the visiting Boston Bruins to give the Hurricanes a 1-0 lead.
Aho joins the "Great One" Wayne Gretzky who set the 12-game season-starting assist mark in the 1982-83 season with the Edmonton Oilers and Ken Linseman, nicknamed "The Rat", who notched his 12 consecutive assists to start the 1985-86 season with the Bruins.
The Hurricanes lost the game 3-2 despite Aho's significant mark. They have now lost four in a row against the Bruins since last season. But Aho, nicknamed "Sea Bass", is in very good company after tying the record.
A historic start for @SebastianAho. #TakeWarning pic.twitter.com/KYAetZjDiY

— Carolina Hurricanes (@Canes) October 31, 2018
Imagine the Hurricanes without Aho. A large percentage of the content for journalists would be gone considering the team's fast-paced style and fantastic start to the season are all over the local papers and internet publications. And behind much of their success thus far is "Sea Bass".
Aho Speaking Softly, Wielding a Big Stick
Aho is not loud by nature but his game speaks loudly. He is only in his third season with the Hurricanes, after entering the NHL at 18 years old, yet his play is that of a seasoned veteran. Thinking of Aho in the locker room after his first few games brings to mind how young he seemed appeared, yet how talented he was at the same time.
After last season, Aho said that what the team needed to work on was losing one-goal games the very thing that bit them on Tuesday night: "We had a lot of one-goal games we lost many of them. So, try to win those tight games. It's one big reason why we are not in the playoffs."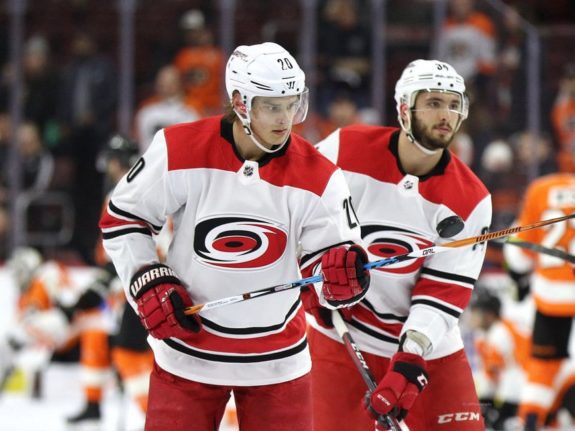 It's not rocket science, but Aho wants to win and he knows what the team needs to work on in order to make the playoffs.
After the loss Sunday to the New York Islanders, Aho talked about the team's struggling power play: "Sometimes when we have a chance to shoot we pass." Again, it's not rocket science, but getting his teammates to execute can be a challenge.
Aho Growing Fast on Paper and on Ice
Aho is not young anymore, in appearance or in the NHL. He may have just recently reached the age to buy alcohol in North Carolina, but his presence on the ice makes him seem significantly older than what's on his ID. He is quick and has the presence of mind to know where his teammates are and put them in a position to score. He has moved from the wing to center almost seamlessly and doesn't mind helping his teammates reach their goals.
In fact, the assist Aho made in the first period on Ferland's goal was Ferland's 100th NHL point. That marker was lost in the wake of folks tossing around Gretzky's name and others rushing to Google to find out who Linseman is and when he played. It was Aho's night.
Power play goal! #Canes lead 1-0!

That's the 100th @nhl point for @ferdaddy27! #TakeWarning pic.twitter.com/91pSPYuLwA

— Carolina Hurricanes (@Canes) October 30, 2018
But, when interviewed after the game, he had his usual quiet, introspective demeanor as he described his thoughts about the loss to the Bruins:
It always feels bad when you lose," said Aho. "We are in these games and we had a chance to win this game and we just have to find a way.
When asked if he'd rather be talking about tying a record with Gretzky or a win against the Bruins, Aho said, "I would rather have the win." If you know Aho, you know it's an honest statement. He is a young, talented player who has "it", that special something that will make him a winner. It's clear that he will receive many personal accolades throughout his career, but winning is what he wants most of all.
For now, the Hurricanes must focus their attention on getting Aho signed to a long-term contract. In the meantime, Hurricanes fans will enjoy the difference Aho is making, and hope that he will help them make it into the playoffs.