It's official. The honeymoon has begun. Rod Brind'Amour is the new head coach of the Carolina Hurricanes. After seven years of serving as an assistant coach, "Roddy" is getting his chance to steer the ship. He will have veteran Don Waddell, the newly minted Hurricanes general manager to help him as the team hopes to make the playoffs for the first time since 2009.
Brind'Amour and Waddell held their first joint press conference Wednesday afternoon, along with team owner, Tom Dundon. Like a youngster waking up to find a long-desired bicycle under the tree, Brind'Amour came across as overwhelmed with the moment. To say he was excited would be a gross understatement.
The newness of this monumental step will wear off and Brind'Amour will get down to coaching. All eyes in Raleigh, and across the NHL universe, will be watching as yet another former player gets to hold the reins and try to guide their team to success. Will he go the way of Wayne Gretzky, the "Not-So-Great One" behind the bench? Or, will he bring the glory of the Stanley Cup to the Hurricanes once again?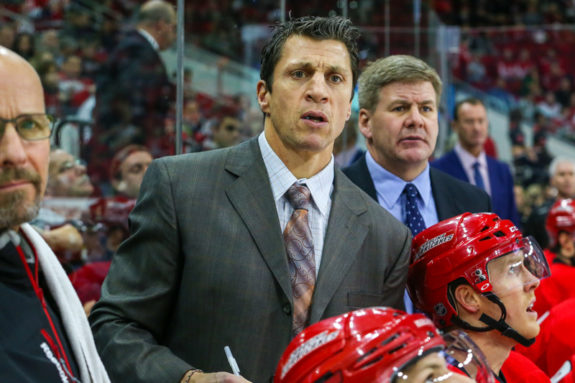 The Brind'Amour Legend
As a player, Brind'Amour is without peer in Hurricanes' lore. He was pivotal in leading the team to win the Stanley Cup Finals in 2006. His intensity and personal workout regimen are legendary, even today, eight years removed from his days as a player. In December 2011, Muscle Prodigy did a feature on the Most Jacked NHL Players. In highlighting Brind'Amour the feature noted,
Brind 'Amour played with more intensity than anyone in the NHL and was the difference maker in leading the Hurricanes to their first Stanley Cup Championship in 2006. Brind'Amour has legendary workouts and is often called the bionic player for never getting tired; he nearly led the league in average minutes played as a center, a statistic dominated by defensemen. He has an extreme commitment to physical training, doing it ever since he was 12 years old and has been hooked ever since.
Brind'Amour will not be outworked by the team he is now set to lead, and they should get ready for a commitment to fitness that they may heretofore not have been exposed. His belief that it's not always the best team but the hardest-working team that can win is about to go live and under the microscope. How the team responds will play a large part in the length of the Brind'Amour honeymoon with the Hurricanes.
Roddy Impressed Dundon
During the press conference, there was plenty of emotion to go around. Dundon recalled that when he met Brind'Amour he was 'A little intimated." Dundon also said, "Through this process as you get to know him and see the way he interacts with other people, how committed he is to his job, the way the players feel about him, the other coaches and staff, he was probably the best asset we had when we got here, and I didn't know it when we started."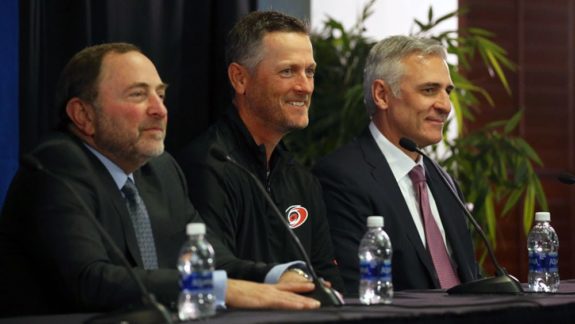 Dundon added that others that were interviewed for the head coach's position were at a disadvantage because he is around Brind'Amour every day. Dundon's biggest seal of approval came when he said,
I haven't been this impressed with many people in my life. I think we're really, really lucky, very fortunate and I'm extremely excited.
That is quite a statement coming from a man who has forged his way through the business world to become a billionaire.
Chip Alexander of the Raleigh News & Observer asked Dundon if he would reveal the terms of Brind'Amour's contract and Dundon said, "No." He did say later in the press conference that Brind'Amour has three years. Perhaps Dundon will remain impressed through the duration, which likely will only happen if the Hurricanes can begin to make the playoffs.
Brind'Amour, Waddell and Dudley
Even though Waddell has just been named the general manager, he is not in the throes of a honeymoon in the manner of Brind'Amour. Waddell has been a general manager before, and Rick Dudley who was hired last week as the senior vice president of hockey operations worked with him at the now nonexistent Atlanta Thrashers. Emotions are mixed as to the tenure of a Waddell/Dudley team, but they do have decades of hockey experience between them. In fact, this post on Twitter speculated that trade activity might be sooner than later:
McGuire on the Carolina Hurricanes: "I can tell you right now, based on phone calls I've been getting, there's going to be players traded out of there. Going to be real interesting to see how things play out." #NHLCanes

— NHL Watcher (@NHL_Watcher) May 9, 2018
Jeff Skinner should not be traded. Former Hurricanes head coach Bill Peters was impacting Skinners' game by either trying to make him a two-way player or by putting him on lower lines in an effort to force him to play better defense. Skinner needs to have a season under Brind'Amour's tutelage.
Regardless of rumors and speculations, things are already different in Raleigh than they were even a few weeks ago. A legend has been figuratively escorted from the building and a coach walked away on his own. There are new titles galore and the Brind'Amour honeymoon has begun.
As year ten of not making the playoffs approaches, the fans are content to give "Roddy" a try. But, as it was with Ron Francis, even the best of honeymoons can end.