"One thing I've realized quickly is that if Don is speaking, he is speaking for Tom. They communicate. When I talk to Don, I know he's already talked to Tom about whatever it is. If I talk to Tom he's already talked to Don, so I know they communicated before they ever talked to me."
Meet Rick Dudley
Those were the words of Rick Dudley, the new senior vice president of hockey operations for the Carolina Hurricanes, spoken during a conference call with the media Tuesday afternoon. He has been reunited with his friend of 30+ years, Don Waddell, president of the Hurricanes' parent company Gale Force Sports and Entertainment. Waddell is also working as the team's interim general manager. Dudley was describing the relationship that exists between Tom Dundon, owner, CEO and Governor of the Hurricanes and Waddell.
In the Hurricanes' press release announcing Dudley's hiring, Dundon had this to say about the hiring: "Rick brings a wealth of knowledge and experience to our management group. He has been a part of building championship teams on every level of professional hockey, and will play an important role in helping us build a winner in Raleigh."
To illustrate Dundon's point, the release from the team also noted that "Dudley, 69, has more than 45 years of experience in professional hockey, including 25 years as a senior executive in the National Hockey League. Prior to joining the Hurricanes, the Toronto native served as senior vice president of hockey operations for the Montreal Canadiens. He's also held senior executive roles with the Toronto Maple Leafs, Atlanta Thrashers, Chicago Blackhawks, Florida Panthers, Tampa Bay Lightning and Ottawa Senators."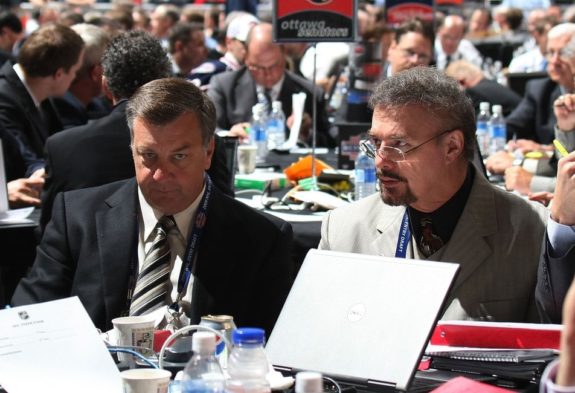 Will Dudley Do Right?
Dudley fielded a variety of questions during his conference call with the media Tuesday afternoon. A fair number of questions were from Canadian media inquiring about his relationship with the Canadiens and how that factored into his departure. Joey Allen of NBC Sports wrote on Tuesday, "Last month, owner Geoff Molson and Bergevin promised that there would be changes coming during this offseason, so no one was really safe." Whether Dudley pulled a Peters and got out before he was asked to leave is anybody's guess.
Dudley recounted thinking of the Hurricanes as the "team I work for" while watching last Saturday night's draft lottery, Dudley said the deal for him to come to the Hurricanes "just happened in the last few days." He also said he has talked with Dundon several times and feels comfortable with the organization.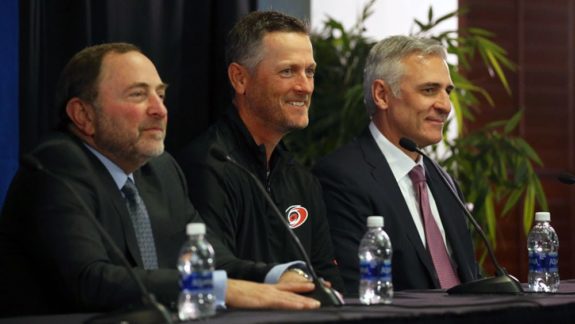 However, Dudley said he does not yet know what his specific duties will be for the team. Dudley said,
I haven't sat with Don and gone over what he needs from me. I expect he'll make me work hard and there will be lots of responsibilities. I'm going to be one of the people that oversee the hockey operations department. I'm one of I don't know how many at this point in time.
Dudley said that he likes what he sees on the Hurricanes' roster, which is full of young players that are very talented. "There's a lot of work that needs to be done to get to the next level, but there are a lot of pieces to work with."
Getting those young, talented players to finish games has been an issue over the past season in particular. Dudley said he did not know if not finishing was due to physical conditioning or nerves in the case of the Hurricanes. Dudley said:
I didn't look at the Carolina Hurricanes and think they were not a very well-conditioned team. I don't know why they didn't finish games. There are a number of reasons that it happens. One is nerves and one is conditioning.
Dudley said that there is a group of people in Carolina that can be very successful in the league and that he hopes to be a part of that success.
Dudley "Thrashed"
One of the least notable things about Dudley's reunion with Waddell has been making the rounds on social media:
According to @GagnonFrancois Rick Dudley will be the new vice president of hockey operations with the Carolina Hurricanes, working with Don Waddell. You may remember them for such hits as the [checks notes] Atlanta … Thrashers?#InDundonWeTrust

— Greg Wyshynski (@wyshynski) May 1, 2018
It may be too early to panic based on negative tweets, but it would be wise for Hurricanes fans to hope that they are not subject to a repeat performance of their time with the Thrashers, now the Winnipeg Jets. Waddell was the general manager from 1999 to 2010, and Dudley from 2010 to 2011. Spencer Perry wrote in the Bleacher Report, on May 23, 2011, that poor drafting was one reason that the Thrashers' fans were not to blame for the demise of the franchise. Perry wrote:
The finger here is pointed at GM Don Waddell and his scouting staff. The Thrashers missed out on some amazing talent that came through the NHL Draft in the 2000s, and now management is left to stare at the mess of a roster they've compiled over the past eleven seasons.
The Hurricanes have made some very good draft picks in the past four years. Hurricanes fans hope that will not change, especially with the number two overall pick in the team's possession. Waddell is acting general manager at the moment, and there are no indications (yet) that there will be a GM hired before the NHL Draft rolls around on June 22. In that regard, it might be a good thing to have a veteran hockey guy like Dudley, whom Waddell has had a long-term relationship with, coming alongside to help. With a lifetime of hockey experience under his belt, Dudley is very likely to do right with the Hurricanes.