---
Not everybody enjoys a strong finishing kick.
Overexposure can also be detrimental to a prospect's draft stock.
A combination of both contributed to this group of 10 fallers and 10 honourable mentions from my latest Top 100 rankings:
RELATED: 10 Risers from Fisher's Top 100 for May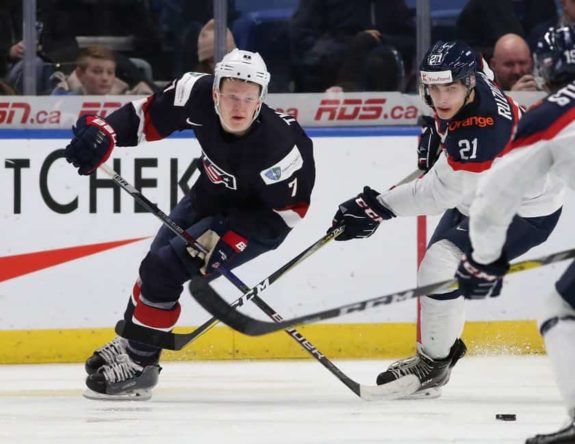 1) Brady Tkachuk (LW, USA, Boston University NCAA)
APRIL RANKING: 4
MAY RANKING: 7
VARIATION: -3
ANALYSIS: Dropping three spots wouldn't typically classify you as a faller, but when it's within the top 10 and you've been considered the "consensus" fourth-best prospect, it tends to set off alarm bells for readers, who have since demanded reasoning. So here's the deal for Tkachuk — and also for Joel Farabee, who fell five spots (from 10 to 15) as a victim of the same rationale: They are wingers and the fact is NHL teams tend to lean towards centres and defencemen on draft day. I tweaked my latest rankings to reflect that and thus they slid a little as the result of positional preference rather than poor play on their part. Some will argue that's poor logic on my part, but it's been proven in recent years — Pierre-Luc Dubois over Jesse Puljujarvi immediately comes to mind — and it's the sense I'm getting again about the 2018 draft class. I could be wrong, especially in regards to Tkachuk, but time will tell. I like the player, I just don't think he'll be as coveted as other prospects in the same range since his skill-set isn't as rare, nor as elite as the two scoring wingers that held their spots in my top three. Generally speaking, centre and defence are more impactful positions and more difficult to acquire if not drafted and developed, so these wingers could get passed over a few times each.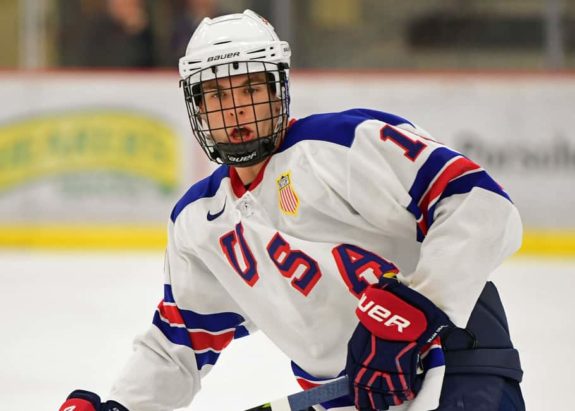 2) Bode Wilde (RHD, USA/Canada, NTDP U18)
APRIL RANKING: 12
MAY RANKING: 20
VARIATION: -8
ANALYSIS: Wilde could still be a top 15 pick and it wouldn't surprise anyone — including me — but I felt he took a step back at the under-18 tournament. I expected Wilde to be something of a man among boys there after being such a standout in my eyes at the Five Nations tournament in February against much of the same competition. Perhaps he was playing injured or fatigued from a long season, but Wilde went pointless in seven games for the silver-medallist Americans with a minus-1 rating on the last big scouting stage. That may hurt his draft stock, but Wilde could redeem himself with a strong showing at the combine as a physical specimen. His skill-set sort of reminds me of Zach Bogosian from his draft year back in 2008.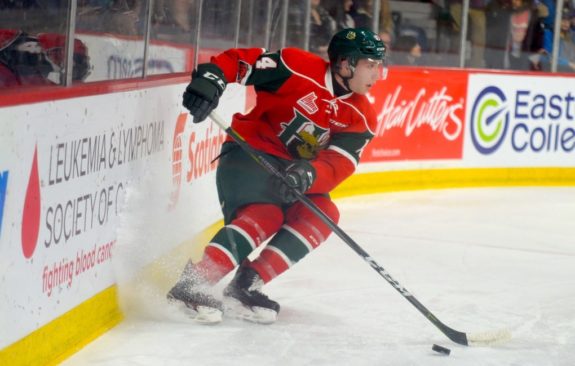 3) Jared McIsaac (LHD, Canada, Halifax QMJHL)
APRIL RANKING: 25
MAY RANKING: 44
VARIATION: -19
ANALYSIS: McIsaac entered his draft year as a potential top-10 pick, which meant a ton of attention from the outset since he wasn't flying under the radar for any scouts. When the bar is set that high, it can be difficult to live up to those lofty expectations. Just ask Joe Veleno. I wouldn't say McIsaac had a bad season — he was named a top-three performer for Canada at the U18s to cap it off — but so many others came on strong and seemed to surpass him, at least in terms of potential upside. McIsaac is an example of overexposure, but he finished on a high note after getting mixed reviews for his playoff performance with Halifax. For McIsaac, the interviews might be more important than the fitness testing at the combine, with teams wanting to test his mental strength as a perceived faller. If he impresses there, McIsaac could still emerge as a first-round pick. Perhaps I've exaggerated McIsaac's fall by ranking him in the 40s rather than the 30s, but he'd be outside my top 31 as of today.
4) Nicolas Beaudin (LHD, Canada, Drummondville QMJHL)
APRIL RANKING: 26
MAY RANKING: 41
VARIATION: -15
ANALYSIS: Beaudin grew on me all season long — he was among my 10 risers for April (from 84 to 26) — so I feel bad listing him here as a faller. By no means was this 15-spot drop meant to be a slight or a knock on Beaudin. Truth be told, I feel the prospects from about 25 to 50 in my rankings are interchangeable for the most part. Call it a large tier if you want, but I could tweak that order or even reverse it without causing much controversy or receiving much backlash. McIsaac is obviously in that range as well, and it's just how the chips fell this time around. I've mentioned that elsewhere already — when asked about the reasoning for Alexander Alexeyev being "so low" at No. 50 — but it warranted repeating here. I'm a fan of Beaudin, even loosely comparing him to Colorado's Samuel Girard, but he could go roughly 15 spots higher or lower than my current ranking.
5) Bo Groulx (C, Canada, Halifax QMJHL)
APRIL RANKING: 28
MAY RANKING: 38
VARIATION: -10
ANALYSIS: Groulx is another guy in that range and he's a centre which could work in his favour, but he's maybe not as dynamic as some of the forwards I have ranked ahead of him at the end of the first round and the start of the second round. Groulx is a solid two-way prospect, but not overly spectacular, though it's tough to stand out when playing in the shadow of top prospect Filip Zadina. That worked for and against Groulx because he got plenty of exposure in playing for one of the most watched teams alongside Zadina and McIsaac, who were both highly touted from the outset. Like McIsaac, some critics expressed mild concerns about Groulx following the playoffs — he had two goals in nine games, totalling eight points — but Groulx also has a lot of supporters in the scouting community. Most think he's a relatively safe pick, but some question whether he has top-six upside as an NHL player. If not, if they don't see that high of a ceiling, then it's hard to justify using a first-round pick on Groulx.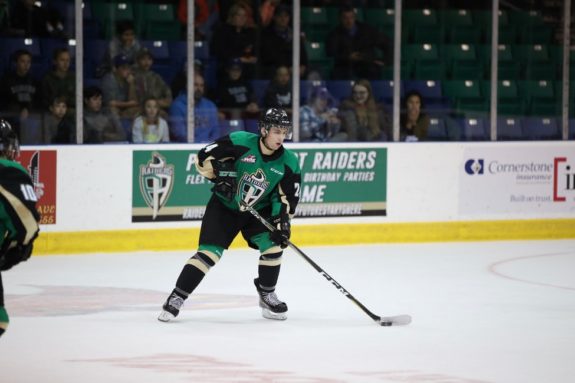 6) Cole Fonstad (RW, Canada, Prince Albert WHL)
APRIL RANKING: 49
MAY RANKING: 64
VARIATION: -15
ANALYSIS: I expected more from Fonstad at the U18s — I figured he'd be Don Hay's type of player and become a go-to guy as the tournament progressed — but he didn't really find a role there in going pointless over Canada's five games, registering only eight shots. He was never going to be the most talented player on that roster, but Fonstad didn't necessarily make the most of his opportunity on the international stage and some suggested he looked out of place against elite competition. There were similar sentiments following the CHL Top Prospects Game in January — even though Fonstad scored on his only shot in that showcase, he was also minus-2 — but I feel Fonstad can get to that level, it may just take him longer to get up to speed and develop chemistry in new surroundings. Regardless, Fonstad probably falls out of the top 50 and possibly out of the second round as a result of those underwhelming performances.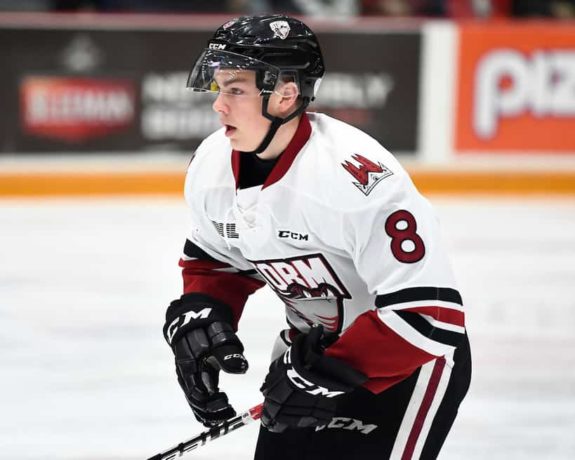 7) Cam Hillis (C, Canada, Guelph OHL)
APRIL RANKING: 57
MAY RANKING: 82
VARIATION: -25
ANALYSIS: Hillis is another kid who maybe hurt his draft stock more than he helped it at both the U18s (no goals, two assists, five shots in five games) and the CHL Top Prospects Game (pointless, no shots, minus-1 for the team that won 7-4). Neither were strong showings in best-on-best situations amongst his draft-eligible peers. Hillis does possess that top-six upside — according to some who scout the OHL on a regular basis — but it hasn't shone through when he's been in the spotlight for whatever reasons. As somebody who follows the WHL more closely, that's how I feel about Fonstad as well, but their inability to rise to the occasion has landed them on this list as fallers.
8) Dmitry Zavgorodniy (RW, Russia, Rimouski QMJHL)
APRIL RANKING: 58
MAY RANKING: 72
VARIATION: -14
ANALYSIS: I'm still a closet member of the Zavgorodniy fan club — when he's on his game, he can keep you on the edge of your seat with his flash and dash, and he's got finishing ability too — but he faded in the QMJHL playoffs (one goal, three points, minus-1 in seven games) and consistency was already a concern. Rightly or wrongly — remember, this was his first experience in North America — Zavgorodniy has boom or bust written all over him and some teams may shy away. I'd still pick him in the second round personally — I see shades of Nikita Kucherov and certainly of Columbus prospect Vitaly Abramov — but the Russian factor could also have teams passing on Zavgorodniy with their first couple picks. Ah, yes, the Russian factor still exists. I quite like the 2018 class of Russians — especially the forwards, and I've enjoyed watching all the CHL imports — but one "real scout" felt I was too high on them and, frankly, had too many Russians in my top 100 for April. He wasn't specific about which Russians to drop down or drop out, but he's probably right and I applied that advice to my May rankings as you'll notice with a handful of these honourable mentions.
9) Nando Eggenberger (RW, Switzerland, Davos)
APRIL RANKING: 62
MAY RANKING: Not Ranked (outside top 100)
VARIATION: -39
ANALYSIS: Nobody told me to rid my rankings of Swiss prospects, but that's how it played out — entirely unintentional. So apologies in advance to any of my readers and followers from Switzerland, who were shocked to see those omissions this time around. Eggenberger was the biggest faller of the three — the other two also made this list as honourable mentions — but they are still solid prospects in their own right and could easily get drafted in the top 100, if not the top 50. That's not an attempt at sucking up either, they were all on the bubble for my May rankings and wound up just below my cut line. Unlike the Russian factor, the Swiss factor might help them get picked sooner than later since that country has been gaining momentum and churning out impressive prospects in recent years — highlighted by last year's first overall selection Nico Hischier. As for Eggenberger, I've heard him referred to as a poor man's Nino Niederreiter in terms of size and playing style, but his offensive numbers left a lot to be desired during his draft year. I realize he was playing against men in the NLA — one of the top pro leagues outside the NHL — but Eggenberger didn't do much for me at the World Juniors either and that started his steady decline in my rankings.
Nando Eggenberger, a member of the all-name team, has really left me unimpressed with his play at the #WJC18 and NLA season. What was once a decent shot at landing in the first round has turned into a struggle to stay in the top 62. #2018NHLDraft

— /Cam Robinson/ (@Hockey_Robinson) January 2, 2018
10) Filip Johansson (RHD, Sweden, Leksands J20)
APRIL RANKING: 54
MAY RANKING: Not Ranked (outside top 100)
VARIATION: -47
ANALYSIS: I'll admit, this omission was more so accidental. Granted, I wasn't wowed by Johansson at the U18s — Boqvist and Adam Ginning were the clear standouts among Swedish defencemen — and he was dropping down my rankings into the 80-120 tier as a result, but I wasn't planning to leave him out of my top 100. I knew I was now higher on the other Johansson — that being Simon Johanssson, another right-handed defenceman but an over-ager who had a breakout season to debut at No. 79 in my May rankings — yet it appears, in hindsight, that I grouped Filip Johansson too closely together with Axel Andersson among my fallers as both tumbled to miss the cut. They were teammates but not partners at the U18s, where they were equally underwhelming with only two points each in seven games for the bronze-medallist Swedes. Johansson did score the only goal between them — a power-play marker in the third-place game, when Boqvist was sidelined by injury — but I did a lot of shuffling between 80 and 120 when it came time to finalize my rankings, which led to a bit of confusion in bumping Johansson further than intended.
RELATED: THW Guide to 2018 NHL Entry Draft
Honourable Mentions
Philip Kurashev (C, Switzerland, Quebec QMJHL)
APRIL RANKING: 63
MAY RANKING: Not Ranked (outside top 100)
VARIATION: -38
Nico Gross (LHD, Switzerland, Oshawa OHL)
APRIL RANKING: 74
MAY RANKING: Not Ranked (outside top 100)
VARIATION: -27
Vladislav Kotkov (LW/RW, Russia, Chicoutimi QMJHL)
APRIL RANKING: 68
MAY RANKING: Not Ranked (outside top 100)
VARIATION: -33
Kirill Nizhnikov (RW, Russia, Sudbury OHL)
APRIL RANKING: 69
MAY RANKING: Not Ranked (outside top 100)
VARIATION: -32
Ivan Muranov (LW, Russia, HK MVD MHL)
APRIL RANKING: 81
MAY RANKING: Not Ranked (outside top 100)
VARIATION: -20
Egor Sokolov (LW, Russia, Cape Breton QMJHL)
APRIL RANKING: 82
MAY RANKING: Not Ranked (outside top 100)
VARIATION: -19
Axel Andersson (RHD, Sweden, Djugardens J20)
APRIL RANKING: 83
MAY RANKING: Not Ranked (outside top 100)
VARIATION: -18
Albin Eriksson (LW, Sweden, Skelleftea J20)
APRIL RANKING: 72
MAY RANKING: 87
VARIATION: -15
Luka Burzan (C, Canada, Brandon WHL)
APRIL RANKING: 65
MAY RANKING: 86
VARIATION: -21
Kyle Topping (C, Canada, Kelowna WHL)
APRIL RANKING: 88
MAY RANKING: Not Ranked (outside top 100)
VARIATION: -13