---
A strong playoff performance can do wonders for a prospect's draft stock.
Same with a stellar showing at the under-18 world championship.
A combination of both contributed to this group of 10 risers and 10 honourable mentions from my latest Top 100 rankings:
RELATED: 10 Fallers from Fisher's Top 100 for May
1) Jesperi Kotkaniemi (C, Finland, Assat)
APRIL RANKING: 17
MAY RANKING: 6
VARIATION: +11
ANALYSIS: Kotkaniemi really raised his game in leading Finland to gold at the recent under-18 tournament, producing nine points in seven games — tied for sixth in tournament scoring. More impressively, he had three points on Finland's five goals in the two medal-round games, including a perfect assist on the golden goal (see below). Playing centre there, he also won 56 per cent of his faceoffs and was a two-way force, a factor in all situations. Kotkaniemi's numbers in Finland's pro league were already top-10 worthy — I was admittedly too low on him last time around — and his standout performance among his peers should get him into the top 10 on draft day. Or possibly even the top five, with former NHL scout Grant McCagg making a pretty convincing case for Montreal taking Kotkaniemi at third overall over the likes of Filip Zadina, Brady Tkachuk and Adam Boqvist.
What a play by Jesperi Kotkaniemi, who sets up Niklas Nordgren to make it 3-2 Finland. SHG for Nordgren #U18Worlds pic.twitter.com/lQoSDJTiUl

— Dennis Schellenberg (@ScoutingFactory) April 29, 2018
2) Jacob Olofsson (C, Sweden, Timra)
APRIL RANKING: 40
MAY RANKING: 26
VARIATION: +14
ANALYSIS: Olofsson had a role in helping Timra hoist the trophy as Allsvenskan playoff champions and earn promotion to Sweden's top division for next season. He wasn't the star as an under-ager — the spotlight shone brightest on Vancouver Canucks prospect Jonathan Dahlen — but Olofsson was real solid in chipping in three goals and four points in 10 playoff games after producing 10 goals and 21 points in 43 regular-season games to finish fifth in team scoring. He may never be a star, but Olofsson is looking like a safe pick in the latter half of the first round as a nice all-around player who could be NHL-ready sooner than later. That said, he does seem to have some untapped offensive upside.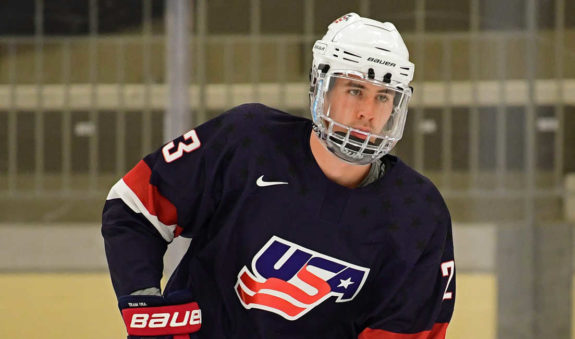 3) Mattias Samuelsson (LHD, USA/Sweden, NTDP U18)
APRIL RANKING: 47
MAY RANKING: 30
VARIATION: +17
ANALYSIS: Samuelsson captained the silver-medallist Americans and was voted by his coaching staff as one of the top-three performers for Team USA at the U18 tournament. A lot of rankings already had him in their Top 31 prior to that showcase thanks in part to his size — listed at 6-foot-3 and 216 pounds — and also his bloodlines as the son of former NHL defenceman Kjell Samuelsson. I had him lower than many, unsure of his foot speed and mobility at the NHL level, thinking he could turn into another Griffin Reinhart. Watching Samuelsson, in spurts, at the U18s alleviated some of those concerns and I could see the total package that will probably make him a first-round pick.
4) Niklas Nordgren (RW, Finland, HIFK Liiga)
APRIL RANKING: 71
MAY RANKING: 33
VARIATION: +38
ANALYSIS: Nordgren may be the flavour of the week as the leading goal-scorer — and golden goal-getter — from the under-18 tournament, scoring eight times in seven games as Kotkaniemi's go-to wingman. Let's get the facts out of the way here, Nordgren is undersized — at 5-foot-9 and 170 pounds — and isn't the best skater, two big knocks against any prospect. That will likely keep him out of the first round, but Nordgren has to be one of the biggest risers coming out of that tournament. He reminded me quite a bit of Viktor Arvidsson there, and if NHL general managers are making that comparison — with Arvidsson's playoff performance as a top-line forward also fresh in their minds — Nordgren might climb as high as I have him ranked here. He'll need to impress again at the combine, both in the fitness testing (for his size) and in the interview portion as teams poke and prod to see what kind of player he could be. Intriguing to say the least.
What a #U18Worlds tourney for Finnish forward, Niklas Nordgren. Leads the competition in goals with 8 and scores the GWG in the gold medal game. Undersized but the kid knows how to…finish 😏#2018NHLDraft

— /Cam Robinson/ (@Hockey_Robinson) April 29, 2018
5) Jack Drury (C, USA, Waterloo USHL)
APRIL RANKING: Not Ranked (outside top 100)
MAY RANKING: 36
VARIATION: +65
ANALYSIS: Drury was one of those glaring omissions from my April rankings, an oversight on my part since I don't get to watch a ton of USHL action and hadn't realized how dominant he has become at that level. Within minutes of those rankings going live, I had several readers — including one "real scout" — reach out and recommend getting Drury not only in my Top 100 but my Top 50. I asked around a bit more in my scouting circles and discovered a few people are really bullish on Drury, pushing for a Top 31 ranking and suggesting he could climb all the way into the first round. I wasn't quite ready to go that far, but I'm definitely doing my homework on him now and I'm impressed. For those wondering, he is the nephew of Chris Drury and the son of Ted Drury, so the bloodlines are working in his favour too.
In a league of his own.

Congratulations to @BlckHawksHockey forward Jack Drury on extending his point streak to 22 games, setting a new USHL Tier 1 (2002-present) record! #DruryStreak pic.twitter.com/Qlop3M3jdq

— USHL (@USHL) February 11, 2018
6) Lukas Dostal (G, Czech Republic, Kometa Brno U20)
APRIL RANKING: 79
MAY RANKING: 53
VARIATION: +26
ANALYSIS: Dostal has been outshining his compatriot Jakub Skarek — previously thought to be the top goaltender in this year's draft class — for some time already, but he finally overtook him in my rankings after rising to the occasion in eliminating previously undefeated Canada in the U18 quarterfinals. A goalie should never be judged based on one game — no matter how good or how bad – but Dostal made a statement there, stopping 33 shots in holding on for a 2-1 upset win. The Czechs went on to fall 4-1 to the United States in the semifinals and 5-2 to Sweden in the bronze-medal game, but Dostal stood tall in making 43 more saves against the U.S. — for a combined 76 against the North American powerhouses — before sitting out his nation's finale. It's becoming more and more rare for goaltenders to go in the first round and Dostal hasn't been labeled elite, so he'll almost certainly be available into the second round and possibly even the third round.
7) Kirill Marchenko (F, Russia, Mamonty MHL)
APRIL RANKING: 66
MAY RANKING: 51
VARIATION: +17
ANALYSIS: Marchenko separated himself from a grouping of Russian forwards by standing out from that pack in his U18 performance. He led his country in scoring with three goals and six points in five games as host Russia bowed out in the quarterfinals with a 5-1 loss to the Americans. Marchenko wasn't able to elevate for that elimination game but showed glimpses of his potential throughout the tournament in catching the eye of onlookers near and far. He's still going to be a boom or bust type, but his ceiling appears quite high based on his skill-set.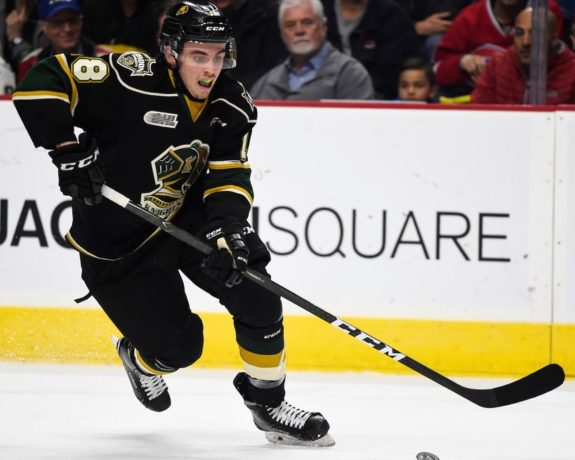 8) Liam Foudy (C, Canada, London OHL)
APRIL RANKING: 90
MAY RANKING: 57
VARIATION: +33
ANALYSIS: Foudy has speed to burn and used it to his advantage on the international-sized ice as one of Canada's most noticeable draft-eligibles at the U18 tournament. The bigger ice played into his hands, but Foudy was already coming on strong during the second half for London following the CHL Top Prospects Game and after the trade deadline when he was thrust into a more prominent role. There are whispers that some scouts really like his upside and that certain teams may reach for Foudy in the 30s or 40s — I've even heard 20s! — so my ranking might still be on the low side. The Hunters have long been churning stud prospects out of London and Foudy could join that list in due time, perhaps as a steal if he falls to the 50s or further into the third round.
9) Ryan O'Reilly (C, USA, Madison USHL)
APRIL RANKING: Not Ranked (outside the top 100)
MAY RANKING: 56
VARIATION: +45
ANALYSIS: Yes, there is a second-coming of Ryan O'Reilly and he's looking like a legit prospect, so that could be a broadcaster's nightmare — even more so than the two Sebastian Ahos. This O'Reilly is another of my USHL debutants and it's become evident that I was missing out on him too. That league is gaining a lot of momentum for developing future NHLers and it's about time I start paying closer attention — just as close as I always have to the three major junior leagues in Canada. Yes, the USHL has closed the gap in recent years and is becoming comparable to the WHL, OHL and QMJHL. You'll notice several new names from the USHL in my latest Top 100 rankings and some people who follow that league on a daily basis are still saying I don't have them high enough.
10) Toni Utunen (LHD, Finland, Tappara Liiga)
APRIL RANKING: 85
MAY RANKING: 61
VARIATION: +24
ANALYSIS: Utunen captained Finland to gold and was very efficient throughout the tournament despite not putting up big offensive numbers with just one goal and three points in seven games. He did lead the tournament with a plus-12 rating while logging big minutes in all situations. I hadn't seen a ton of Utunen prior to this tournament, but I really liked what I saw there. He sure looked like a player and like the kind of defenceman that is thriving in today's game. That's a small sample size to be making comparisons, but I could see a bit of Tobias Enstrom in him.
RELATED: THW Guide to 2018 NHL Entry Draft
Honourable Mentions
Rasmus Sandin (LHD, Sweden, Sault Ste. Marie OHL)
APRIL RANKING: 43
MAY RANKING: 29
VARIATION: +14
Blake McLaughlin (C, USA, Chicago USHL)
APRIL RANKING: 55
MAY RANKING: 35
VARIATION: +20
David Gustafsson (C, Sweden, HV71 J20)
APRIL RANKING: 59
MAY RANKING: 48
VARIATION: +11
Jan Jenik (LW, Czech Republic, Liberec U20)
APRIL RANKING: 80
MAY RANKING: 52
VARIATION: +28
Blade Jenkins (C, Canada, Saginaw OHL)
APRIL RANKING: 93
MAY RANKING: 66
VARIATION: +27
Ty Emberson (RHD, USA, NTDP U18)
APRIL RANKING: Not Ranked (outside top 100)
MAY RANKING: 62
VARIATION: +39
Spencer Stastney (LHD, USA, NTDP U18)
APRIL RANKING: Not Ranked (outside top 100)
MAY RANKING: 76
VARIATION: +25
Michal Kvasnica (C/RW, Czech Republic, Trinec U20)
APRIL RANKING: Not Ranked (outside top 100)
MAY RANKING: 67
VARIATION: +34
Ruslan Iskhakov (C/W, Russia, Krasnaya Armiya MHL)
APRIL RANKING: Not Ranked (outside top 100)
MAY RANKING: 71
VARIATION: +30
Simon Johansson (RHD, Sweden, Djurgardens J20, over-ager)
APRIL RANKING: Not Ranked (outside top 100)
MAY RANKING: 79
VARIATION: +22