The Carolina Hurricanes postgame celebrations have been ripped publicly by former NHL executive and current analyst, Brian Burke. In response, a chorus of "who cares what Burke thinks" resounds. There is a 100 percent certainty that the future of the Hurricanes' postgame celebrations will in no way be impacted by Burke, or by what he thinks or says about them.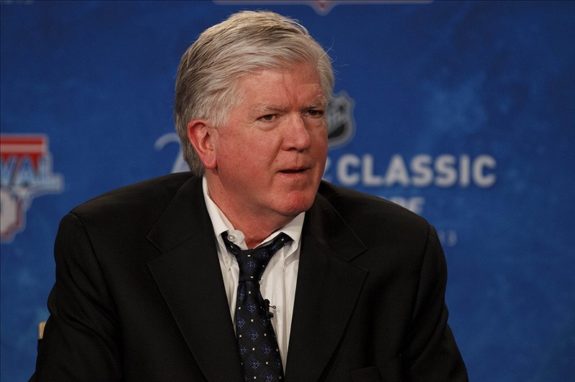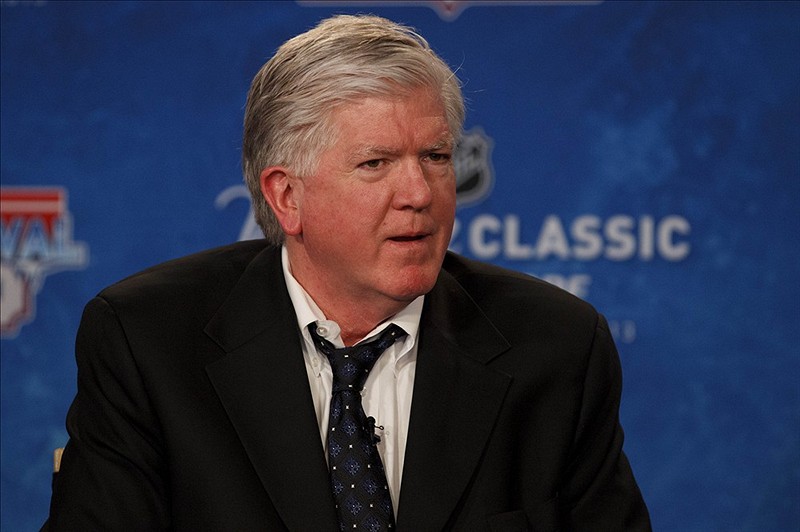 Seriously, why is Burke even commenting on the "storm surge" that the players are doing after the 'Canes win at home?  Is he so bored and locked into a life that is void of fun that he has nothing to do but render his opinion about the Hurricanes' celebrations?
Burke and the "Storm Surge"
Jimmy Hascup wrote about Burke's thoughts at USAToday.com on Nov. 23: "I don't think it's professional," former longtime NHL executive and current Sportsnet analyst Brian Burke said on 590 The Fan. "I don't think it belongs in our league. If the people in Carolina like it, great."
Hascup continued with additional thoughts by Mr. Grumpy, err Burke:
I think it's absurdly amateurish, pee-wee garbage stuff. They like it — terrific. Stay and watch it. Clap. Have another beer and stay and watch them swim or canoe or whatever they're going to do next. I'm not watching.
His remarks are steeped in a zero-tolerance for having fun. And, if there is anything less relevant in the NHL today than Burke's opinion of the "storm surge" it has yet to be revealed.
Hurricanes' Storm Surge
Of course, goal celebrations have always been "allowed" and accepted as part of the sport. But the postgame celebration has usually been limited to saluting the fans with sticks held high as a team skates off the ice. The ritual is usually very "professional" and very boring.
The Hurricanes' postgame celebration was unveiled after they defeated the New York Rangers on Oct. 7. It has been dubbed the "storm surge" and it is the most unique game celebration going in the NHL — perhaps in any of the major sports. Michael Smith of the Hurricanes described the inaugural storm surge at the team's website:
With DJ Khaled's "All I Do Is Win" blaring over the PNC Arena sound system, the Canes lined up on the right blue line. Led by captain Justin Williams, they raised their sticks and clapped over their heads in unison. But wait, there's more. The team then took off in a mad dash down the ice and leaped into the boards.
It was so far out of left field for hockey, and so unexpected that it took literally everyone by surprise. Except for team captain, Justin Williams, and his teammates, of course.
Hockey is our life and job…but it is still a game. Enjoy the good times and have fun with it…let's celebrate more this year. Great win tonight #TakeWarning https://t.co/POvYY8z3qQ

— Justin Williams (@JustinWilliams) October 8, 2018
Since the first "storm surge" orchestrated by Williams, there have been variations on the theme. The team stands near center ice and the players Skol clap joined by the fans who are filled with anticipation as to what they will see. It's not just the rush to the glass. The players have rushed to the walls across the width of the ice, sat on the ice and paddled with their sticks as if kayaking, and most recently dropped like dominos.
Winning games & having fun.

That's Carolina Hockey. #TakeWarning pic.twitter.com/5yqnnpYrgp

— Carolina Hurricanes (@Canes) November 24, 2018
It is important to note that unlike a goal celebration or an NFL touchdown celebration that is seen during games and that has been accepted by fans and league officials alike, the postgame "storm surge" is not hurting anyone. It is done after the opposing team has left the ice and it is in no way disrespectful to them. There is no taunting or even bravado. It's just fun, plain and simple.
Hurricanes' Culture Change
One of the things that new head coach Rod Brind'Amour has been tasked with is changing the culture surrounding the Hurricanes. First of all, they have not made the playoffs since 2009. There has been a cycle of losing and frustration surrounding this team for years. That is not going to produce success on the ice or in attendance.
A difference in this year's model of the Hurricanes from those in the past several years is that the fans are returning to Raleigh's PNC Arena and are genuinely supportive of the team. And they are having fun. They have shown by their participation that they enjoy the "storm surge" and are having fun right along with the team.
This is important because any team in any sport plays better when supported by their fans. This year might see the Hurricanes return to the playoffs or it might not. They were right on the bubble of the traditional American Thanksgiving measure that is used to predict which teams will make the playoffs. But one thing is certain, and that is that the team and their fans are going to have fun and support each other along the way.
Mr. Grumpy, err Burke…It's Fun
Adam Gretz at nbcsports.com summed the whole issue up nicely when he wrote on Oct. 7: "I imagine the "act like you've been there before, you are a professional hockey player" crowd will find some reason to complain about this. But you know what? Justin Williams is a 37-year-old, 18-year NHL veteran and a three-time Stanley Cup champion. He has been there, and he has done "it" before. This is just good fun, and some nice excitement for a team, franchise, and fan-base that is desperate for it."
Gretz nailed it. The postgame celebrations are harmless, not intended to taunt in any way and are just fun. Gretz nailed it again when he concluded, "At the end of the day, sports are supposed to be … you know … fun."
Perhaps Burke should lighten up and have a little fun, too.