Before last night's historic 1st-period hat trick, we knew that Andreas Johnsson had a good year last year and we knew he had a great smile; but, we didn't know he could score – at least not like that. Matching a 32-year old Maple Leaf record set by legend Wendel Clark on October 11, 1986, it took Johnsson only 12 minutes of game time to more than double his goal output for the season.
Before the first intermission, Johnsson had scored his first-ever hat trick. Heady stuff for a young man who, by his own admission, was dealing with eroding "I haven't been good enough. Simple as that." confidence.
In what might be the most efficient scoring in Maple Leafs' history, 24-year-old Johnsson slid three pucks through the five hole – all three same spot – in just over two minutes (specifically 2 minutes and 12 seconds) of personal ice time during the first period of Saturday's 6-0 win over the Philadelphia Flyers. After the third goal, Johnsson's former Toronto Marlies' teammate goalie Calvin Pickard took his hockey toys and skated home – although not by his own choice. And, cooler heads prevailed as Scotiabank Arena fans showered the ice with their hats.
Although the level of Saturday night's success is rare, it isn't that Johnsson hasn't experienced success. During the 2017-18 AHL Season, he was named to the 2018 AHL All-Star Game. In his second NHL game in March last year, he scored his first NHL goal in a 4-0 Maple Leaf shutout over the Montreal Canadiens. In April, 2018, he had his first multi-point game in a 5–2 win over the Buffalo Sabres.
After the Leafs were eliminated from the playoffs, Johnsson returned to the Marlies to be part of their 2018 Calder Cup playoff run. There he won the Jack Butterfield Trophy as MVP of the Calder Cup after leading all playoff scorers. He signed a one-year, two-way contract with the Maple Leafs for $787,500 just prior to the 2018-19 NHL season.
Although no one doubts his skill level, until Saturday's Flyer breakout, Johnsson struggled this season. His hat trick more than doubled his scoring for the year and he now has six points in 19 games. Sad for Calvin Pickard that Johnsson's success came against a friend and former teammate, but that's hockey. You have to wonder how many times Johnsson practiced that move during Marlies' practices and how many times Pickard stoned him.
Related – NHL Rumors: Nylander, Puljujarvi, Coaching Jobs, More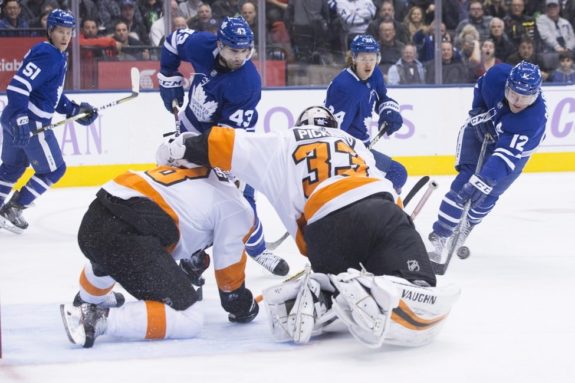 What Happens Now?
As Sportsnet's Luke Fox reported on October 30, coach Mike Babcock made it clear that Johnsson had to play better: his impressive 2018-19 season would not provide him unlimited ice time. Although, at the start of the season, the road for his success had been plowed by left-winger James van Riemsdyk's departure and his own AHL MVP Award, it was time that Johnsson zambonied his own clear ice if he wanted more playing time.
It was telling that, after Matthews' injury, Babcock didn't call up another forward and gave Johnsson a chance to earn his keep. As Babcock said at the time, "He's got to get his confidence back. He was a good player in the American Hockey League. He's a young guy who's getting better, who was a dominant player at the end of the year last year in the American League. He's got to come in and do the same thing here now." But Johnsson learned what many young skaters learned before him, the AHL and the NHL are different.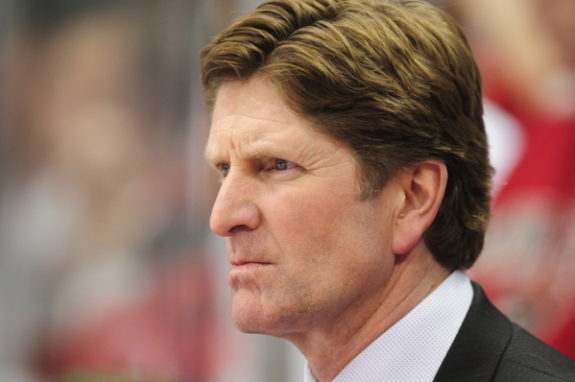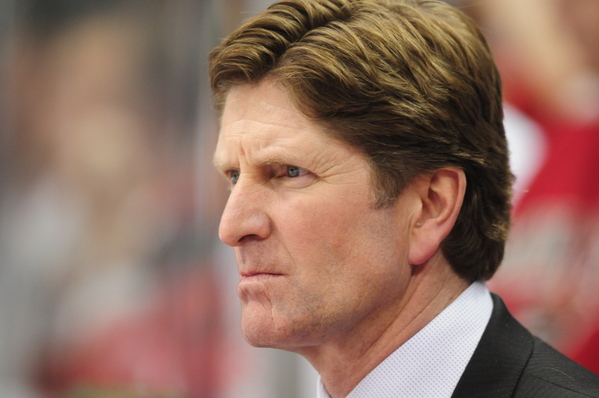 With Auston Matthews' shoulder injury keeping him out of the line-up and Johnsson's breakout game, it doesn't take a genius to believe coach Mike Babcock will try to ride Johnsson's confidence over the next games. No doubt the young Swede, often a healthy scratch this season, will be given a chance.
As noted earlier, Johnsson has experienced success. He prospered during the AHL playoffs, recording 24 points (10 goals, 14 assists) in 16 games during the Toronto Marlies' Calder Cup run. He was a point-a-game, regular season player in the AHL last season (54 points in 54 games). On Saturday, he exploded against the Flyers.
Let's hope this game wasn't a one-off. It's simple: if Johnsson finds third-line success, he adds value to the Leafs this season. He has shown he has the 3S's (speed, strength, and skill) he needs to stay in the NHL. Last night he showed the 4th S – scoring.
It will be fun to see if he finds that "I am good enough. Simple as that." confidence. Perhaps that's all this young skater will need.
Related: Maple Leafs' Tyler Ennis: More Valuable Than Nylander?
The Old Prof (Jim Parsons, Sr.) taught for more than 40 years in the Faculty of Education at the University of Alberta. He's a Canadian boy, who has two degrees from the University of Kentucky and a doctorate from the University of Texas. He is now retired on Vancouver Island, where he lives with his family. His hobbies include playing with his hockey cards and simply being a sports fan – hockey, the Toronto Raptors, and CFL football (thinks Ricky Ray personifies how a professional athlete should act).
If you wonder why he doesn't use his real name, it's because his son – who's also Jim Parsons – wrote for The Hockey Writers first and asked Jim Sr. to use another name so readers wouldn't confuse their work.
Because Jim Sr. had worked in China, he adopted the Mandarin word for teacher (老師). The first character lǎo (老) means "old," and the second character shī (師) means "teacher." The literal translation of lǎoshī is "old teacher." That became his pen name. Today, other than writing for The Hockey Writers, he teaches graduate students research design at several Canadian universities.
He looks forward to sharing his insights about the Toronto Maple Leafs and about how sports engages life more fully. His Twitter address is https://twitter.com/TheOldProf