"We need a new coach!" "Fire Head Coach Bill Peters!" The chorus of Carolina fans fed up with their team's performance or lack thereof began to swell. For the first time in his tenure, Peters was the target of this frustration. In Raleigh, North Carolina, home of the Hurricanes, some local media voices stoked the sentiment. But, grabbing the low-hanging fruit of calling for a coach's firing was not something I was prepared to do at that time.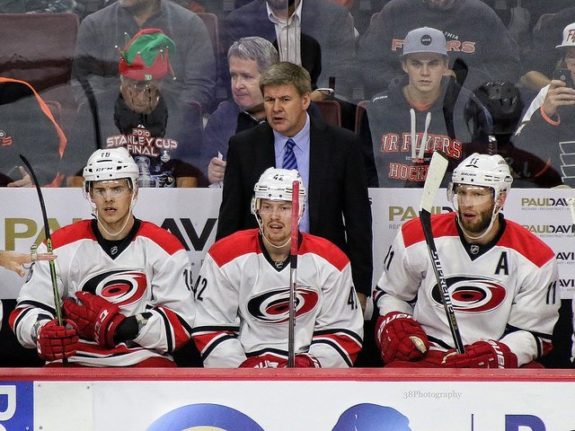 I'm still not ready to play the "fire him" card. I have liked Peters from the beginning of his time with the Hurricanes, and I still think he has the makings of a head coach that will enjoy great success. When Peters received a contract extension in July 2016, I wrote,
I agree with Francis, that the fans should be filling the PNC Arena every home game, watching their Hurricanes continue to develop under the leadership of one of the leagues up and coming coaches. Peters is the real deal, and his team is becoming that, too.
Francis gave Peters a vote of confidence with the extension of his contract, and I firmly believe it was and still is well-deserved.
Don't get me wrong. I am not immune to the realities of Peters' situation. In fact, I wrote in September before the season that Peters' seat might be getting warm:
Peters may not be on the hot seat…yet. But, his seat might be getting a bit warm, especially if – barring unforeseen injuries – he is unable to guide his team to the playoffs.
Fans of the Hurricanes have tolerated a lot over the years, and they have been patient with Peters. This season is certainly one wherein he likely will be scrutinized closely. The "Fire Peters" chorus is ready to sing loudly if the season turns out to be another failed effort to make the playoffs. But, the season is still relatively early and it's too soon to call for his firing.
Should the canes fire head coach Bill Peters?

— Canes Talk (@canes_talk) November 5, 2017
Peters Doesn't Have a Stick
I was sitting with some meeting colleagues recently and asked them if they had joined the "Fire Peters" bandwagon. One response was, "Peters does not have a stick in his hand. He can't shoot the puck for them." That statement is a "Captain Obvious" blast, but it is accurate. Peters can coach the Hurricanes players to get to the net and go after rebounds. But, it's up to the players to follow through and have a net-front presence. If they don't do what he coaches them to do, it's on them.
To be fair, I will agree that it's on them to up to a point. That point is, "Has he lost the team?" That is a serious quandary and is worthy of GM Ron Francis posting an opening on LinkedIn for a new head coach. But, I do not think that Peters has lost the Hurricanes, or is even anywhere close to losing the team. The problems the 'Canes have are different from a sum of bad coaching decisions. I sense there is still a great amount of respect amongst the players for Peters.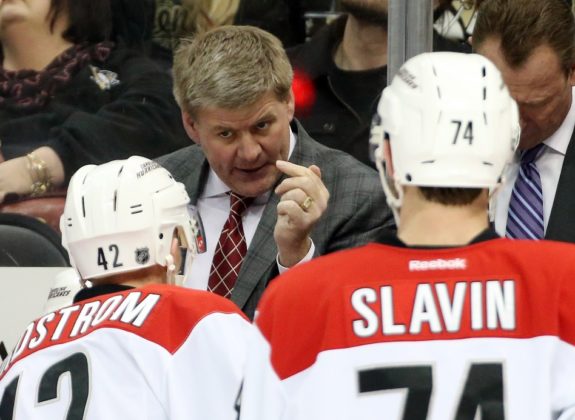 One cannot in any way blame him for their losses or defensive lapses that had led to losses. He is not to blame for goalie Scott Darling's inability to make saves consistently. Peters is not donning a mask and blocker and posting up between the pipes. Darling is learning how to be a starting goalie, and any number of things may be hindering his effectiveness. However, I don't think needing a new head coach is one of those hindrances.
Thanksgiving Looms Large for Peters
Right now, the 'Canes are in a three-way tie for last in the Metropolitan Division with the New York Ranger and the Philadelphia Flyers. They each have 20 points. The division-leading New Jersey Devils have 25 points. So, the Hurricanes are not that far away from the top.
The all-important Thanksgiving marker is coming, with the adage that a team can be out of the playoffs by that time. The next two games that the Hurricanes have are against division-rivals. Sunday night they play the New York Islanders and Wednesday night they play the Rangers. Both games are at home.
Wins by the Hurricanes would be huge, taking them to 24 points before Thanksgiving. Losses would not be good, but would not necessarily mean that the team's playoff hopes are dead. While some may have been calling for Peters to be fired, I don't think that is where this team is at this point. They have a realistic chance to be in the mix at Thanksgiving, and that's something to be thankful for during this season of giving thanks. Peters has weathered the "Fire" storm for now, but the team needs to respond consistently to his coaching and continue to get better.