On the second day of the 2017 National Hockey League entry draft, Calgary Flames general manager Brad Treliving made a big splash when he spent big to acquire Travis Hamonic from the New York Islanders. In an effort to solidify his club's top two defensive pairings, Treliving sent a first round selection in 2018 and second round selections in 2018 and one of 2019 or 2020 to the Islanders for Hamonic.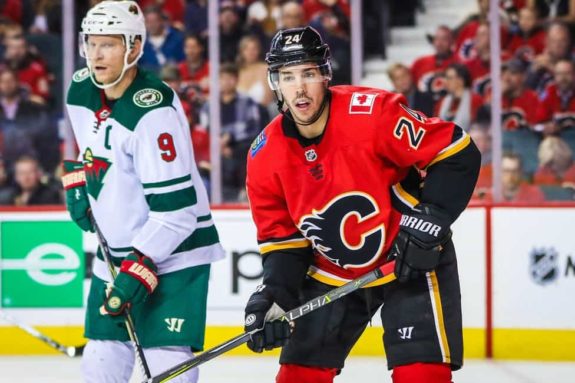 Roughly one-quarter of the way into the 2017-18 season, the results of that transaction have been pretty underwhelming.
The Goal
The Hamonic trade mirrors, in many key ways, the trade for Dougie Hamilton two summers prior. Prior to the Hamilton deal, the Flames' list of high-end defenders began and ended with Mark Giordano and T.J. Brodie. Hamilton's acquisition created a new problem: Giordano and Hamilton became an elite pairing, but Brodie had nobody to play with – he rotated through a series of partners that didn't quite fit, such as Dennis Wideman and Deryk Engelland. (Michael Stone was the closest to a strong fit, but he arguably was better-suited as a third pairing defender.)
Adding Hamonic seemingly balanced the Flames defensive pairings for the first time in several seasons, giving them three pairings with speed, skill and physicality:
Giordano and Hamilton
Brodie and Hamonic
Brett Kulak and Stone
The Results (So Far)
The good news is that the Giordano/Hamilton and Kulak/Stone pairings have worked out well. The pairing of Brodie and Hamonic have had a tougher time, with Brodie posting strong offensive numbers but most of his scoring coming on the power play. At even strength, he and Hamonic have been arguably the weakest of the team's three regular pairings.
If you isolate his contributions, Hamonic is the second-worst Flames defenseman by basically every possession measure – despite being middle of the pack in terms of the quality of competition he faces and the amount of offensive zone starts he receives. His defensive numbers (Corsi Against Per 60 Minutes) are similar to what they were on Long Island, though playing with Brodie has seen his offensive metrics (Corsi For Per 60 Minutes) uptick slightly.
https://twitter.com/dellowhockey/status/930200433733271558
Through the first 18 games of the season, here's how teammates have fared possession-wise playing with Hamonic compared to their time away from him. (We've focused exclusively on players who have played 50+ minutes at five-on-five with Hamonic.)
Teammate
CF%
Together
Their
CF%
Apart
Diff.
(%)
Brodie
47.4
52.0
-4.6
Gaudreau
45.6
61.6
-16.0
Monahan
47.9
59.7
-11.8
Frolik
50.7
60.3
-9.6
Ferland
47.2
53.0
-5.8
Tkachuk
55.6
59.1
-3.5
Backlund
56.0
57.1
-1.1
Bennett
42.7
50.0
-7.3
Versteeg
41.8
48.2
-6.4
To summarize: everybody who's played significant even-strength minutes with Hamonic has worse possession numbers with him than away from him.
Not A Unique Experience
If it doesn't seem like Flames management is working themselves into a lather about Hamonic's lack of immediate success in Calgary, it might be because they've been through this before. When Hamilton arrived in Calgary, he seemed to struggle to find an immediate fit and faced a similar set of analytical results as Hamonic currently is.
After three seasons in Boston, Hamilton had a challenging transition to a new system under then-Flames coach Bob Hartley and eventually figured things out when new coach Glen Gulutzan stuck him with Giordano. After seven seasons with the Islanders, it's not unexpected to see Hamonic have some issues getting accustomed to a new team, new defensive partner and new playing system. Hamilton, too, had the worst possession numbers of his career when he initially came to Calgary.
Struggling with a new team isn't ideal, but it's still extremely early in the season and Hamonic has lots of time to turn things around. The success of the other two pairings has allowed Gulutzan and the rest of the Flames staff to be patient with Hamonic as he transitions to his new surroundings.