Geoff Molson
President and CEO, Montreal Canadiens
1275, rue Saint-Antoine Ouest
Montréal (Québec)
H3C 5L2
Subject: GM Position
Dear Mr. Molson:
I have been asked by a large number of Montreal Canadiens fans to approach you regarding the soon-to-be open general manager position. While I know you have been informally seeking a replacement for Marc Bergevin since the 2016 off-season, recent events have required making a move sooner rather later.
I humbly submit my candidacy.
As you know, since October 18, 2005, I have served as the official mascot of the Montreal Canadiens. I am the first mascot to ever switch between two major sports leagues in North America. Commissioned by the Montreal Expos, I have a long history in this city of bringing fans together. I have been involved in fundamental shifts in the organization and bring some important knowledge, skills and abilities to the Montreal Canadiens.
Knowledge, Skills, and Abilities
I will bring a number of strengths to the position of general manager. The first and most important skill I bring to the job is that I am not Marc Bergevin. I have never once traded P.K. Subban. I have not overpaid for a contract or failed to re-sign Andrei Markov. I am not responsible for failing to acquire or properly support players to ensure organizational center ice depth.
I cannot be blamed for decimating the Habs defense, or rolling the dice on Alexander Radulov. I am not responsible for hiring defensive coaches nor failing to adapt to a changing NHL. While I have been around the game for more than a decade, I don't carry the baggage of being a depth defenseman, and the associated bias for other team's cast offs.
Unlike Marc Bergevin, I keep my promises. On May 16, 2014, on the eve of the Canadiens series against the New York Rangers in the 2014 Eastern Conference Finals, I made a bet with Jimmy Fallon, the host of NBC's Tonight Show. I agreed that if the Rangers won the series, I would have to wear a Rangers jersey around Montreal and post at least ten pictures on the Canadiens' Twitter account. It was hard. However, saying one thing and doing another, is just not part of who I am. I believe character is not just a slogan to justify bringing more bruisers into the organization. When a GM says something, they have to mean it.
Likewise, unlike others, I enjoy meeting the media and explaining my decisions. I understand that growing the game means meeting fans where they are and adapting to their expectations around transparency, accountability, and information.
Bringing the City Together
I have been described as "as effervescent and goofy as any mascot in sports" and as "bubbly, orange, furry and shaped like a big pear." Unlike some other people I could mention, everything about me is jovial. I am the spirit of Montreal.
As Jon Trzcienski pointed out, I have the ability to rally fans and knit a sometimes divided city together. I did it with the Expos and I can do it with the Canadiens. As Jon once stated:
In the lean years, Youppi! was basically the most popular Expo. There were some instances where you saw Youppi! on the pocket schedule or the media guide, as opposed to some of the players.
No one denies that I am a powerful force in this city's sports landscape. Unlike, Marc Bergevin, I get a "big thumbs up" from fans and commentators alike.
Difficult Times Call for Difficult Decisions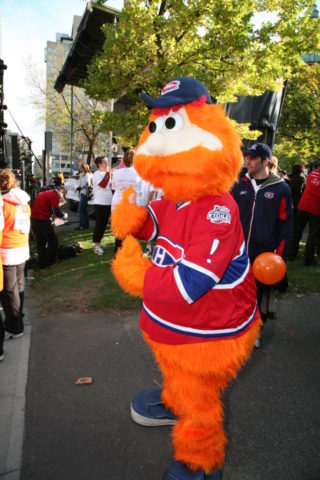 These are difficult times in Montreal. My future predecessor has fractured this team and broken the spirit of the city. Obviously, as you plan toward a rebuild and, I hope, a true re-imagination of this team, you will need to hire a Director of Hockey Operations, and find a long term replacement as GM. They will have a lot to do to rectify the damage done to this organization. In the meantime, let me raise the spirits of despondent fans and remind them that while times are tough, we can and will do better.
I know you might have some doubts about hiring a mascot to serve as GM. How will I balance my front office duties with my responsibilities during home games? Can we find a phone to accommodate my large hands and fingers? Will I cost you a lot in all the free Bell Center hot dogs that will undoutbedly form an important part of any future contract?
These are legitimate concerns, Mr. Molson. I appreciate that you may worry that despite my decade of service to your organization, I may not have the requisite skill to serve as GM. To that I ask you: Could I possibly be any worse than what you have at the moment?
See you on the ice,
Youppi!