Carolina Hurricanes fans got a roller coaster ride to open the 2016-17 season. Their team's 5-4 overtime loss to the Winnipeg Jets was epic in its emotional curvature. The 'Canes had a 4-1 lead in the third period and lost. The overwhelming post-game sentiment among the fans is, "At least we got a point." That's one way to look at it, but there is another view that is not as optimistic, a view that targets one player.
Cam Ward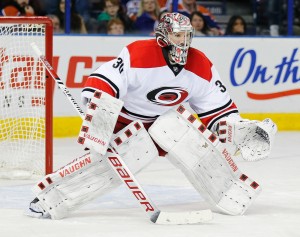 What I have heard and seen from the more vocal 'Canes fans is the sentiment that "Here we go again with Cam Ward." From what I can tell (yes, it's only one game) is that hardcore Hurricanes fans are not going to be patient this season with Ward. One social media comment said, "The problem is Ward. The problem has been Ward for a while now." Another wrote, "4 goals on 25 shots. The Cam Ward special." 
To their credit, an equivalent number of fans also were not willing to blame Ward for the loss. An honest appraisal of the goals shows that the defense as a whole can share the blame for the team's blown lead and eventual loss. While it is easy to lob blame at the goalie, the old adage is that the other team has to go through five other players before they get to the goalie. But, it is tough to justify giving up four goals on 25 shots.
Cam Ward is just a stopgap.

He's not the reason the Canes lost.

It's game one.

Chill out.

— Name cannot be blank (@RealChrisCote) October 14, 2016
Ward has a new contract and likely only a few years left as a starting goalie. He has won a Stanley Cup and has maintained a good reputation throughout his years in the NHL. Does he miss some shots that we in the stands think, "He shoulda stopped?" Yes. Does he still make plays that rival those of the league's elite? Yes. But, as I wrote back in July, the Hurricanes' goalie situation is tenuous. If there is a potential position on the ice that can make or break this team, in could be between the pipes. We will see.
Skinner Sparks Hurricanes
Jeff Skinner started his scoring tally for the season with an unassisted goal that tied the 'Canes with the Jets, 1-1. He looked aggressive and opportunistic on the play.
A Hurricanes fan said to me, "He looked more mature this game." I'm not sure if one game will give me enough visual experience to make a judgment yet, but this needs to be a huge year for Skinner if the Hurricanes are going to succeed.
Of course, his turnover in the third period to Jets captain Blake Wheeler did not help and was the catalyst that eventually led to the 'Canes' meltdown and ensuing loss in overtime.
Bad turnover by Jeff Skinner on Blake Wheeler's first goal of the season. Unassisted goal from #NHLJets captain

— Ken Wiebe (@WiebesWorld) October 14, 2016
A lot can be said of losing a three-goal lead in the third period, none of which is very positive. The good news is that the Hurricanes did get a point, but they know to a man that they left one in Winnipeg. Getting at least one point could make a difference when the season's final tallies are made and playoff spots are allotted. But, With the Vancouver Canucks up next, and Eddie Lack in goal, the Hurricanes need to make the most of their season-opening road trip and do their best to get two points and build momentum in October.