As the 2016-17 season gets underway, the Philadelphia Flyers find themselves in a position they have rarely occupied over the past several years: Their minor league system is stocked with young, fast, talented defensemen. The thought of players like Ivan Provorov, Travis Sanheim, and Samuel Morin patrolling the ice have filled the Philly fan base's heart with dreams of a defensive corps that can keep other teams from scoring while also leading the counter-rush.
Though general manager Ron Hextall has stressed his desire to build a team from the back end out, he's also stated on numerous occasions that he is in no hurry to bring up any of these youngsters. He has hewed to this strategy pretty closely so far, with Provorov being the lone rookie to earn a spot on the Flyers' back end as this season started.
But Provorov was always going to make the 2016-17 roster. He was named the Canadian Hockey League's Defenseman of the Year last season, and he was beyond dominant during his two years in that league, putting up 36 goals and 98 assists in 122 regular-season games with the Brandon Wheat Kings. Sending Provorov back down to Brandon would do nothing to aid his development. At the same time, the 19-year-old Russian is too young to play with the Lehigh Valley Phantoms, the Flyers' American Hockey League affiliate. The big club was the only option, and Provorov looks NHL-ready.
The question now is, which of the Flyers' prospects will be the next one to make his presence felt in the NHL?
Ready for the Big Time
After this preseason, one name stands head and shoulders above the rest (literally): Sam Morin.
When the 6'7", 228-pound Morin was sent back down to the Phantoms on October 5, few analysts were surprised. Prior to preseason, most observers agreed Morin was going to have a tough time cracking Philly's roster for a number of reasons. For example, the Flyers still have serious cap issues due to a number of bad contracts, which makes it difficult to bring up younger players. (It doesn't make a lot of sense to have a defenseman like Andy MacDonald languishing in the minors when he costs $4.5 million against the cap, although he did spend a fair amount of time with the Phantoms last season.) The general consensus is that taller d-men take a longer time to develop due to issues with their positioning and footwork. It certainly rings true in Morin's case — he still has some difficulty utilizing his mammoth size against smaller, faster players.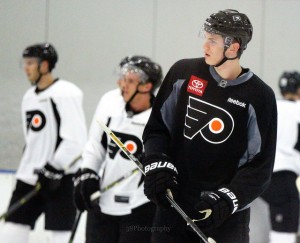 Still, Morin's preseason performance certainly made the Flyers' brass take notice. While he was far from perfect, he put together a number of impressive games throughout camp. He had a particularly strong outing against the New York Rangers on October 2, dishing out some big hits early and blocking three shots. His ugly giveaway in the third period did lead to an easy Rangers goal, but Flyers' coach Dave Hakstol said afterward that Morin is very close to claiming his spot on the Flyers' roster.
Unlike fellow Phantom alum Shayne Gostisbehere, Morin isn't going to light up the league with his dazzling skating ability and slick power-play passing. But he's still surprisingly agile for a player his size, and he's certainly capable of contributing on the offensive side of the puck — he scored four goals and added 15 assists in 76 games with Lehigh Valley last year. (He also posted nearly 120 penalty minutes.) He's durable too — Morin was the only Phantom to play in every one of the team's games last season.
Hextall's decision to send Morin down to the AHL is clear evidence of the club's belief Morin can benefit from the extended playing time he'll get in Lehigh Valley. And Hextall is probably right — Morin could use some additional work on his positioning, and he needs to learn how to cut down on the penalties if he is going to assume the top-four role that the Flyers hope he will. To his credit, Morin seems to know this as well, as shown in this recent interview with Flyers TV's Steve Coates.
All the Right Moves (and Words)
So far, Morin has said all the right things, and his on-ice game has steadily improved since he was drafted 11th overall in 2013. He's made the case that that he should be the first Phantom called up to the Flyers' roster if any of Philly's d-men sustain injuries, or if any of them get suspended for a number of games (as one Flyer in particular, Radko Gudas, is known to do). Hextall probably doesn't want to bring Morin up until the huge Canadian can have a permanent place on the roster, but once Morin finally makes the jump to the NHL for good, Flyers fans will be seeing big number 50 dishing out the punishment on a nightly basis.
Marc has been writing in various professional capacities for more than a decade. He has written on a number of topics including local/state news, government and the media. He remains one of Toms River, NJ's all-time greatest street-hockey goalies.
Feel free to follow Marc on Twitter: @Marc_Cavella