The Flyers are still days away from their highly anticipated season opener, and Radko Gudas' name has already been the center of controversy on more than one occasion.
That is less than ideal for a team that is trying to distance itself from the 'Broad Street Bullies' mentality.
Just last season, Ron Hextall had to have a 'come to Jesus' meeting with the gritty defenseman. That came after a plethora of questionable hits, including one on Bobby Farnham that somehow didn't even get a suspension.
So after that meeting he changed his ways, right?
The Wrong Culture
Just a few weeks after the Farnham nonsense, Gudas posted four points against the Blue Jackets in a must-win game for the Flyers. The four-point tally may have just been a one night wonder, but he elevated his play, eliminated the dirty hits, and was an effective, physical defenseman for the Flyers.
That was huge for the Flyers. Luke Schenn was the only big bodied, somewhat physical defenseman that the Flyers had. He was traded earlier in the season, and
Everything looked good, and Gudas was rewarded with a new contract.
Then came the 2016 pre-season and things couldn't have gone any worse. Gudas welcomed Jimmy Vesey to the NHL by crushing him from behind and into the boards. That hit was questionable, Vesey did put himself in a vulnerable position, and it's likely why Gudas avoided supplemental discipline.
That wasn't the end.
Just a few days later, with the Flyers playing their last pre-season game, Gudas laid a hit on Austin Czarnik of the Boston Bruins that was dirty, unwarranted, and dangerous.
There isn't really much to break down about the hit. It was late and it was a blatant headshot.
That right there is a textbook example of what the NHL has been working to take out of the game and also the type of behavior that the Flyers have been looking to distance themselves from. Clearly, that isn't on the agenda for the physical defenseman.
The Flyers need to avoid getting into to trouble this season and Gudas' antics mark the return of something the team thought they got rid of when they traded away Zac Rinaldo.
It has no place in today's NHL, and it will only put the team at a significant disadvantage.
A Team Problem
Aside from Gudas taking himself out of the Flyer lineup for six games, he has now put the Flyers in a real tough spot.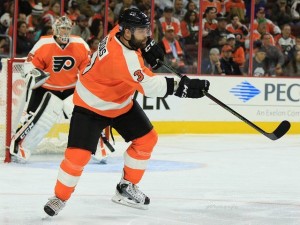 Under NHL rules, a team is allowed to carry 23 players on their roster. The Flyers are now essentially down to carrying 21 men. Gudas and Schenn are both suspended to start the season and under the rules, they count toward the 23 man roster, so that is essentially two useless spots.
When the team hits the ice on Friday night in Los Angeles 20 players (the norm for an NHL game, including goalies) will step out onto the ice. That leaves the Flyers just one extra roster spot. If another player were to be injured, the team would really find themselves on thin ice.
If you dig even deeper things get worse.
Recently, the Flyers announced that Michael Del Zotto would be sidelined for about a month with a lower body injury, that takes another defenseman out of the mix. Brandon Manning has also been battling a shoulder injury for a few weeks now, so his status is still up in the air.
Related – Flyers' Depth Showing in Preseason
When push comes to shove, that means that the Flyers are left with five defensemen. Ivan Provorov, Shayne Gostisbehere, Mark Streit, Nick Schultz, and Andrew MacDonald are the only defensemen on the roster that are not injured or suspended. That adds up to five, an NHL team needs six on the bench during the game.
In the best case scenario, Manning would be able to play, but the Flyers should still probably carry a seventh defenseman. That would likely fall on the shoulders of Samuel Morin or TJ Brennan, but it isn't that easy.
Del Zotto was placed on long-term IR and that cleared some cap space, but the Flyers are still in an all-out war against the cap, and that won't make it any easier to add another player to the roster.
Gudas' Last Chance
The Flyers gave Gudas a deal this past off-season thinking that he would be a physical defenseman and that he had cleaned up his act. Now, with a cap hit north of $3 million for several years, the Flyers literally cannot afford to have him suspended for any length of time.
With that contract, you can't help but think, how will he fit in with guys like Gostisbehere, Provorov, Sanheim, and Morin?
Morin is a bigger, more physical defensemen, but the other guys are the 'new' type of NHL player, that thrives on speed and surgical stick work to defend, not hits and physical play. Will Gudas be able to adjust his play to compliment these guys? Or will questionable hits continue to plague the team?
---
THW Commentary – Five Ways to Improve NHL Player Safety
---
Gudas' suspension has put the Flyers in a very tough situation before the season even started, and that is not a trend that can continue the whole year.
When he plays a clean game and uses the physical aspect to his advantage, Gudas is a huge asset to the Flyer blueline, but until he can play a clean game consistently, he may not be the right fit in Philadelphia.