The Washington Capitals skated away from Verizon Center with a close 2-1 win over the New York Islanders on Saturday. It was an unlikely hero, however, that led them to victory.
Daniel Winnik, Washington's fourth line forward, was the first star, putting up a two-goal game and a strong all-around effort in the win.
Winnik Strikes Twice
His first goal came with eight minutes remaining in the first. Winnik did one of the things he is best at and crashed the net. This led to him tipping John Carlson's wrist shot past Islanders goaltender Thomas Greiss.
Despite a strong effort on the first goal, his second was a thing of beauty. With the score knotted at one, he stepped up to the plate and took matters into his own hands. In a one-on-one battle with Islanders defenseman Travis Hamonic, Winnik deked his way through, then stickhandled his way to the net, where he faked out Greiss and scored a highlight-reel goal.
This play was one of the better ones from Winnik, but also unexpected. He's more of the gritty fourth-line grinders, but with that goal, he looked like an elite NHL scorer. With more efforts like this, Winnik will be better off.
Looking for Offense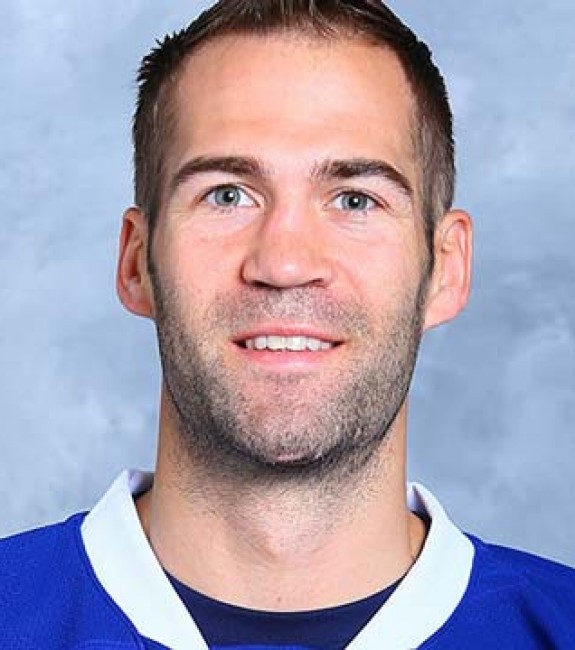 Winnik is the product of the trade that sent Brooks Laich to the Toronto Maple Leafs. In a short time with the Capitals, Winnik has been trying to adjust to the team's style and has been told that he needs to develop more offense.
"I think he's capable of it," Trotz said regarding Winnik's production. "I just said: 'I expect some offense out of you. Don't forget that part of the game, you have pretty good instincts.' That was a pretty good start for him."
Washington acquired the 31-year-old veteran due to his versatile game, size and determination. The Capitals have been working to improve their bottom-six depth and overall offensive lines, as made evident by their trades for Winnik, and later Lars Eller at the draft.
Winnik gives a full effort every game and is one of the hardest working forwards night in and night out. He plays a solid two-way game and can use his 6-foot-1, 207-pound frame to his advantage. However, when he enters the offensive zone, his first instinct is to pass, not shoot. This leads to a lack of offensive production and lost opportunities on the forecheck.
"It's not the first time I've been on where they want me to shoot more pucks," Winnik told the media. "It's something I've got to be cognizant of and not look pass-first."
Proving His Worth
The Capitals fourth-line trio consists of Winnik alongside Jay Beagle and Tom Wilson. When they got limited ice time in Thursday's shootout loss to Pittsburgh, they looked to make a bigger impact this time around in order to prove themselves worthy of more ice time. They did just that Saturday, creating plenty of chances and being an overall force on the ice.
Not only is the bottom-six unit trying to prove themselves, but Winnik is trying to show the Capitals his worth. The veteran has one year left on his contract and will become an unrestricted free agent in July. If he continues to put up efforts like this, he should have no problem earning an extension.
One of his best overall qualities is his determination. He is one of the hardest workers on the ice and is a versatile bottom-six forward. His grind and effort are two things that make him a hidden gem on the fourth line, and though he doesn't put up big numbers, his play alone makes him a vital part of the team.
If Winnik keeps up the strong effort and lives up to expectations to increase his offense, he can surely earn an extension from the Capitals.
Sammi Silber covers the Capitals beat for The Hockey Writers and is an NHL contributor with Sporting News. She has also contributed to USA TODAY College, Huffington Post, FanSided and the Nation Network. Silber has written four books and recently worked on graphics for the film, The California Golden Seals Movie.