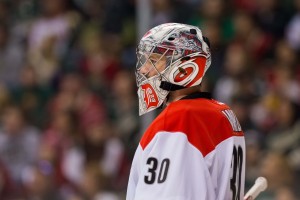 I genuinely like Cam Ward and Eddie Lack. That being said, the goalie situation for the Carolina Hurricanes is tenuous at best. Webster's defines tenuous as "not certain, definite or strong; flimsy, weak, or uncertain." In my opinion, this is an accurate description for the goalie tandem the 'Canes are prepared to put on the ice in the upcoming season. While "not certain or uncertain" may not apply since Ron Francis has picked his netminders, "not strong and weak" do tend to apply.
Goalie Number One, Cam Ward
The Hurricanes and Cam Ward recently agreed to terms on a new contract for Ward. The team's website carried the announcement that Ward had signed a two-year contract extension, reporting that Ward will earn $3.5 million in the 2016-17 season and $3.1 million in 2017-18. General manager Ron Francis said of Ward,
Cam has been a major face of the Hurricanes both on the ice and in our community for more than a decade. We are happy he has chosen to continue his career in Carolina.
The last remaining active Hurricane from the team's Stanley Cup Final win in 2006, Ward has been at the very least steady for the 'Canes. His play still shows flashes of brilliance on occasion. But, there are times when fans are left shaking their heads at what seems to be soft goals getting by Ward and into the net.
The Hurricanes' website also noted that Ward, "After missing time due to injury in December, Ward returned to the net on Dec. 18, and, from then until the end of the season, posted an NHL seventh-best 2.19 goals-against average, while compiling a 14-9-7 record and .919 save percentage in 30 games played." Francis was quick to mention his play from the first of the year on, which was very good. The contract was reasonable and now it remains to see if Ward is up to leading the "young guns" this season.
Injuries have caused Ward to miss some time in the past few seasons, and at age 32, the reflexes don't seem as acute as they once were. While Ward is a beloved figure in Raleigh, and fans are generally pleased that Francis has re-signed him, the question lingers as to whether or not he can be the backbone of a playoff team. Of course, the free-agent market was not replete with young, talented goalies, so Francis made the right decision to keep a steady Ward in front of the net.
Goalie Number Two, Eddie Lack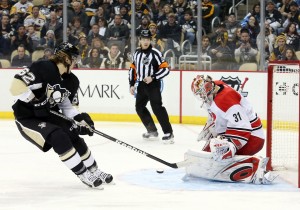 Lack has been a real frustration to me both as a writer and a fan. I could not figure out why Francis was so quick to offer him a contract extension in Carolina before Lack had played even a regular season minute for the team. Acquired in late June of 2015 in a trade with the Vancouver Canucks, In October, Lack then signed a two-year extension for $2.5 million this upcoming season and $3 million in 2017-18.
Clearly, Francis saw something in Lack, as he is not given to throwing money around unless he is confident in so doing. Still, I did not and still do not get it. Lack had some great wins last season, but there were times I honestly thought that he is just not ready to play at this level. Inconsistency is a reality for a backup goalie, I get that, and Lack told me after a game in which he entered late that, "…not playing on a regular basis was tough." But, for Carolina to seriously sniff the playoffs, their goalie situation cannot be tenuous. It has to be strong and consistent.
Yesterday Travis Yost wrote for TSN a very similar sentiment: "But, this team does feel one goaltender trade away from solving their puck-stopping issues – an area that I think people should be skeptical with, so long as Cam Ward is getting big minutes and Eddie Lack struggles in backup work." While I think Ward can be reliable, the spotlight will be on Lack if he can become consistent. Then there will be more certainty in believing the Hurricanes can be a legitimate playoff team.