It's no secret to anyone who pays attention to the Carolina Hurricanes that goaltending is a problem that's plagued the team for years – at least much of the last decade. Too much had been thrust on the shoulders of Cam Ward, and in spite of that, inconsistency has always been at the forefront of the Canes' crease.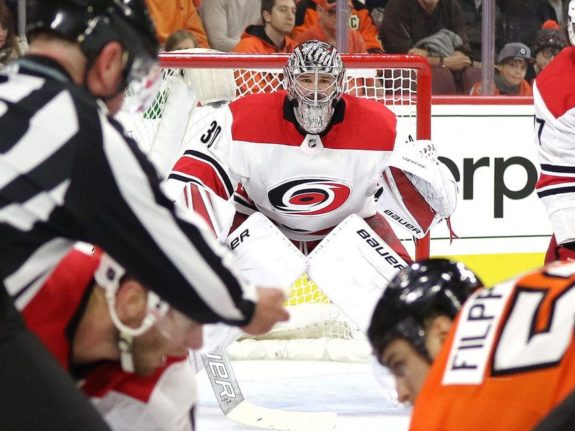 There's no way to sugarcoat it. In the past, management did a terrible job of identifying talent outside of the organization (Scott Darling, Eddie Lack, Dan Ellis, etc.) Internally, their draft record has been downright horrid. The only goaltender they've drafted since 2005 to start even one game for the team is Alex Nedejkovic, who has a grand total of four starts. To summarize: 15 years, 10 goalies picked and four starts.
But alas, there's a reason for optimism. Prior to the 2020 NHL Draft, which took place in October, the team chose a goaltender in 6 consecutive drafts dating back to 2014. That's led to the team stacking up a solid young group of prospects at the position, all of whom show promise to potentially be part of the solution the Hurricanes are desperately searching for in goal. We'll have a look at each prospect's development, their strengths and weaknesses, as well as an NHL ETA.
Pyotr Kochetkov
For most, Pyotr Kochetkov seems to be the gem of the bunch. Despite being undrafted twice in 2017 and 2018, a swift emergence in the 2018-19 season gave scouts no choice but to take notice. A stellar .930 save percentage (SV%) in the Russian minor-league combined with a dazzling effort as Team Russia's starter at the 2019 World Juniors shot up his draft stock. As a two-year overager, the Hurricanes made him the second goalie off the 2019 draft board, behind only Spencer Knight.
Unfortunately for all involved, Kochetkov's development has been rocky since that draft day. Inconsistent play with Russian powerhouse SKA St.Petersburg of the KHL led him to being dealt to a weaker team – Vityaz Podolsk – where it was hoped he'd get more playing time. Despite that, his inconsistent performances continued, and he ended up with just 14 KHL appearances last season – posting a .905 SV%.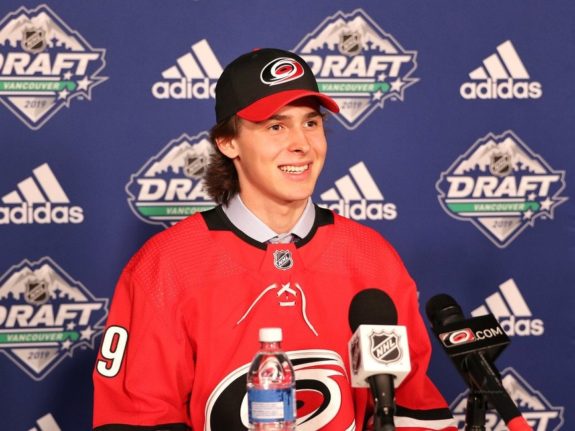 Hope was high that Kochetkov would emerge as Vityaz' starter during the 2020-21 season, but he ended up as the third-string on the depth chart and started more games for their minor league team than their KHL club. Just after Christmas, he was traded, this time to Nizhny Torpedo Novgorod, where things have seemingly started to trend in his favour.
Through three games for Torpedo, he's allowed just six goals on 113 shots – which gives him a stellar .947 SV%. With the team's former starter Alexei Melnichuk having recently departed for the NHL, Kochetkov has the chance to emerge as the go-to guy for his new team. His rare blend of athleticism, reflexes and aggressive style make him a very exciting prospect if he can continue his progression.
Admittedly I haven't been able to watch much of Kochetkov, which reminds me of a quote on him from an anonymous NHL scout in 2019 – "he was only undrafted twice because we'd never seen him play." Kochetkov later laughed it off with scouts: "When scouts asked me [where I came from] I said, 'Maybe you guys were looking in the wrong places or looking poorly."
From what I've seen, he's undersized but an extremely quick and agile presence in the crease, with a calm demeanour. His recovery and desperation ability is outstanding, but at times can overcompensate with his angles and pull himself out of position. Because of my overall lack of viewings of the player, I asked Canes' prospect guru Matt Somma (@CanesProspects) for a bit of his insight on Kochetkov:
"Early returns are promising with Kochetkov's move to Torpedo. He's playing with the confidence and swagger that made him a second-round pick – a confidence that was missing with Vityaz in the KHL. Three games is a small sample size, but it appears that Torpedo is going to be a great team for Kochetkov to develop with."

– Matt Somma (@CanesProspects)
The hope is that his development will take off with Torpedo and emerge as a potential long-term option in the Hurricanes' crease. His overall game and play style has been compared to Braden Holtby, which would be a superb level for him to reach. He's got a ways to go, but he's arguably the most exciting potential long-term solution currently in the organization.
Eetu Mäkiniemi
Although he's had a ton of ups and downs since being drafted in the fourth round of the 2017 NHL draft, Eetu Mäkiniemi has long been my personal favourite goalie prospect in the organization. It's not a crazy thought to have him ranked ahead of Kochetkov – in 2017, Mäkiniemi was a fourth-round pick when Kochetkov was undrafted – so once upon a time, he was higher-regarded than the latter. I still believe this to be the case.
At 6-foot-3, he's got the prototypical size for the position. His rare blend of sharp reflexes and lateral ability make him tough for attackers to crack in goal. Mäkiniemi is quite aggressive, but super calm and composed in net, and even when he looks down-and-out, his recovery is brilliant. His style has been compared to fellow countryman Tuukka Rask, and the skillset supports that.
Unfortunately, progression has been slow for him as an injury derailed much of his 2018-19 season, and being stuck behind NHL hopeful Lukas Dostal with Ilves of Liiga had made ice-time hard to come by the last couple of years. Because of that, he'd been relegated to the minors, where he led the Mestis league in SV% last year. He also had a .936 SV% in seven Liiga appearances and looked like he was starting to turn the corner.
However, with an overall lack of reps at the highest level of hockey in Finland, as well as inconsistencies in his play this year, Mäkineimi remains an interesting case. Despite the talent, he's still very raw, and his long-term outlook remains as cloudy as it was the day he was drafted nearly four years ago.
The Hurricanes will have a decision to make on him this summer. They'll have to sign him to an entry-level contract by June 1st (which could be subject to change in relation to the NHL's scheduling), or they'll lose his rights to free agency. He's emerged as the starter at Ilves for now and has a 5-4-3 record with a 2.93 GAA and a .899 SV% through 12 games. He signed a one-year extension with them last month, which runs through the 2021-22 season.
Hopefully, that extension won't impact the Canes' plans for him, as it should be a no-brainer to sign him and eventually bring him overseas for a shot in North America. But remember, he was picked by the previous regime, and it's unclear if the current group feels as highly of him. Regardless, it's hard to imagine the Hurricanes passing on giving him a chance – especially with the lack of depth at the position, but it's worth keeping a close eye on the rest of his season in Finland.
He'll be 22 in April, and despite still being a project, he does have serious untapped potential and ability that's worth waiting on. Goaltender progression is historically impossible to predict, but because of his raw ability and intangibles, Mäkiniemi is the one to watch, for me, in the system. He could genuinely end up as a starting NHL goaltender or just another player with unfulfilled potential who never sets foot in North America. That makes me super intrigued by him.
Jack LaFontaine
Admittedly, I had all but written off Jack LaFontaine after he flamed out at Michigan. After two consecutive years of failing to establish himself there, he departed the program and moved to the BCHL, which I thought was nothing but a death blow to his potential career. Boy, was I wrong.
His move to the BCHL turned out to be career salvaging, as he put up a 30-13-1 record with a 2.19 GAA and a .923 SV% in his lone season there with the Penticton Vees. That successful stint got him back onto the NCAA radar, and a move to the University of Minnesota in 2019 has his career back on an upwards trajectory.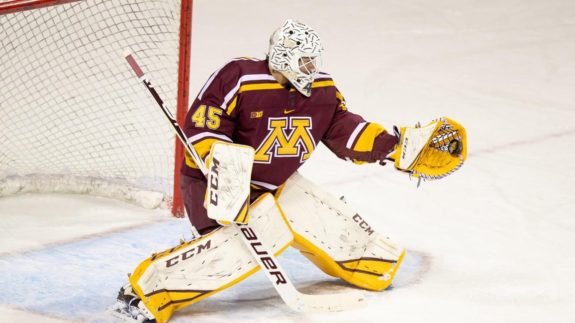 I became particularly intrigued by LaFontaine last season when he won the starting role away from Winnipeg Jets' draft pick Jared Moe and settled in really well at the program. Despite an average team in front of him, LaFontaine put together a 9-9-6 record with a .919 SV% and inspired real confidence going into his senior season.
With the Canes' rights to LaFontaine also set to expire in June 2021, it was imperative for him to make another positive impression to lock down an entry-level deal. I think it's safe to say he's done it. He's started the season for Minnesota with a 10-3-0 record, a 1.47 GAA, and a .947 SV% through 13 games and is firmly entrenched as their starter.
At this point, I have to imagine the Hurricanes are giving serious consideration towards giving him a contract. He's got the ideal size for a goaltender (6-foot-3, 200lbs) and has an element of calmness in net that no prospect in the organization really possesses. If I had to give comparisons, I would say LaFontaine's style is similar to James Reimer, while Kochetkov and Mäkiniemi trend more towards Petr Mrazek.
Once again, I turned to Matt Somma for his analysis:
"[Lafontaine] is putting together a phenomenal senior campaign for the University of Minnesota and looks poised for a [future] NHL job. He has the size, athleticism, and agility that teams in today's NHL covet and plays a calm and collected game. This style means that his starts are usually less of an emotional roller coaster than most Hurricanes fans are used to."

– Matt Somma (@CanesProspects)
LaFontaine just turned 23, and after years of stagnant development, his trajectory is really on the rise. I think he may have a lower ceiling than the two guys listed before him, but I think he may have the highest floor. That leads me to believe that we should see LaFontaine in the NHL someday, but I'm skeptical he'll ever be a legitimate starter. We'll see.
Jake Kucharski
If you're a fan of total longshots, Jake Kucharski is your guy to follow. He was a seventh-round pick in 2018, so expectations should reflect that. The Hurricanes were likely intrigued by his massive size (6-foot-4, 225lbs) and quick movement, but this guy is a project by all definitions.
What the Canes' scouts saw in him during his draft year is a mystery to me. He played with Des Moines in the USHL and posted an 8-13 record with a 3.56 GAA and a .881 SV% there. In comparison, he split the crease with Roman Durny, who had a 2.38 GAA and a .920 SV% in a similar amount of games, and Durny was drafted in the fifth-round by Anaheim that same draft.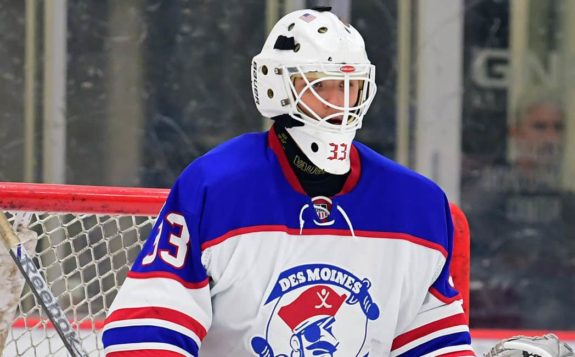 Remarkably, it's gone worse for Kucharski since then. He's played in just 13 games over the past two and a half years since being drafted, and his numbers have been woeful. In 2018-19, he remained in the USHL and managed to regress, playing in just nine games with an .855 SV%. From there, he transferred to Providence University last season, and despite being healthy, did not appear in a single game.
Last summer, Kucharski transferred again, this time to American International College, which yes, is an NCAA Division I team. Unfortunately for Kucharski, he's now the back-up to a 6-foot, 160lb goalie and has appeared in just four of the team's 13 games so far. In those games, he does have a .913 SV% – partially thanks to getting his first career documented shutout last week.
If the stats don't tell enough of a story, according to the Atlantic Hockey division's website. only 10 alumni from that league have reached the NHL since they were granted Division I status in 2003. But as I've mentioned, goaltenders are a total crapshoot to project, so it's entirely possible that Kucharski ends up being the best of the bunch. I have yet to see any signs of that being the case, though, so for now, I would say don't hold your breath on him.
---
---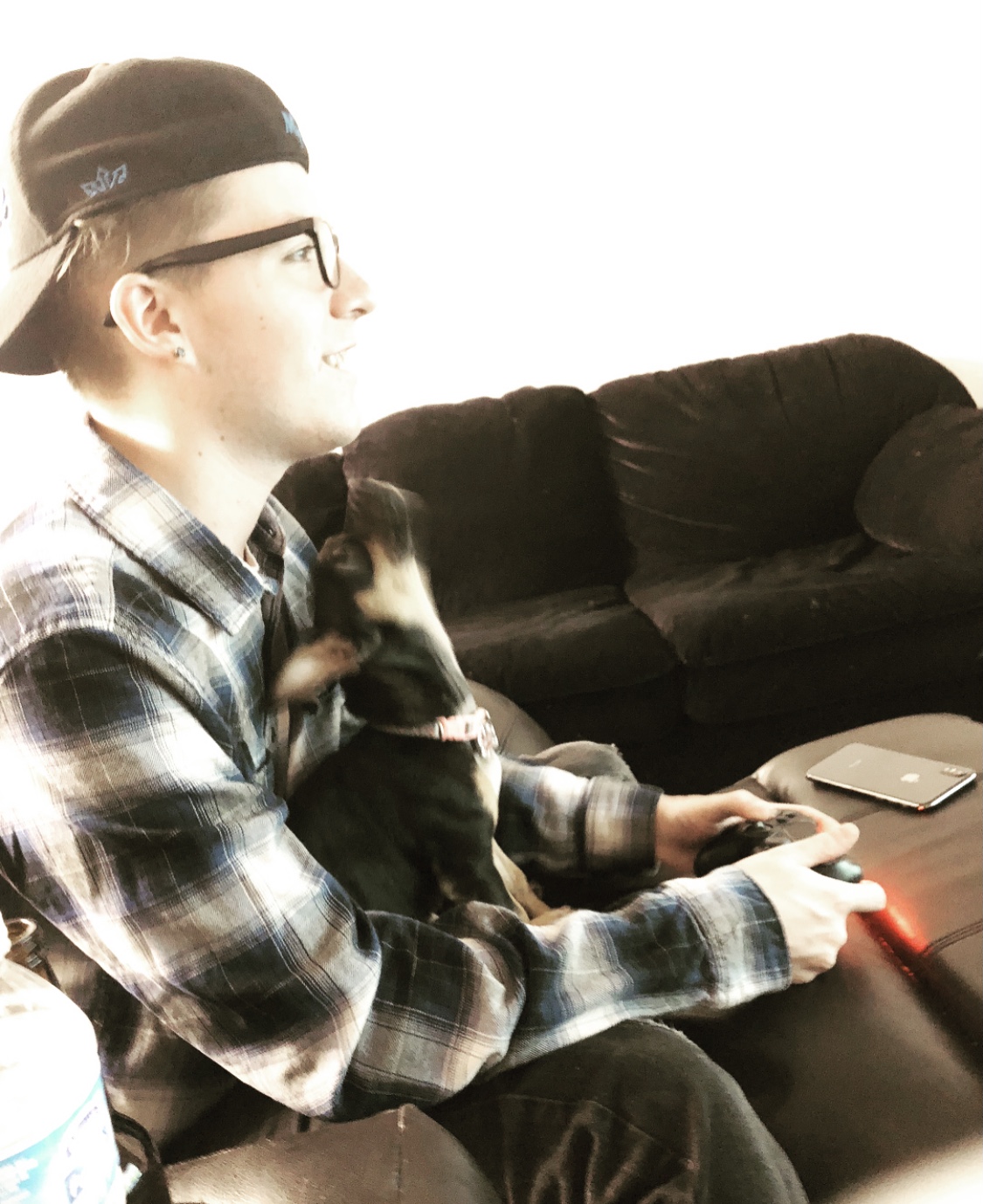 Carolina Hurricanes writer. 23 years old. Ottawa, Canada. Prospect geek, hockey nerd.