Top prospect for the 2021 NHL Entry Draft and United States National Team Development Program (USNTDP) defenseman Luke Hughes registers a four-point game to extend his point streak. Tampa Bay Lightning prospect Eamon Powell registers his first NCAA goal for Boston College, and Vegas Golden Knights' prospect Pavel Dorofeyev seems to be on his way to the NHL from Russia.
Hughes Registers Four Point Game
The Hughes' legacy continues at the USNTDP as Luke, brother of Quinn and Jack, is making waves heading into the 2021 NHL Entry Draft.
In the USNTDP's 7-3 win over the Muskegon Lumberjacks on Monday, Hughes amassed one goal and three assists for a four-point night. Hughes is on some kind of run right now. The 17-year old defenseman has recorded five straight multi-point games amassing three goals and 10 assists for 13 points. He's also riding a nine-game point streak in which he has put up five goals and 14 assists for 19 points.
Luke now has six goals and 20 assists for 26 points in 22 games played with the USNTDP. He sits second in team scoring, trailing only Sasha Pastujov and leads the entire team in assists. His production is fairly similar to his brother Quinn who posted 10 goals and 43 assists for 53 points in 65 games played during the 2016-17 season.
Luke is committed to the University of Michigan for the 2021-22 season, joining an impressive crop of players that includes Boston Bruins' 2019 first-round pick Johnny Beecher, Vegas Golden Knights' 2020 first-round pick Brendan Brisson, San Jose Sharks' 2020 second-round pick Thomas Bordeleau, Philadelphia Flyers' 2019 first-round pick Cam York, and Vancouver Canucks' 2020 fifth-round pick Jacob Truscott, and three top prospects for the 2021 NHL Entry Draft in Kent Johnson, Matty Beniers and Owen Power.
Luke is following in his brother's footsteps once again by heading to Michigan. Quinn spent the 2018-19 season with the Wolverines and recorded five goals and 28 assists for 33 points in 32 games played.
Powell Grabs First NCAA Goal
Speaking of USNTDP prospects, Lightning prospect Eamon Powell, who graduated from the USNTDP program this season, bagged his first NCAA goal in Boston College's 2-1 win over Merrimack on Saturday. During the 2019-20 season, Powell had six goals and eight assists for 14 points in 43 games played with the U.S. National U18 Team. Powell is committed to Boston College, and through ten games played this season, he has one goal and four assists for five points.
The Hockey Writer's Matthew Zator, had this to say about Powell's potential prior to the 2020 NHL Entry Draft.
If you are looking for a mobile two-way defenseman, look no further then Eamon Powell. Another member of the undersized club, skating is his best asset from the blueline. Arguably the best in the draft, you would be forgiven if you thought he was a forward out there as he joins the rush more often than not. He even showed the ability to score during the 2019-20 season as he potted five goals with his Under-18 team in the USHL.
Powell was drafted 116th overall by the Lightning in the 2020 NHL Entry Draft. A right-shot defenseman, his size, listed at 5-foot-11 and 170-pounds is likely the reason he fell in the draft. He's taken to NCAA fairly well and leads all Boston College defensemen in scoring. Through ten games, Boston College has a record of 8-2.
Dorofeyev Leaving KHL For Vegas
Golden Knights' prospect Pavel Dorofeyev has rumored to have had his KHL contract terminated and is expected to sign an entry-level contract with the team soon. The Russian forward was drafted 79th overall by the Golden Knights in the 2019 NHL Entry Draft. Dorofeyev spent the 2019-20 season in the KHL playing for Metallurg Magnitogorsk. He amassed four goals and three assists for seven points in 48 games played.
He represented Russia at the 2020 World Junior Championship, in which he recorded three goals and one assist for four points in seven games played. Dorofeyev walked away with a silver medal after Russia lost to Canada in the finals.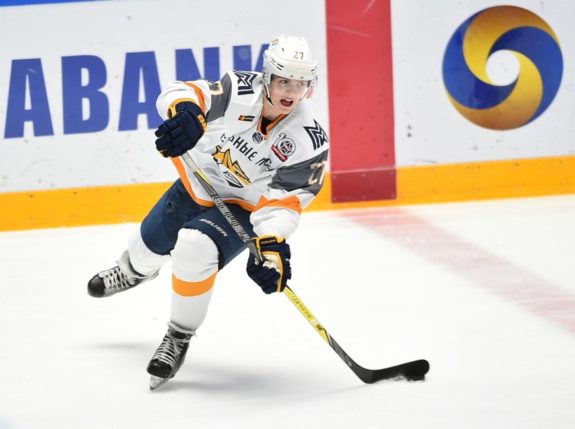 This season Dorofeyev has struggled to break back into the KHL, having only played one game with Traktor Chelyabinsk. Instead, he has spent the majority of the season in Russia's second division, the VHL, in which he has recorded eight goals and nine assists for 17 points in 36 games played. We will wait for an official announcement from the team, but it will be interesting to see if Dorofeyev will jump right into the NHL or head to the American Hockey League.
---
---
Fan of the Anaheim Ducks for my whole life. I'm a die hard fan living in London, Ontario. Excited to be writing about the team I love. Talking all things Ducks on the Forever Mighty Podcast!