Carolina Hurricanes defenseman Noah Hanifin is legit, the real deal. The Hurricanes are happy to have him. He should move right from the preseason onto regular season ice in the NHL. He is already demonstrating that he can play at the highest level, and he should never look back.
Picked 5th overall at this year's NHL Entry Draft, EliteProspects.com said of Hanifin,
"A dynamic two-way defenseman that has no holes in his game. An exceptionally strong skater who isn't afraid to take the puck himself and move it up-ice."
That characterization sounds just like what the 'Canes need to move forward in their rebuilding process.
Preseason
Hanifin has already demonstrated that he can contribute to the Hurricanes. He has had several assists in the preseason, including two in regulation as the 'Canes defeated the New York Islanders 5-3. He also notched another in the 3-on-3 overtime play.
[HIGHLIGHT] @NHanifin posted two assists in regulation last night, the first on @Jo92No's first-period goal.https://t.co/2syeOSWy5v

— Carolina Hurricanes (@Canes) September 27, 2015
Coach Bill Peters said of Hanifin after the game,
"He was real solid here today." He really skated the puck when he needed to skate it and moved it at the right time. He was a presence moving the puck up the ice. Good pace to his game."
We've heard Peters talk about pace a lot as he has worked to implement his system into this team. Having him extol Hanifin as playing with good pace is another indication that the rookie already gets what Peters expects from his players.
Where Would Hanifin Fit?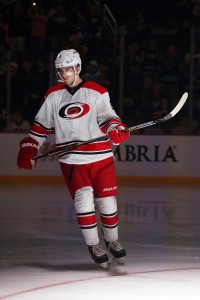 As you know, the Hurricanes traded Justin Faulk's defensive partner Andrej Sekera. I have asked several times in other articles who will replace him as Faulk's top d-line partner. Ron Hainsey has had a fair amount of playing time in the preseason, as has James Wisniewski. I don't think either of them will start in the top defensive pair.
In Hanifin, Haydn Fleury and Hainsey, the 'Canes have three big defenders, all 6'3″ and right around 210 lbs. Obviously at 34 Hainsey is older and more experienced than the 19-year old Fleury and the 18-year old Hanifin. But, I see Hainsey on a second or third defensive pairing, and wonder if Fleury or Hanifin are ready to join Faulk on a regular basis.
This leaves a slew of young guys and a couple of veterans like John-Michael Liles as the current options to pair with Faulk. The bottom line is that there is not as yet a defender who is the clear choice in this spot, which will likely mean Peters will have to experiment with a variety of combinations until someone emerges. It very well may be Hanifin, if he makes the team and continues to develop at a high level.
Projection
Eric Single published a Hurricanes season preview on SI.com on Monday, September 28. I found it interesting that Single did not include Hanifin in his projected depth chart for the 'Canes. He projected Fleury being paired with Ryan Murphy on the third defensive line.
Single agreed with me that Faulk needs help. Single wrote,
"The Hurricanes have moved to address their gaping holes on defense (some self-inflicted by deadline yard sales) with consecutive first-round picks in Haydn Fleury and Noah Hanifin, so while the future is bright on the Carolina blue line, there might not be much help for rising star Justin Faulk…"
This is clearly an area of concern for the team this season.
While Single did not say in his article that he saw Hanifin not making the team, I am intrigued that he sees Fleury as ready. That would be a real positive if it pans out because Fleury also came to the team with great expectations. A tandem of young defenders with huge potential that could grow together could seriously bolster the 'Canes defensively, if Fleury and Hanifin both make the team this season.
While Hanifin comes to Carolina with enormous potential and upside, he may wind up, like Fleury, needing another year to develop. I don't think that will be the case, but this is the NHL and it's faster and harder than what Hanifin has seen in his career so far. I really hope he makes the team and believe that he should.
By the way, Single projected the Hurricanes to finish eighth in the Metropolitan with 68 points. Let's hope he's wrong.