The 2020-21 hockey season is nearly set after much bickering between the NHL and the Players Association. The new season is expected to begin on Jan. 13, 2021, and will be played in a condensed, 56-game schedule.
As everyone gets ready for the new year and new hockey, teams like the Carolina Hurricanes can dream big on what achievements lie ahead, both in terms of group and individual milestones. The Hurricanes are still a young team, but several players are within a stone's throw of notable career accomplishments.
Veterans Leading the Way
Carolina's roster is filled with promising talent still at the beginning of their careers, but seasoned vets on the team are still making a lot of difference on the ice.
Dougie Hamilton – 300 Career Points, 100 Goals
Dougie Hamilton enters his ninth season in the NHL and third with the Hurricanes. He has been the anchor on defense and special teams, helping the team kill 84 percent of penalties in 2019-20, the fourth-best in the league.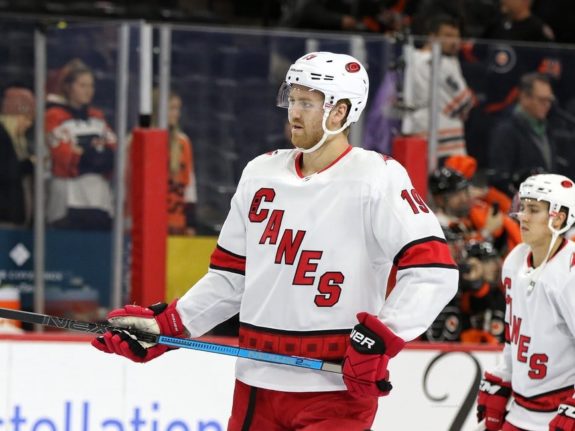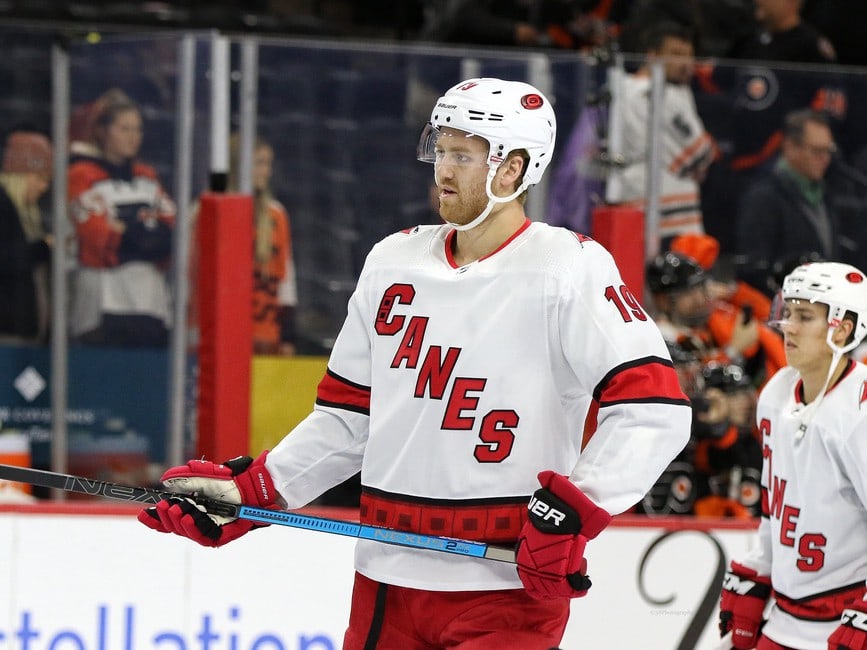 Hamilton's leadership on the blue line has been rewarded on the scoresheet as of late. The 27-year-old is coming off one of his best statistical seasons of his career, where he had nearly a point per game (40 points in 47 games) before his season was cut even shorter than most with a left fibula injury. He did come back and join the team in the playoff bubble and is expected to be ready for the new season.
The veteran defenseman comes into the new year with 299 career points and 96 career goals. Barring anything unforeseen, the defenseman should easily cross his personal goals very early in the season.
Jordan Staal – 300 Points, 200 Assists with Carolina
Jordan Staal was named captain of the team at the beginning of last season. In his short time wearing the "C," he has proved himself a good leader in the locker room and has slowly crept his way toward some impressive milestones after eight years with the Hurricanes.
The 32-year-old centerman is just 11 points shy of the 300 mark with the Canes and would become just the 10th player in franchise history to cross 200 assists with the club (currently at 184).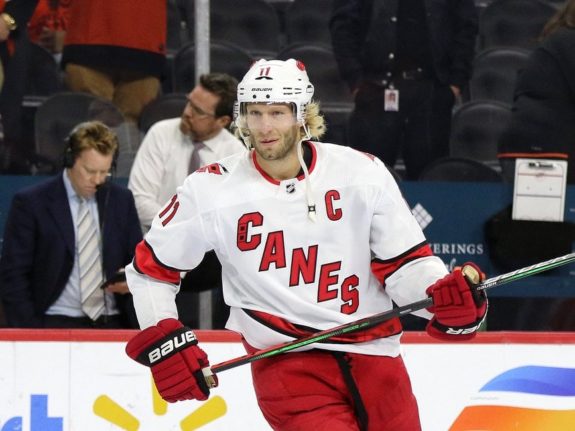 Staal is also approaching 1,000 career games as he enters his 15th year in the league — six years with the Pittsburgh Penguins before being traded to Carolina in 2012. He currently sits at 961, and even with the shortened season, it is certainly doable after he played all 68 regular-season games last season.  
Top Line Padding Their Stats
Carolina's first line, which consists of three dynamic playmakers, are all chasing their own individual milestones in the new season.
Sebastian Aho – 300 Career Points
The 2019-20 season was the third-consecutive year forward Sebastian Aho led the team with 66 points. Last year, despite the shortened season, his 38 goals were enough to cross 100 in his four-year career. He enters the 2020-21 season with 263 career points in 310 games played. With supposedly 56 regular-season games this season, it'll be close, but Aho should be able to cross that 300-point milestone.
Teuvo Teravainen – 100 Goals, 300 Points with Carolina
Aho's linemate, Teuvo Teravainen, is also in the running for some statistical achievements in the upcoming season, though it will be tougher for him than for Aho. The playmaking forward has tallied 245 points and 74 goals in his four seasons with the Hurricanes.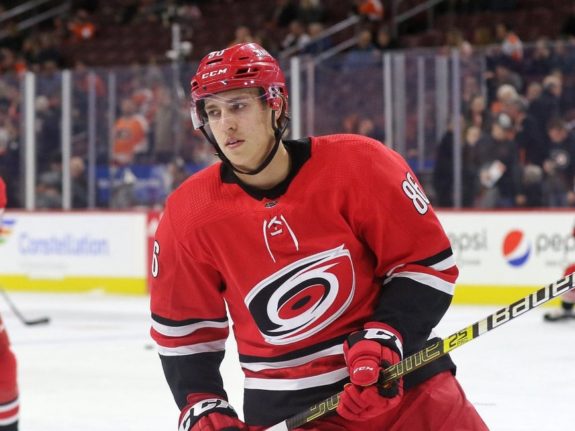 Since coming to Carolina in 2016, he has missed just one regular-season game and has averaged 18.5 goals. He'll need to improve on that pace if he wants to pass 100 goals in this condensed season. Teravainen will also need to average over a point per game — something he hasn't done in his career thus far — to surpass 300 this year. But on a dynamic line with Aho and winger Andrei Svechnikov, it's not an unimaginable feat.
Andrei Svechnikov – 100 Career Points
The Hurricanes round out nicely with their top line's youngest player also within grasp of his own milestone. Svechnikov has been a bit more well-rounded than Teravainen, who is more assist heavy. The 20-year-old winger had career highs in points, goals and assists last year and is just two short of 100 career points after only two seasons in the league.
Svechnikov can score from anywhere on the ice and has an incredible skill set to go along with his 6-foot-2 frame. He can score at will with his heavy shot, possesses excellent vision and passing ability and is known to get a little creative behind the net.
Other Milestones
There are few other milestones coming up for the Hurricanes, though not all are sought after by players on the ice.
James Reimer – 400 Career Games Played
The veteran goaltender enters his 11th season in the NHL and second season with the Hurricanes. James Reimer has bounced around a bit after spending his first six seasons with the Toronto Maple Leafs. He has been a solid netminder wherever he goes and has been rewarded with a long career.
Reimer is currently sitting at 363 career games played. He has split time with other goalies, most recently with Petr Mrazek in 2019-20, but if he can separate himself this season and play a majority of the schedule, 400 games is within reach.
Brock McGinn – 100 Points
Brock McGinn also nears his own milestone after five years with the Hurricanes. He has largely been a depth piece over the years with solid two-way ability, but he has played in all but two games in the last three seasons and enters the upcoming season with 93 points.  
Rod Brind'Amour – 100th Win
It seems like Rod Brind'Amour was just hired to take over behind Carolina's bench. He was primarily known for his success as a Hurricanes player before he took over as coach. After his 10-year career was over, he sat fourth in franchise history with 473 points with Carolina and third with 299 assists. Now, his coaching career seems to have had similar success.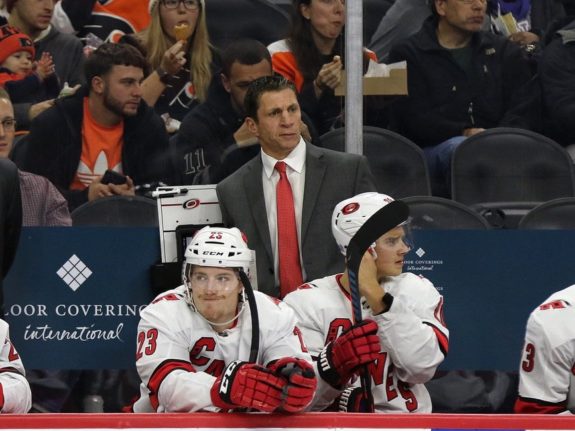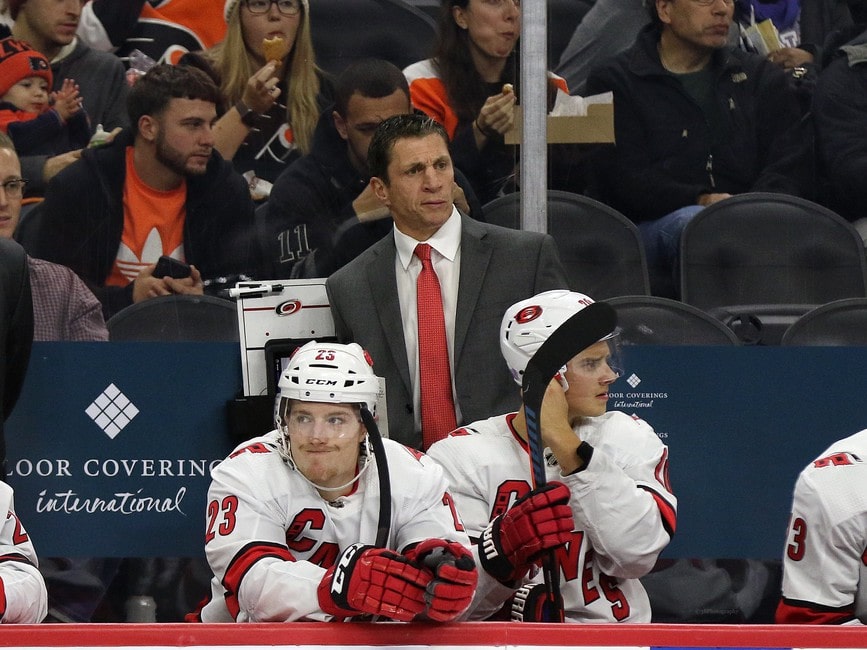 His first two seasons with the team have shown gradual improvement, appearing in the playoffs both years. He currently has 84 wins over his first 150 games as the head coach. If he maintains that winning percentage over the next 56 games, it will be more than enough to get him over 100 wins.
Carolina Hurricanes – Three Consecutive Playoffs Appearance
Hockey is a team game, and the Hurricanes have slowly climbed their way out of the purgatory of mediocrity. Coach Brind'Amour's first two seasons resulted in the first back-to-back postseason appearances since 2000-01 and 2001-02. Another playoff appearance in 2020-21 would be the first time since relocation that the organization has made the postseason in three consecutive years and the first time since the Hartford Whalers made it a seventh-straight year in 1991-92.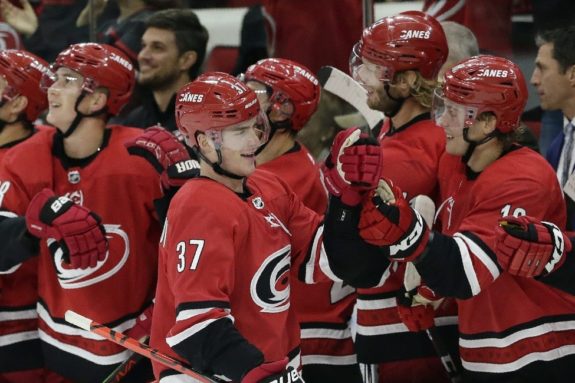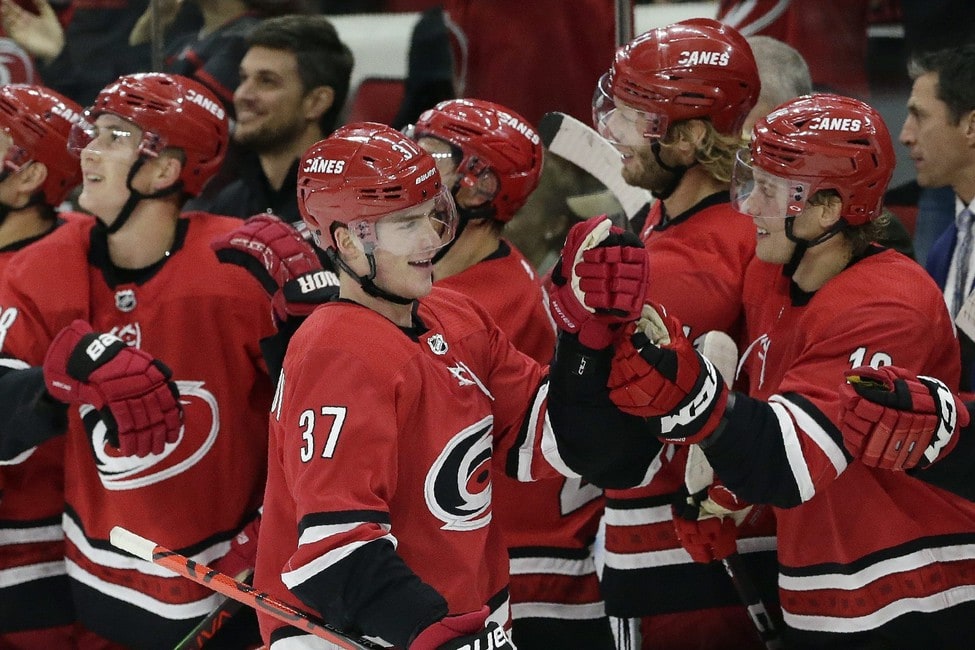 The Hurricanes enter this season with high expectations of Stanley Cup contention. That alone should be enough motivation to be ready to play, but career milestones can be added incentive to play hard in a season that promises to be unique to say the least. Some players are expected to cross their respective milestones almost immediately, while others may have to wait their turn. For now, all fans and players can do is slowly count down to the new season and await what craziness it will bring.
---
---