Now 24 games into the season a familiar problem for the Carolina Hurricanes has seemed to reappear, and that is the team's inability to capitalize on scoring chances.  After falling 4-2 at the hands of the New York Rangers, and just barely squeaking by the Tampa Bay Lightning 1-0, it has become evident that things need to change in regards to Carolina's offense.
Stats & Support Aren't There
Since the beginning of November, Carolina's offensive statistics have been incredibly lackluster, as during that span the team only scored over two goals five times in a period of 17 games. What makes this even more frustrating is the fact that Carolina almost always outshoots their opponents.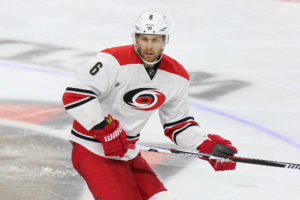 Take their game against the Rangers, for example. In the first period, Carolina shut New York down, allowing only three shots against compared to the 15 shots that they generated in the period, yet still, Carolina left the first frame down 1-0. The rest of the game continued in a similar manner as Carolina outshot New York 28-23, but would still lose by a margin of two goals.
On certain occasions games like these just happen, especially when facing one of the league's best goaltenders in Henrik Lundqvist. However, this has become a flaw that has permeated throughout the season. Carolina's shooting percentage currently sits at a meek 7.64, putting Carolina near the league's basement in terms of shot conversion and well below the league average of 8.7 percent.
A similar situation occurred again during their game against the Tampa Bay Lightning. During regulation time, Carolina found themselves unable to score on 28 shots. Luckily, Cam Ward was able to pick up the slack and beat out Ben Bishop in a goaltending duel to give Carolina the two points in overtime by posting a shutout.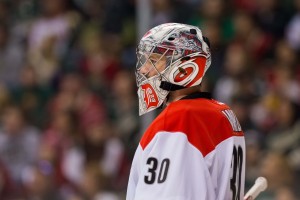 This lack of goal support can really put pressure on goalies to perform. Carolina's goaltenders are oftentimes required to put on amazing performances in order to win games. With all things considered, it becomes clear to see the reasons as to why Carolina dropped to near the bottom of the Metropolitan.
Cycling the Puck up High
For Carolina, the old adage of "getting pucks to the net" isn't enough anymore, meaning that emphasis needs to be placed on how those pucks are getting to the net. Carolina's current setup in the offensive zone promotes puck movement up high around the point. This is a great system possession-wise as the opposing defenders won't attack the guys at the point for fear of getting caught out of position and opening up a shooting lane.
It may be time to rethink this system though it seems, as 'Canes forwards seem unable to score goals under this system. Currently, only nine players on the Hurricanes roster have a shooting percentage of over 5.5. What makes this even worse is the fact that two of those nine players are currently on Carolina's injured reserve list.
Bill Peters reinforced this sentiment in a press conference after their latest win where he said:
We still need to find a way to score, and we're gonna put a video package together for when we practice on Tuesday, and be result orientated. We need to get different results offensively. I thought we had some good looks, and we got to find a way to bear down. Maybe we got to quit dusting the puck off, stickhandle it and get it off our stick quicker. Maybe we got to get a bit more net front presence, which isn't a maybe, and that's not just five on four, that's five on five also. We got to be able to take our turn at the net. We got to get some greasy goals.
Hopefully, Carolina can make the necessary adjustments to their game that they need before their game against Anaheim this Wednesday.