Facing Off is a weekly column debating five of hockey's hottest topics each and every Monday. From current events like trades and hat tricks to bigger-picture stuff like scandals and expansion — you name it, we're debating it. Albeit, not always with a serious tone. We're keeping this column light, so keep that in mind when reading, and feel free to join in on the fun by leaving a comment. Follow us on Twitter (@FacingOff_THW) and get in on the debate there too.

Tis the season to start getting excited about the upcoming World Junior Hockey Championship.
The Advent calendars are counting down the days now — to Christmas, and to this international under-20 tournament that begins Boxing Day in Toronto and Montreal.
Over the past four decades, this showcase has proven to be a glimpse into hockey's future, with almost all of today's biggest stars and several Hall-of-Famers having competed in the world juniors.
The media coverage, at least in Canada, treats these top prospects like pros and there is added pressure to perform under the scouting microscope. It makes for an intense and wildly entertaining couple of weeks, with the medal games slated for Jan. 5 in Montreal.
Andrew Forbes, one of our Facing Off regulars who covers the Toronto Maple Leafs but also the reigning Memorial Cup champion London Knights of the OHL, joins me to preview the tourney from a Canadian perspective ahead of selection camp, which starts Saturday in Blainville, Que., with 32 players auditioning for 22 spots.
Your thoughts on the camp roster? Any surprises there? Or any snubs of note?
FISHER: With the amount of talent and depth in Canada's prospect pool, there will always be notable omissions and perceived snubs when it comes to these camps. This year is no different.
A case could be made for at least 50 prospects — probably 20 who weren't invited — with the ability to make this team. I'll stay in my wheelhouse and focus on the WHL, at least to start.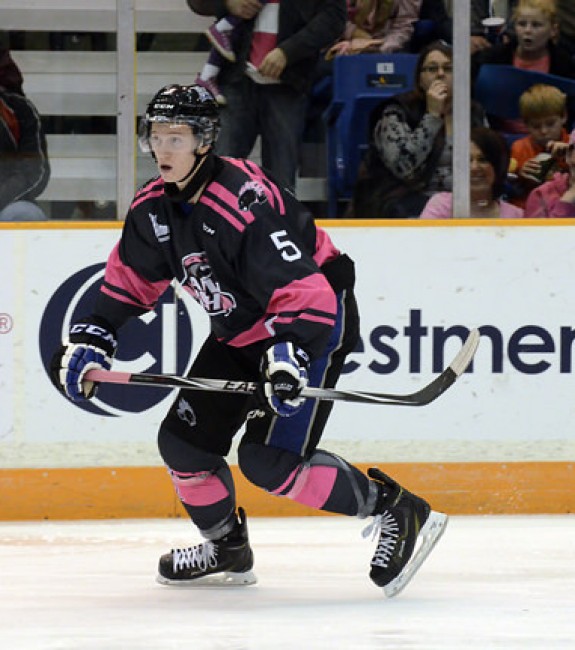 When the roster was released last week, the first thing I noticed was that five of the 10 defencemen are from the QMJHL, along with head coach Dominique Ducharme. That probably isn't a coincidence, but I'm not here to knock those players. I could see four of them cracking the top seven on merit.
Don't get me wrong, it's a good year for D from the Q. That said, it's also a good year for defencemen from the Dub, and had the head coach been from the WHL — like Dave Lowry last year — those numbers might have been flipped.
As it is, three of the 10 are from the Western league and two of them are just 18 years old in Calgary's Jake Bean and Brandon's Kale Clague, with Everett's Noah Juulsen the lone 19-year-old.
That was surprising to me. I was expecting a couple more 19 year olds from the WHL, certainly Prince George's Brendan Guhle, who nearly cracked the Buffalo Sabres out of training camp and is currently in the NHL as an emergency call-up, but also potentially Parker Wotherspoon, Connor Hobbs and my black sheep of the bunch, Ethan Bear, who seems to be getting the P.K. Subban treatment at the junior level. Bear was among the CHL's highest-scoring defencemen last season — a power-play specialist and a physical presence for his size — but he wasn't even invited to the development camp in August. Bear wasn't on Hockey Canada's radar for whatever reason.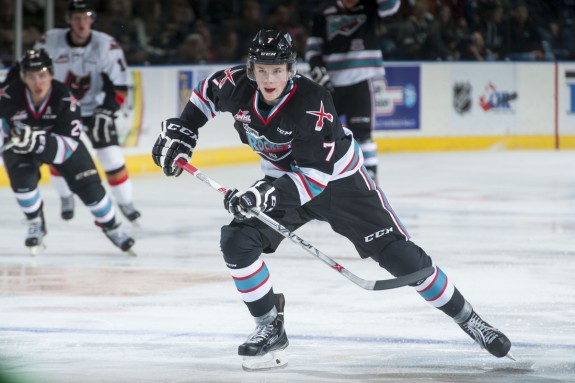 Even 18 year olds like Lucas Johansen, a first-rounder selected ahead of Clague in the 2016 draft, and David Quenneville, who was Canada's top defenceman at the under-18 tournament this past spring, were worthy of consideration from the WHL.
It was also interesting to hear that Johansen's teammate in Kelowna, Cal Foote — a draft-eligible projected first-rounder who doesn't turn 18 until Dec. 13 — would have been invited to selection camp ahead of those other defencemen had he not been ruled ineligible for not having lived and/or played in Canada long enough. Covering the Rockets, I've become a big fan of Foote — more so than Johansen — and you can expect him to be a big part of next year's team.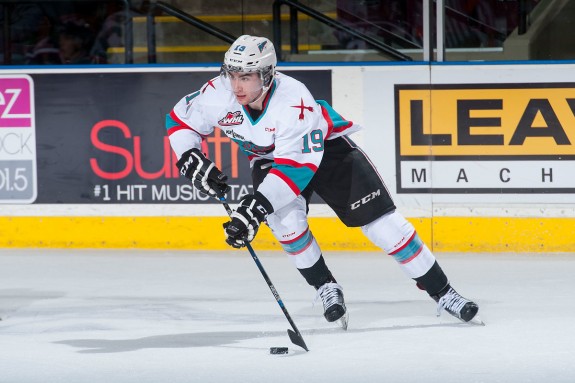 Up front, I was surprised to see two Kelowna forwards invited to the camp. Nick Merkley was expected as one of the final cuts from last year's team, but I wasn't anticipating Dillon Dube's inclusion, especially considering he missed the Canada-Russia series with a knee injury.
Dube made it over fellow 18-year-old Tyler Benson, who was drafted higher this year, and over Jansen Harkins, a 19-year-old who captains one of the WHL's top teams in Prince George and had a strong showing, to my eye, with Team WHL against the Russians.
The two Cougars in Guhle and Harkins and the two Oilers prospects in Benson and Bear were the biggest snubs in my mind.
Outside the WHL, it was a bit shocking to see Ducharme pass on QMJHL leading scorer Max Fortier, and I really thought London's Cliff Pu would be at the camp based on his big-game experience and versatility as a depth forward.
I'll defer to Andrew, though, when it comes to the OHL and the eastern leagues in general, as he's closer to the action there.
FORBES: I can't really argue with what Larry's said here. It's disappointing that Foote won't be a part of this team, as he would certainly add strength and versatility to the Canadian lineup.
I also thought that Pu would get an invite. While he was a secondary — or even tertiary — player with London's star-studded lineup last year, he's come into his own this season. He has 42 points (18 goals, 24 assists) in just 24 games for the OHL's Knights, as one of their primary players with that entire first line from last season now calling the NHL home — Marner in Toronto, Matthew Tkachuk in Calgary and Christian Dvorak in Arizona.
On top of that, Flint's Mathieu Henderson and Erie's Darren Raddysh have made their case this season for an invite. They didn't get the call, but the Canadian coaching staff obviously knows what they're looking for. While there may, in fact, be some QMJHL favouritism, all of the players listed on the invite roster do deserve to be there.
There are six current NHL players still eligible to play for Canada at the world juniors — Connor McDavid, Mitch Marner, Travis Konecny, Anthony Beauvillier, Lawson Crouse and Jakob Chychrun. Are you expecting any of them to be loaned to Canada? Or who should be?
FISHER: Yes, believe it or not, McDavid is still eligible for this tournament. Considering he's leading the NHL in scoring, you could imagine how dominant he would be against his peers. Obviously that will have to be left to the imagination because the Oilers won't be giving any thought to loaning out McDavid. Nor will the Leafs with Marner, who is among the rookie scoring leaders and playing a prominent role for Toronto. Konecny has been a hit in Philadelphia too, so cross him off the list as well.
The latter three are maybes. I feel all three could benefit from the world-junior experience, but those players and their teams might beg to differ.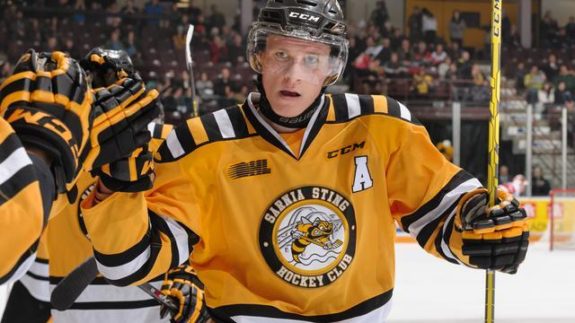 Crouse has already played for Canada at last year's tournament — he would be one of as many as seven returnees from that roster — but the Coyotes might feel he's past that stage now and would be better off spending the extra month in the NHL even if he's serving as a healthy scratch. Crouse would probably prefer to keep collecting the NHL paycheques too.
Chychrun was left off last year's Canadian team, considered a snub by some and perhaps he shares that sentiment and would rather not represent his adopted country this time around. Chychrun was born in Boca Raton, Fla., and played the majority of his minor hockey between Florida and Detroit but decided to wear the Maple Leaf internationally instead of the Stars and Stripes. Chychrun has exceeded most expectations by sticking in the NHL with Arizona this season despite falling to 16th overall in the draft.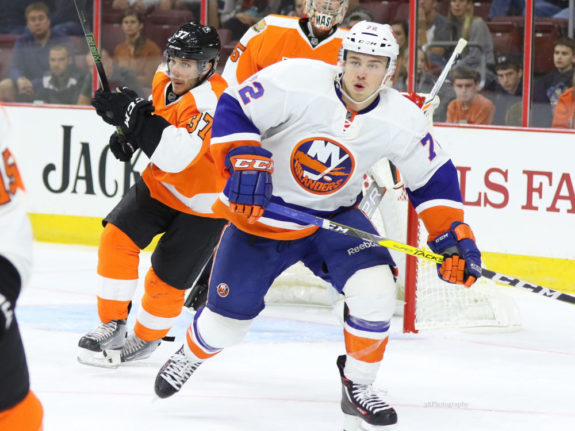 Beauvillier surprisingly stuck with the Islanders too, ahead of Michael Dal Colle and Mathew Barzal, who stayed in Brooklyn for a bit before returning to junior. Barzal will represent Canada for the second straight year and Beauvillier could round out the returnees, although his role seems to be increasing with the Islanders. If Beauvillier enjoys any sort of success as John Tavares' wingman in the coming games, he might not be made available to Canada either.
Like I said, those three are all maybes. I do think at least two of them will end up joining Canada and there is a good chance that all three are loaned, but we'll find out soon enough.
FORBES: I tend to agree (once again). Marner has been a star for the Leafs so far and won't be loaned to Canada. Nor will Konecny. Nor will McDavid — like c'mon. But Barzal has had a tough go trying to crack the NHL, and it may be nice to don the red and white in hopes of gaining some of that confidence back.
As for Beauvillier, he had an interesting start to the season with the Islanders but has slowed down significantly over the past couple of weeks. While the Islanders can use all the offence they can get at this point, I wouldn't be surprised to see him skate for Canada at the tournament.
Don't fret, though, Canadian fans. While the country won't have some of its more experienced possibilities in the lineup this year, there will still be a number of returnees. And don't forget, the Americans will be without Zach Werenski and Auston Matthews, and Finland likely won't have Patrik Laine and Jesse Puljujarvi. So there will be a lot of new faces filled with emotion at this year's tourney.
Third Man In
RYAN PIKE (Calgary-based prospect writer for THW): I'd say definitely that Canada won't have McDavid, Marner or Konecny available, as those three are big pieces for their NHL clubs.
Arizona's using Crouse and Chychrun rather sparingly, and it might be good for one (or both) of them to get some big ice time at the world juniors.
Beauvillier is one of those guys that could fit into either group, but the ice time he's getting with the Islanders makes me think he won't be made available (and if he keeps getting that consistent ice time, there's probably no good reason to release him).
With or without those NHL reinforcements, who makes the cut for your Team Canada? Yes, it's prediction time — what is your depth chart looking like heading into camp, complete with line combinations? And who is your starting goalie?
FISHER: This is the fun part. Everybody enjoys playing GM. Joel Bouchard, also from the QMJHL, is heading up the management group tasked with picking this team, so keep that in mind.
I'll do two versions of my roster, one with those three NHLers and one without. They would obviously all be locks if loaned, along with the five other returnees already coming to camp in Barzal, Dylan Strome, Julien Gauthier, Thomas Chabot and Mitchell Stephens providing he's healthy.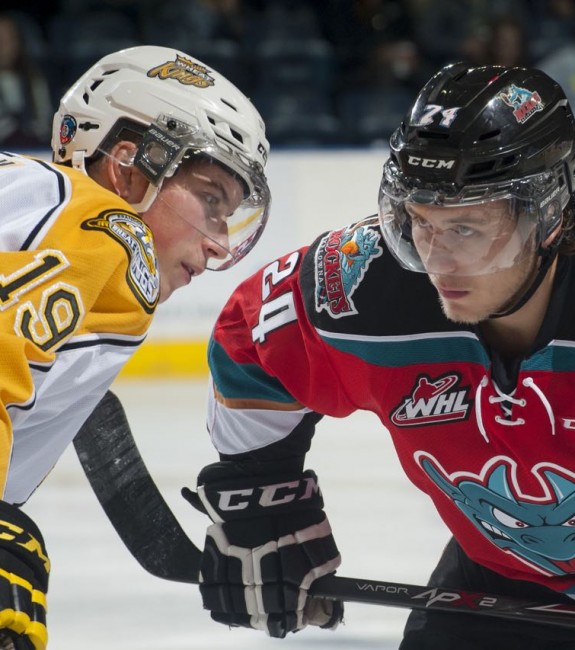 Stephens is one of three forwards invited to selection camp who are currently recovering from injuries, along with Nolan Patrick, the top-ranked prospect for the 2017 NHL draft who hasn't played since Oct. 11, and Sam Steel, who was leading the WHL in scoring when he got hurt on Nov. 22. If any or all of them can't participate in the camp, that opens the door for others too.
My first roster will be best-case scenario for Canada, with those three being healthy and with a few NHLers added to the fold.
Forwards
Anthony Beauvillier-Pierre-Luc Dubois-Julien Gauthier
Lawson Crouse-Dylan Strome-Taylor Raddysh
Sam Steel-Mathew Barzal-Nolan Patrick
Brett Howden-Michael McLeod-Nicolas Roy
Mitchell Stephens
Defencemen
Jakob Chychrun-Dante Fabbro
Thomas Chabot-Philippe Myers
Jérémy Lauzon-Noah Juulsen
Samuel Girard
Goaltenders
Carter Hart
Connor Ingram
OK, now let's see what happens when we remove those six from the picture.
Forwards
Nicolas Roy-Pierre-Luc Dubois-Julien Gauthier
Michael McLeod-Dylan Strome-Taylor Raddysh
Brett Howden-Mathew Barzal-Nick Merkley
Zach Senyshyn–Tyson Jost–Blake Speers
Mathieu Joseph
Defencemen
Thomas Chabot-Philippe Myers
Jérémy Lauzon-Noah Juulsen
Guillaume Brisebois-Dante Fabbro
Samuel Girard
Goaltenders
Carter Hart
Connor Ingram
Wow, that makes quite the difference. Canada definitely has to hope that trio gets healthy and that some NHLers get loaned.
There is a bit of a Quebec bias to my rosters, based on who is in charge of picking the team — all things being equal, they will likely go with who they know.
However, with my second roster, I would have much preferred the aforementioned Guhle, from the WHL, to Brisebois, from the QMJHL, if Chychrun isn't getting loaned. I probably would have taken my chances with Benson over Joseph as the 13th forward too, but that's just me. Even with my first roster, if I were making the selections, I would find a way to include Jost and Merkley, but that might be my Western bias.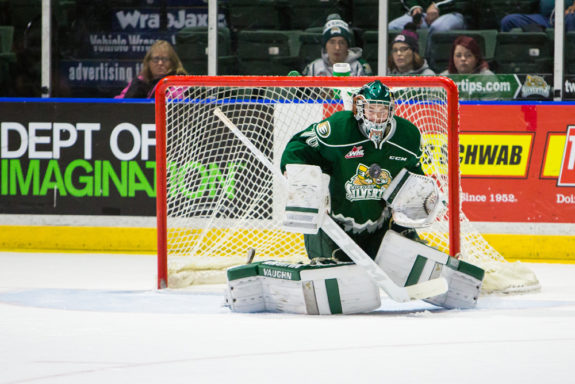 I do think we'll see the WHL tandem in goal, with Hart and Ingram battling for the starting job ahead of the OHL's Michael McNiven. That will be an intriguing battle, with Hart and Ingram both playing incredible for their club teams right now, but I'd lean towards Hart getting the opening game against Russia.
FORBES: While Hart would normally be my starting tender, his size might play against him. In that case, I give the job to McNiven. Word is, Patrick should be back in time for the tournament, so let's assume that. While I won't get into too much detail, here's how my lines breakdown.
Forwards
Patrick-Dubois-Gauthier
Beauvillier-Strome-Raddysh
McLeod-Jost-Merkley
Steel-Barzal-Roy
Senyshyn
Defencemen
Chabot-Juulsen
Lauzon-Myers
Brisebois-Girard
Fabbro
Goaltenders
McNiven
Hart
I think the Strome-Raddysh connection is important in maintaining the chemistry that already exists there. If you can go into a tournament like this with chemistry, that's a bonus for a team like Canada, which will have a number of new faces in this year's lineup.
What do you see as the biggest strengths and weaknesses for this Canadian roster? What are the question marks surrounding this year's team? And what challenges will this group need to overcome?
FISHER: This really depends on those six maybes — Beauvillier, Crouse, Chychrun, Patrick, Steel and Stephens. Depth is a strength with them, and more of a weakness without them. If three or more are on the roster, Canada should be in good shape to contend for a medal.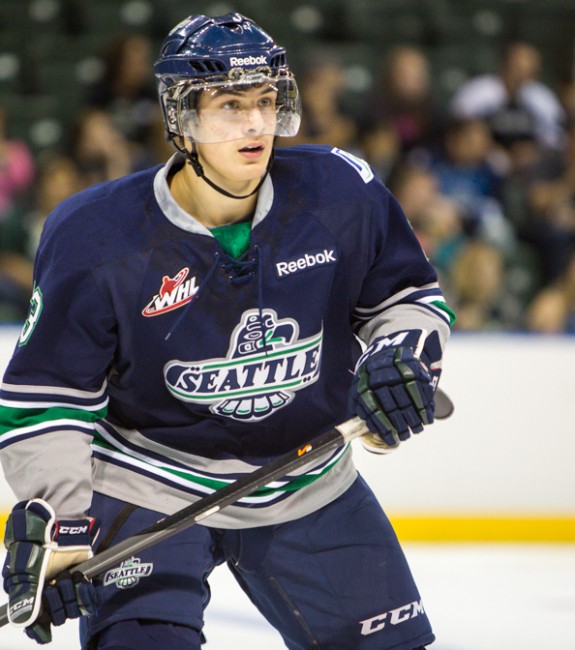 If that depth doesn't come to fruition, it'll be even more important for Canada's best players to, in fact, be the best players. That being Strome, Barzal and Dubois up front, and Chabot on the back end. Those forwards would need to be among the tournament's top scorers and all four would have to be in the conversation as all-stars.
Look for Girard to emerge as an impact player too, likely to be manning the point for Canada's power play even if his role is limited at even strength.
The defence looks solid, with or without Chychrun, and the top-six forwards are going to be able to score either way. Canada is also going to be deep down the middle regardless, with centre being a key position at any level, so that bodes well too.
Canada's goaltending will be questioned from the outset again — with two newbies between the pipes and considering some of their predecessors' recent struggles, although I'm not overly concerned there. Be it Hart or Ingram, I'm confident Canada will be in good hands.
The schedule could prove challenging if Canada doesn't get a favourable result against Russia in its opener. That would put a ton of pressure on the New Year's Eve game against the Americans, with Canada playing out of the presumably tougher pool.
Canada won't want to finish third in its pool like last year because that would likely mean a quarter-final matchup with either the defending champion, Finland, or Sweden. That could make for another early exit, which would be disastrous on home ice.
FORBES: This team comes with a lot of leadership. A number of the players already wear a letter with their junior clubs and are known as leaders on and off the ice. That should go a long way in helping this team get through any rough patches they might come across in this tournament.
And they will face rough patches. After all, this isn't an easy tournament by any means. Their sixth-place finish last year is a prime example of what could happen in any given year.
Like it is most years, goaltending will be a question mark. Who takes the starting job, and can they run away with it? Canadian goaltending hasn't been the strong suit for quite some time. But could Hart and McNiven be the start of a shift in this country's goalie development? Time will tell.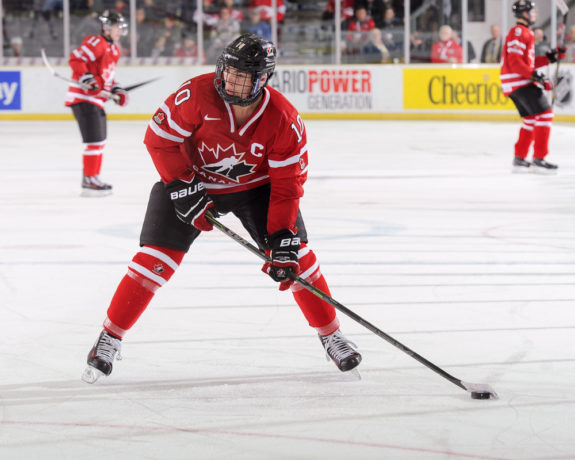 One of the bigger issues I see with this team is their lack of shooters. Look, it's great to have playmakers in the lineup, but you need to have the greedy players as well — the ones willing to take the shot when they have the opportunity.
It has been talked about that McDavid needs to shoot more — that it would open up the ice for his linemates and benefit the Oilers in the long run. Canada needs to have those players too. Take shots and a lot of them. Anything can happen in this tournament — just ask Marc-Andre Fleury, who put it in off his own player back in 2004.
Again, with or without those NHLers, should Canada be considered the favourite to win gold on home ice in Montreal and Toronto? Is this team going to be better than last year's team that bowed out in the quarter-finals to eventual gold-medallist Finland? Which countries will be Canada's biggest competition this time around?
FISHER: Not to keep beating the same drum, but Canada's chances at gold will largely depend on that final roster and how many of those six key players are in the lineup on Boxing Day. If, by some miracle, all six are available, then Canada should be considered the favourite. My projected best-case roster would be tough to beat.
If fewer than three are available, then Canada will be hard-pressed to make the podium in my opinion. There is a pretty big drop-off to that worst-case roster, though it'll probably be somewhere in between.
I think the goaltending will prove to be better than last year and the defence will be similar, but the offensive depth might not be as good this year. Marner, Konecny and last year's captain, Brayden Point, also currently in the NHL, will be missed. Could the likes of Dubois, Raddysh and Jost pick up that slack? Perhaps, but the return of Beauvillier, with a healthy Steel and Patrick would really help matters.
Right now, as of today, given Canada's current camp roster and injury concerns, I would say the Americans might be the team to beat. Team USA is going to be loaded up front — full of those shooters Canada is lacking — and might be able to score its way to the 2017 championship even without Matthews, Tkachuk and Werenski.
Finland is going to be strong again, but the Jets obviously won't be loaning Laine and it's highly unlikely that the Oilers would loan last year's tourney MVP, Puljujarvi, either. Sweden (camp roster) and Russia (camp roster) round out the consensus top four, along with Canada, although that order will be of great debate as the tournament approaches.
The Czech Republic could be a dark-horse in that pool with Finland and Sweden. The Czechs won the Ivan Hlinka under-18 tournament this summer and their hockey program seems to be enjoying a resurgence. The Czechs won't be pushovers, that's for sure.
FORBES: Canada will definitely be better than last year's squad. More returnees. More experience in the tournament and, on top of that, they are on home ice. That alone will get their mojo going.
If Canada isn't the favourite going into the tourney, it is certainly a close second. Look, as I mentioned before, all the top teams are missing some of their best players who've made the jump to NHL squads and likely won't be back for the world juniors.
That being said, I expect the usual suspects to be tough tests for the red and white in the Americans and Sweden. But, just because they won't have Laine, don't count Finland out. For me, that's my dark-horse of the tournament.
Should be a fun one this year, and both Toronto and Montreal will be rocking with hockey fans and hockey spirit. The countdown is on!
---
Who won this round of Facing Off? Feel free to weigh-in with your opinions in the comments below. We will be checking in periodically to both defend and expand on our initial answers. If you want us to face-off over a topic, we're open to suggestions as well.