The Dallas Stars have problems.
Saturday night's masterful shutout win over the slumping Colorado Avalanche notwithstanding, goalies Kari Lehtonen and Antti Niemi have been maddeningly inconsistent. Too many forwards are sick, injured, banged up, trying to get up to speed after an injury, or simply slumping. Last, but not least, the Stars have too many defensemen, and the only ones who can be sent to the AHL without requiring waivers (Stephen Johns, Esa Lindell and Julius Honka) are among the most deserving of NHL ice time.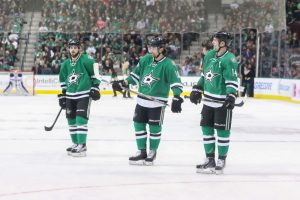 These personnel issues have left a mark on team performance: 26 games into the 2016-17 season, they have a record of 10-10-6, a far cry from last year's franchise-record start. The Stars have won just four of their last ten games, and would miss the playoffs if they began today.
Last season, Dallas scored more goals than any other team; so far this year, they've allowed more than anyone else. While the club's Goals Against Average has ballooned from 2.78 to 3.27, Goals For has dropped from 3.23 to 2.54. Contributing to these numbers, the power play is sub-par at home and good on the road, while the penalty kill is excellent at home and terrible on the road.
General manager Jim Nill and head coach Lindy Ruff have quite a mess on their hands. Nill could, and should, begin the cleanup by alleviating the logjam on the blue line. It's time for Dallas to deal a defenseman.
Which Defenseman Should Go?
Certain blueliners are viewed as integral to the organization's future, and are unlikely to be moved at this time; John Klingberg, Esa Lindell, Stephen Johns and Julius Honka fall into this category. Others (Jordie Benn, Jamie Oleksiak and Patrik Nemeth) hold greater value as players for the Stars than they would bring in trade. That leaves Dan Hamhuis and Johnny Oduya as the odd d-men out.
Either Hamhuis or Oduya would be a solid add for any team in need of a veteran defenseman. They have identical cap hits ($3.75 million), though the former is under contract through the 2017-18 season while the latter will be an unrestricted free agent next summer. Both are solid, "blue-collar" defensemen with extensive playoff experience (and in Oduya's case, a Stanley Cup ring).
Though neither player can be expected to bring a huge return, the right deal could make Ruff's defense pair decision-making easier and help with one of the club's other problems, a two-for-one the Stars sure could use right now. While several potential trade partners come to mind, the most obvious is the Florida Panthers.
Win-Win: A Dallas-Florida Trade
Aaron Ekblad's struggles this season were one of many factors leading to the dismissal of Panthers coach Gerard Gallant. After playing most of his first two NHL seasons with veterans Willie Mitchell and Brian Campbell, the 20-year-old future star defenseman is having a hard time transitioning from rookie/mentee to veteran/mentor. Another year or two skating with a veteran blueliner certainly wouldn't hurt.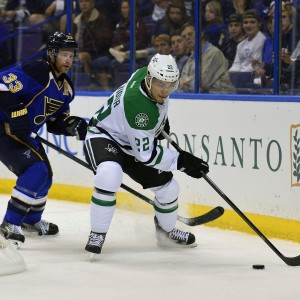 Either Star would benefit the Panthers. Hamhuis could mentor Ekblad this year and allow Florida to meet next summer's Expansion Draft requirement to expose at least one defenseman under contract in 2017-18. Oduya would give the club salary cap flexibility going forward and, should he prove a poor match with Ekblad, is a proven fit with ex-Star Jason Demers.
If Dallas sweetened the deal by including a bottom-six forward, it's quite possible they could bring Colton Sceviour back from Florida. Sceviour was an important part of the Stars' penalty kill last season and has already demonstrated his value to the Panthers. He's been overshadowed somewhat by teammate Jonathan Marchessault, however, and the club can only protect one of them in the Expansion Draft.
Though Dallas would also have to risk losing Sceviour to the Vegas Golden Knights next summer, his re-acquisition would provide an immediate boost to the Stars' Jekyll-and-Hyde penalty kill and his transition to a "new" team would be seamless.
Will Nill and Florida GM/coach Tom Rowe make a deal? Time will tell, but Dallas needs to make a move now.