Shane Doan has had a legendary career with the Arizona Coyotes; he's spent 21 years with the team and has served as Captain for 13 of them. He's (still) the heart and soul of the Coyotes, and is also the franchise record holder in many categories, including goals, points and power-play goals. Doan has put together an amazing career in Arizona, but the ride to stardom wasn't always a smooth one.
Strength through Adversity
It's likely that Doan can easily relate to the struggles that Arizona's younger players have experienced as they begin their NHL careers. He came into the league as a 19-year-old in 1995 with the Winnipeg Jets but recorded just 17 points that season. Doan would then struggle through his next three seasons as well; he scored just 15 goals from 1996-97 to 1998-99, and wouldn't truly experience his first taste of sustained success until the 1999-2000 season when he broke out with 26 goals and 25 assists in 81 games. These numbers would soon become the norm for Doan, as he's failed to reach the 20-goal mark over a full NHL season just twice since the 1999-2000 campaign.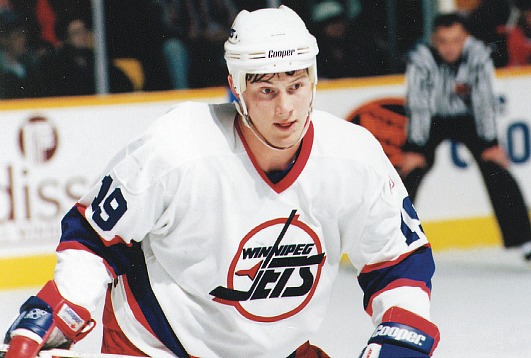 One of those years was the Coyotes' awful 2014-15 season. Captain Coyote scored just 14 goals that year and was one of the many players who struggled through what was the worst season in franchise history. Doan was also forced to endure the mass exodus of many of his long-time teammates as then-general manager Don Maloney began unloading his team's assets in exchange for prospects and draft picks.
It appeared as if the end was near for Doan that season; he posted his lowest full-season goal total since the 1998-99 campaign and struggled heavily to produce offensively for the majority of the season. However, Doan bounced back with an outstanding 2015-16 campaign; he led the Coyotes in goals with 28 and broke the franchise records for goals, points and power-play goals throughout the course of the season, despite missing 10 games due to injury. Now, in his 21st season, Doan has continued to play well; he's recorded three goals and four assists in 23 games and appears to be heating up after a slow start, as he's lit the lamp twice in his last five games after being held without a goal in 17 games from Oct. 18 to Nov. 23.
On the Verge of History
Doan's name is already plastered all over the NHL's record books, but there's still a few more milestones for the 21-year veteran to reach this season. With his next goal, Captain Coyote will become just the 93rd player in NHL history to score 400 goals and will join Jaromir Jagr, Jarome Iginla, Alex Ovechkin, Marian Hossa, Patrick Marleau and Rick Nash as the only active players with 400 or more goals.
Shane Doan is now 1 goal away from becoming just the 93rd player in NHL history to reach 400 goals. #Coyotes

— Jeffrey Sanders (@JeSanders11) December 4, 2016
In addition, Doan's next assist will be historic as well; it will be the 554th helper of his career, which will put him past Thomas Steen and into first place in the Coyotes' franchise record books. When Doan does indeed surpass Steen, he'll join a very exclusive club, as only four other players (Ron Francis for Carolina, Joe Sakic for Colorado, Rick Nash for Columbus, Mike Modano for Dallas) hold their respective franchise's records in games played, goals, assists, points, power-play goals and game-winning goals.
In addition, Doan will soon become just the sixth player in NHL history to skate in 1,500 games for the same franchise; he'll join Red Wings legends Gordie Howe, Nicklas Lidstrom, Steve Yzerman and Alex Delvecchio, along with Boston Bruins legend Ray Bourque in this exclusive club. Assuming he stays healthy, Doan is slated to play in his 1,500th game on Dec. 23 at Gila River Arena against the Toronto Maple Leafs.
Shane Doan will pass Wayne Gretzky (1,487) for 19th place on the NHL's all-time games played list tonight. #Coyotes

— Jeffrey Sanders (@JeSanders11) December 1, 2016
Overall, it's been a legendary career in Arizona for Shane Doan. He's been the team's captain for nearly 15 years and has broken nearly every record that exists within the franchise. However, he's not done yet; with a few more significant milestones within his reach, he'll be a player to keep an eye on this month.